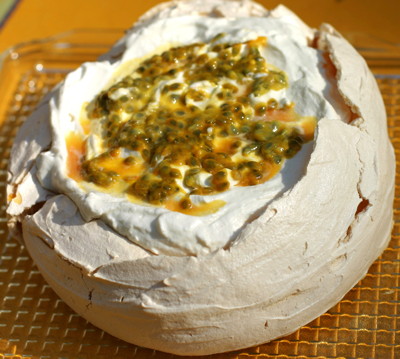 Pavlova is considered the ultimate Australian meringue dessert, even though it was probably invented by a New Zealand hotel chef in 1926. One thing Australians and New Zealanders do agree upon is that this splendidly light, crisp and foamy concoction was created to commemorate the time when the legendary Russian prima ballerina Anna Pavlova graced our shores on her world tour.
I always find Pavlova to be a hit. Unlike other food trends, their popularity with Australians (and even those abroad) has not waned.
The addition of passion fruit pulp is all-important; the tart quality of this tropical fruit provides a perfect foil to the sugary meringue. Passion fruit are plentiful and inexpensive in Australia. They are easy to grow in this Southern Cali climate (although they do need several weeks to ripen on the vine), but they are fairly difficult to find. Gelsons usually stocks passion fruit at $2-3.00 apiece. Ouch! If you decide to bear the exorbitant cost, pick ones that are fairly wrinkly.
Pavlova is made by beating egg whites and a pinch of cream of tartar to a very stiff consistency. You then add superfine sugar, fold in the vanilla and vinegar then slow-bake the mixture to create a large meringue cake. The slow-cooking creates a crisp, crunchy shell on the outside of the pavlova, while the interior remains soft and moist.
Find other equally fantastic recipes in Perfected Favourites: The Adamek / Papworth Family Cookbook.

ON SALE here for $9.99 as a Family recipe e-Cookbook. Read on kindle and iPad. More information on where to purchase can be found here.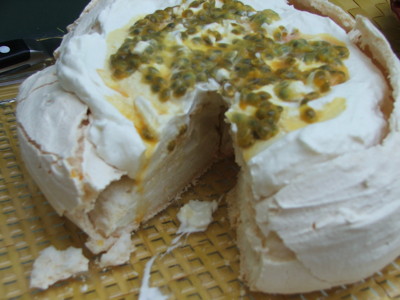 Ingredients:
4 egg whites
a pinch of cream of tartar
1 cup superfine sugar
1 teaspoon cornflour
1 teaspoon white wine (or champagne) vinegar
1 teaspoon vanilla essence (or scrape the seeds from a dried vanilla pod.)
About ½ pint heavy cream, whipped
the pulp of 4-6 passion fruit
1-2 bananas, sliced or sliced strawberries
Method:
TIP: Ensure your oven is preheated for at least 10 mins before cooking. Have all your ingredients measured and laid out before you commence. Eggs should be at room temperature and carefully separated, with no trace of yolk. Maybe make some chocolate pots de creme or sauce sabayon or mayonnaise with those yolks…
Whip egg whites and cream of tartar, building to high speed, until they are stiff and soft peaks form. Gradually add the sugar, a little at a time, beating well to dissolve each addition.
Add the cornflour with the last amount of sugar. Meringue will be smooth and glossy.
By hand, gently fold in the vinegar and the vanilla, lifting as you go to preserve the fluffiness of the meringue.
Use a sandwich tray, covered with lightly greased baking paper.
Pile the meringue in the middle of the tray, shaping the mixture into as high a dome as possible, or pie shell shape, as preferred.
TIP: Meringue will expand a little bit and crack as it is cooking.
Cook at 250 degrees for 1 ½ hours. Turn off heat and let cool in oven for a further two or so hours.
Some people recommend turning the 'pav' upside down onto a serving plate before decorating, if you want a flat surface to work on. I think this idea is nuts – part of the appeal is the crisp outer shell which will become soggy when inverted.
Once cold, decorate with whipped cream (lightly sweetened with powdered sugar and vanilla essence), passion fruit pulp and fresh, sliced strawberries or sliced bananas, if you really want to go overboard.
Serve to appreciative 'oohs' and 'aahs.'
Tips for the perfect Pavlova.
Here are some things to know about successfully making meringue:
1          Have everything measured out and ready before you start.
2          Preheat your oven.
3          Use superfine sugar.
4          Your separated eggs should be at room temperature and carefully separated, with no trace of yolk. This is crucial. Egg yolk in your white means they won't whip up light and fluffy.
5          Make sure your electric beater bowl and beaters are clean and DRY.
6          Beat the whites slowly then increase speed until they stand in stiff peaks. They should hold their shape in the end of the beater, but don't over beat or they will become dry.
7          As soon as the whites are beaten sufficiently, gradually add all the other ingredients, as per the recipe above, and then place your Pavlova directly into the preheated oven. If you leave beaten egg whites sitting around, they will deflate.
8          Remember to pile the glossy meringue into a high, round dome on the lightly greased plate or cookie sheet.
9          Meringue needs a fairly slow (low temp) oven in order to cook evenly. Do not try to hurry the cooking time. DO NOT open the oven door for hours! After it has cooked for an hour and a half, it needs to cool in the cooling oven for a further two or so hours.
10        Keep the finished meringue away from draughts – and above all from moisture — until you are ready to cover with cream and serve immediately.
11        This delicate dessert is deliquescent, so it must be made and served on the same day. It does not keep. For example, if I am taking one to a friend's place for a dinner party, I will cook it from 2pm onwards, cool and then put the meringue shell into an airtight container, or leave it in the oven until I'm ready to depart. I then put it in the dining room or even the laundry during dinner (kitchen is too hot) before I top it with cream and passionfruit and immediately present for dessert.
Hope this helps!
Pavlova FAQs:
Q: I wonder if it is possible to make smaller pavlovas, or if you need the size to get the crispy/chewy consistency?
Yes. Halve the ingredients and cook for 1 hour instead of an hour and a half. Good for two people with decent appetites. But then again, I think you really do need the large volume to get that foamy middle and crispy exterior.
Q: My sister made one some months back, but I don't remember whether she used parchment to line the cookie sheet, and whether or not she greased it. Can I use a Silpat mat instead?
Hey — that's an excellent question. Silpat does NOT work (unless you grease it, and who does that?)
I had much better results with a greased piece of parchment paper (I used butter) that is bigger than your pav. I think a little of the butter seeped into the meringue, but it was negligible.
The pav is such a fragile dessert, you really don't wanna have to wrestle it off the cooking sheet.
I thought about your comment, and there's no reason you can't grease a silpat, it's just that you sort of don't think to do that.
I think the reason people use parchment for Pavlovas is that you can draw a circle on it and try to pile your meringue (as high as possible/feasible) within that circle. My Mum used to have this cool ceramic plate with the Pavlova recipe written on it and a circle to guide how big to make it, that she then put in the oven.
I think I mentioned in my posted recipe that pavlovas spread a bit as they cook. But the higher or more compact the "dome" of meringue is, the more foam you get inside. If you do a shallower pile of meringue, you will probably get a crispier result.
Best of luck with it! It certainly is a sensational dessert that people adore.