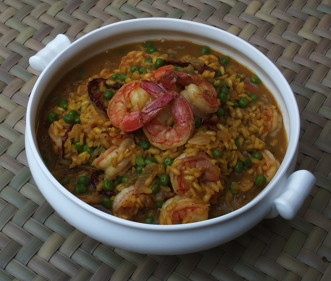 Perfected Favourites: The Adamek/Papworth Family Cookbook is a heartfelt collection of superb recipes, with an Australian twist. The cousins and parents of two Sydney-based clans are devoted gourmands who take a serious approach to the food preparation for family gatherings.
Says the book's author, Pauline Adamek: "There are several excellent cooks amongst us; my sisters Caite and Jussie, our cousins Stephen, Laura, Alexandra, Claire and Victoria, our mum Carmen and her brother Uncle Ray and also Aunt Kaye.  Caite's sweetheart Kerry is a fierce cook, as well.  My sweetheart Ash is not afraid of all the chopping involved in putting together a fresh, vegetable salad."
Highlights include Caite's Crab Cake recipe, Ray's Resounding Mussels, Risotto, Jussie's Rendang curry, Alexandra's Café Brûlot and of course, the classic Australian meringue dessert Pavlova. [Preview here.]
The recipes in this fantastic cookbook have been collected from assorted family members and form a complete set of delicious and tried & tested appetizers and main meals—everything from fancy and unusual cocktails to desserts.
Fun, fab and fool proof!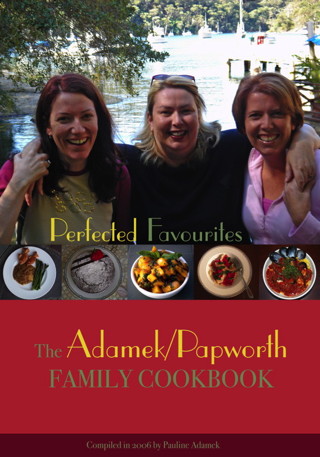 Perfected Favourites: The Adamek/Papworth Family Cookbook is available for purchase on iTunes for $9.99.
This electronic book can be downloaded onto an iPad, an iPhone and/or an iPod Touch or any device that supports the iBook platform.
Also available on Amazon as a Kindle download HERE.
*First, make sure you have downloaded the (free) iBooks app onto your device.*
EPUB ISBN: 978-0-9888363-3-4
Kindle ISBN: 978-0-9888363-4-1