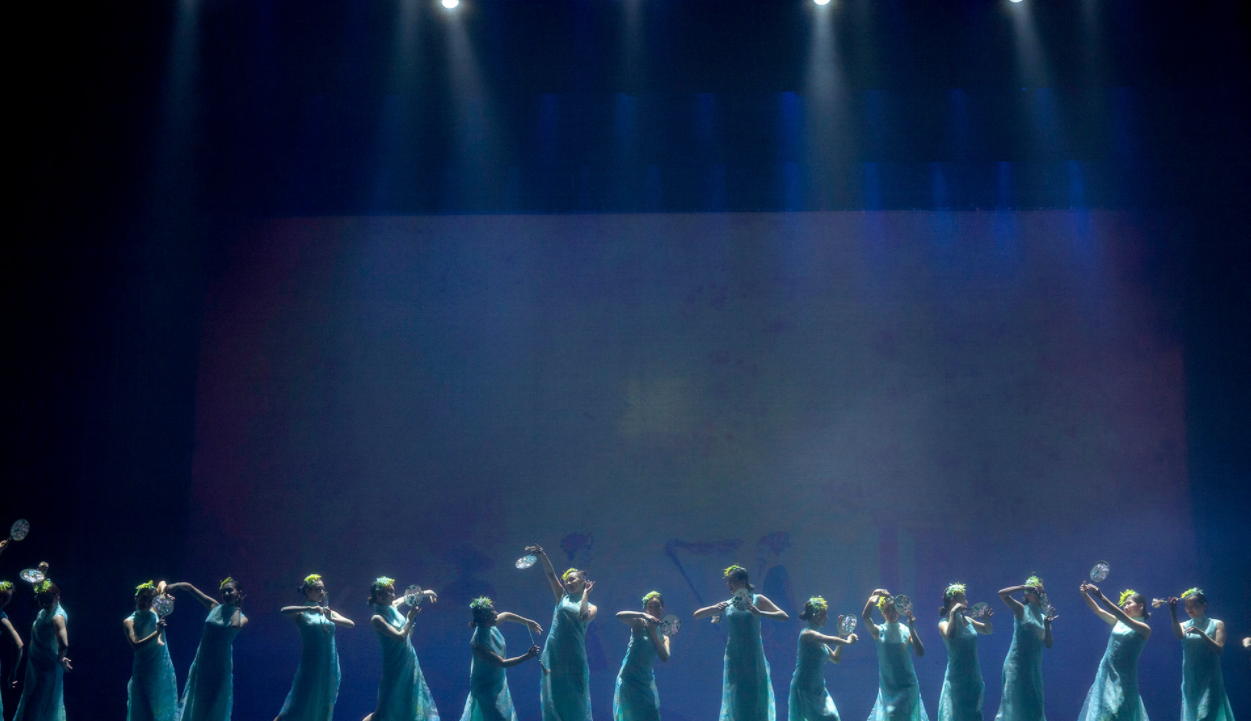 Memory 5D+, an extravagant live spectacle, made its World Premiere at the Pasadena Civic Auditorium this past weekend. And what a dazzling and exquisitely beautiful show it was!
For L.A. audiences this was a rare opportunity to experience some outstanding live musical performances seldom seen outside the vast continent of Asia. A large company of virtuoso performers, meaning musicians, singers, dancers and acrobats, took to the stage with their one-act show to present a visually stunning celebration of Chinese, Tibetan and Mongolian cultures.
Directed by Ulan Xuerong, the $6-million multimedia show promised an "immersive experience" and certainly delivered. At the heart of the show's conception was an elaborate digital video design (by Creative Designer Tom E. Marzullo) that was projected upstage, onto a downstage scrim and even fanned out into the auditorium to ensconce the crowd. Picture a vividly colored and ever-changing scenic backdrop of outer space, nature, galloping horses and even a ferocious and incendiary battle. In addition to this feast for the eyes, however, was an unexpected and delightful olfactory element. Yes, at times either jasmine perfume or pleasantly sweet smoke was somehow infused throughout the Pasadena Civic Auditorium's 3100 seat auditorium. Amazing.
It's clear that the show's developers have taken some ideas from the monumental success of Cirque du Soleil and are applying that winning formula. For example, the show is essentially a series of bravura performances linked by a very simple narrative; a creation tale that explains the fundamental balance of the universe's two basic elements of 'yin' and 'yang.' Perfect.
In its clear intention to appeal to a broad audience, Memory 5D+ walks a fine line between satisfying Sinophiles (who, presumably, are already familiar with these musical instruments and atonal singing styles) and embracing new audiences.
The instruments employed included guqin (Chinese zither), "cowboy" flute, gijak, guzheng, konghou (Chinese harp), morin khuur (Mongolian horsehead fiddle), pipa (Chinese lute), Tuva drum (Shamanic drum), and two chordophones – Topshur and Yekele.
 Memory 5D+ also used many Chinese performance arts including Chinese acrobatics, Dolan Muqam, Khoomei (Tuvan throat singing), Shadow Play, Suzhou Pingtan (storytelling and ballad singing from the Suzhou Dialect), Tibetan folk songs, and Urtin Duu (Mongolian Long Tune).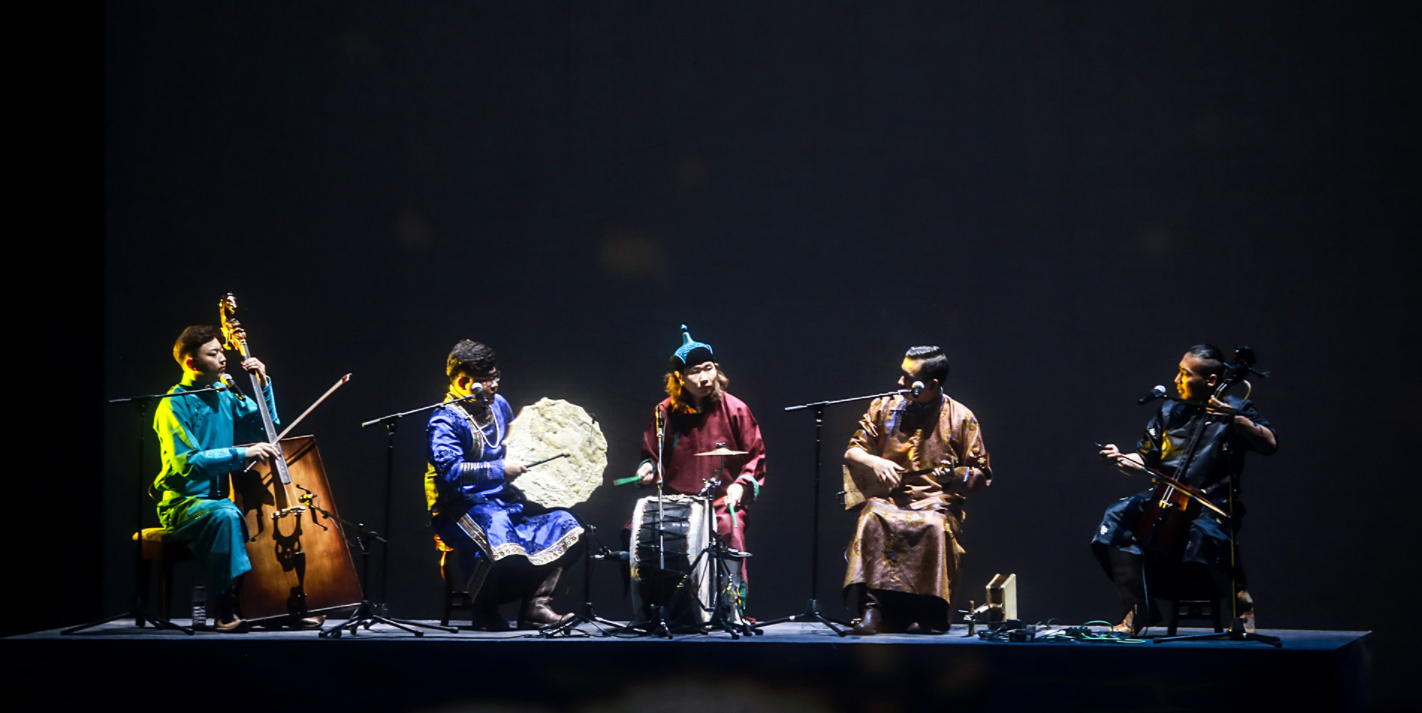 While on one hand we have singers and expert musicians performing on rare traditional instruments, the show is fashioned to render these obscure and seldom-seen musical stylings more accessible to a broader audience by somewhat diluting their traditional sound. For example, the Khoomei quartet (the Tuvan throat singers – known as Hasi Bagen's band) are not producing their music in its purest, most traditional form. Rather, their musical arrangements have been shaped into something that is definitely more contemporary and 'pop' sounding. And it's fantastic! In any case, when have you ever had the opportunity to hear live that bizarrely guttural plus airily ethereal Tuvan throat singing? And from FOUR singer/musicians?! These guys were my favorite part of the evening.
Another highlight was Zhou Siyao's prowess on the Konghou. Siyao performed with a ferocity and virtuosity that was breathtaking. Small wonder the show's creators paired her incendiary performance with the visual effects of a fiery battle (pictured below). The show's co-writer, director John Hughes, was even was quoted as remarking, "She's like watching Jimi Hendrix — she's that good," and I have to agree emphatically.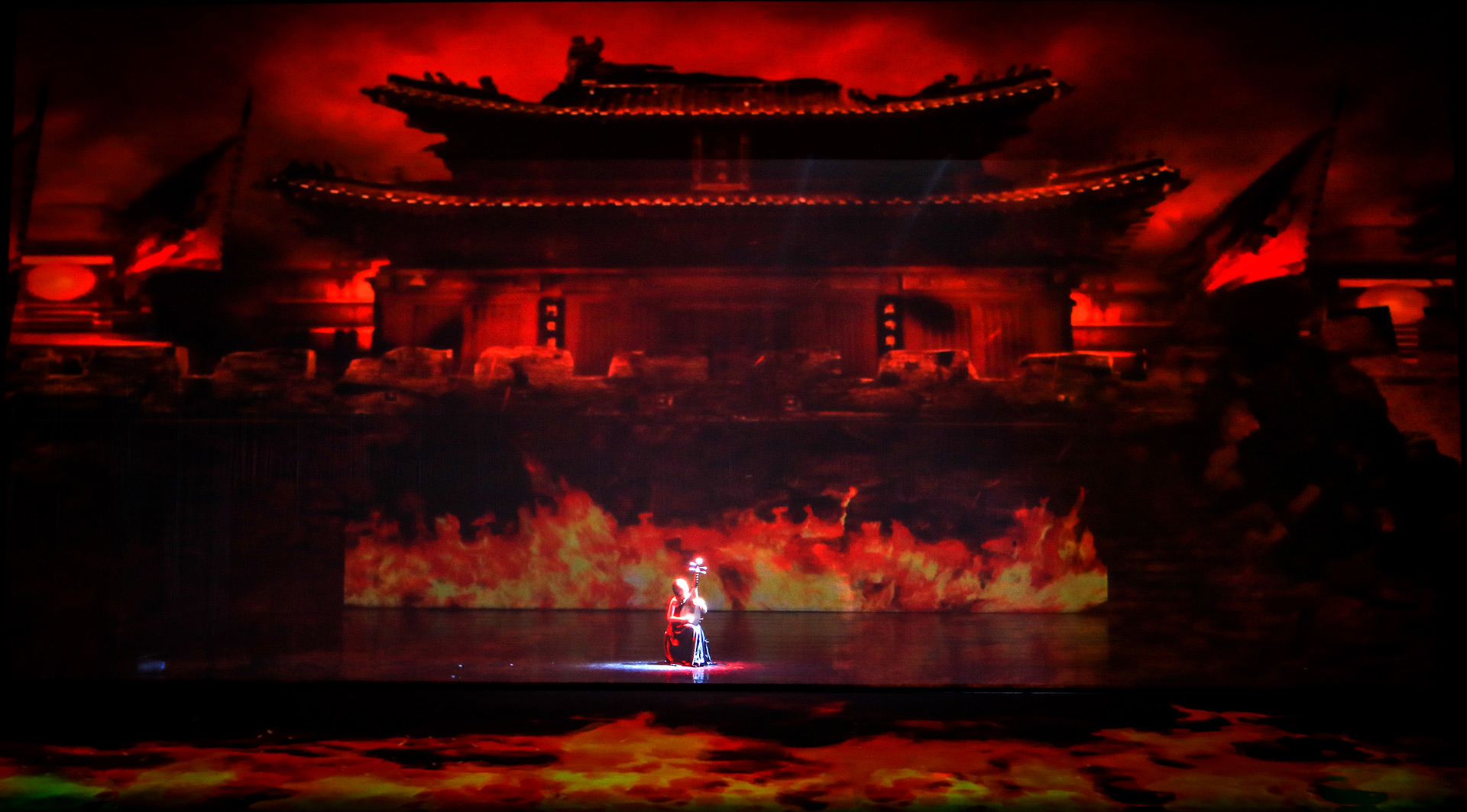 Memory 5D+ is a ethnically-rich show that melds the finest elements originating from several cultures, including Inner Mongolia and the remote Xinjiang region. The latter is found at the Western extreme of China, just below Mongolia, and is also ringed by Russia, Kazakhstan, Kyrgyzstan, Tajikistan, Afghanistan, Tibet, Pakistan and India. Naturally the cultural characteristics of the Xinjiang region is an unusual and unique blend of all these other national influences. 
Throughout, the performers were exquisitely costumed in elegant gowns or glittery 'blinged-out' traditional attire (designed by Wang Min and Wu Chao, and styled by Liu Lian). 
The pace of the evening was slightly marred by several sloppy transitions, meaning some of the lighting cues also the entrances and exits were not as precise as you would want. But that's perhaps to be expected in a hugely ambitious show that was only staged over two nights. During the final 15 or so minutes of the show I certainly could have done without the manic searchlights hung upstage that randomly swirled around and repeatedly blinded the audience. I was not the only person shielding my eyes. 
Minor quibbles aside… At 90 minutes, the spectacle sensibly does not tax the audience's attention span. Afterwards in the foyer there was a meet and greet where fans could get their photo taken with the artists — a friendly interaction that I seldom see in L.A. theaters.
Such a fantastic show! Here's hoping that Memory 5D+ embarks upon a successful US and International tour. Perhaps it will end up as a residency at one of the Vegas Casinos? I know that's what they're hoping will happen…
Go here to read more detail about the artists and the production as outlined in my previous article.