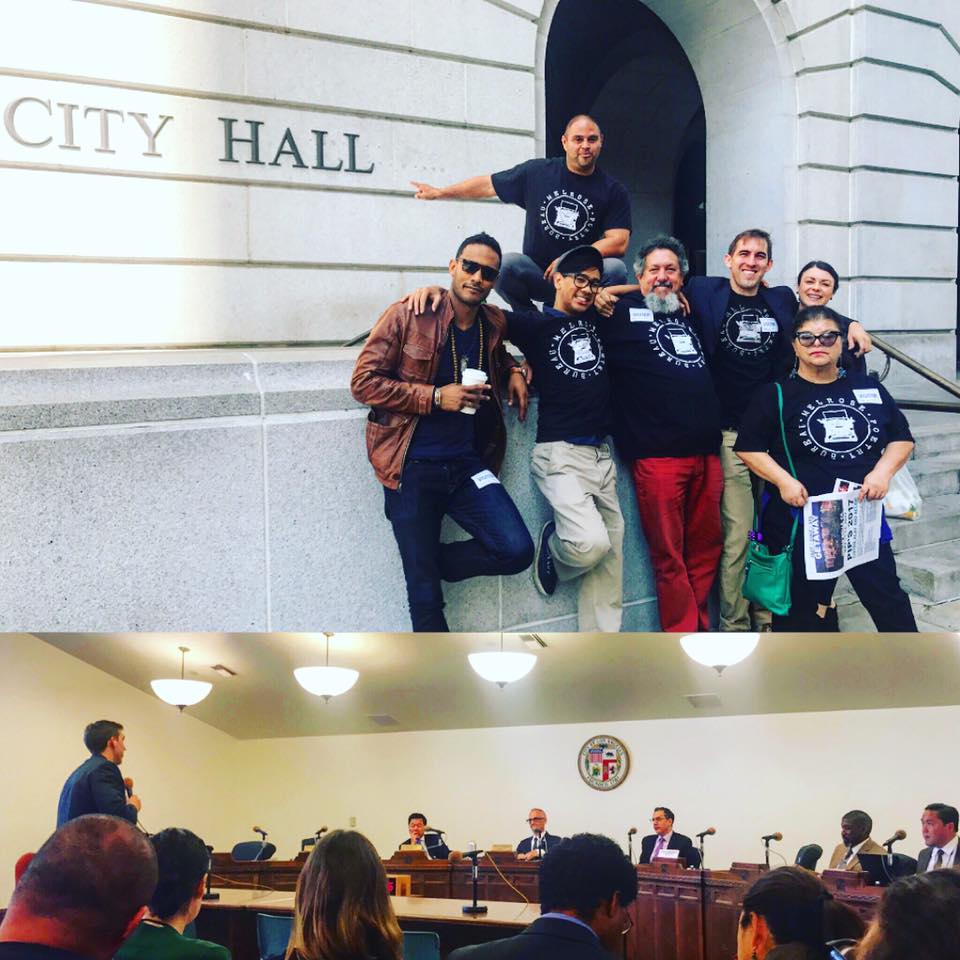 Brian Sonia-Wallace reports from the front lines in the battle to save Arts funding:
City Council meetings are notoriously boring, full of wonky policy and devoid of emotion. On March 20th 2017, at 11am, I worked with my fellow poets at Melrose Poetry Bureau to create unique poetry action inside Los Angeles City Hall – a group of poets wrote 2-minute poems in response to the agenda of the City Council Arts, Parks, and River Committee Meeting, and delivered them during Public Comment. Public Comment is open to everybody, and writers are always eager for a platform! We wanted to inject a little life, creating something beautiful and fun to watch from the agenda that could be an active part of the community informing policy.
Some members prepared poems in advance, while others wrote them during the meeting itself – and everyone had to be flexible, as the whim of the Council would determine whether we had 2 minutes, 1 minute, or 30 seconds to make our remarks. Several members reprised their poems in April at the Board of Supervisors Meeting for the Arts Commission's Cultural Equity and Inclusion Initiative. The project was an offering, a performance, a voicing project – an act of public participation. 
In these times, participation in politics is more essential than ever and it's hard to know where to begin. We started local, with poetry.
We hope you'll join in.
You can find more about Melrose Poetry Bureau at melrosepoetrybureau.com, and contact rentpoet@gmail.com for interest in more poetic actions. The Arts, Parks, and River Committee of City Council meets on the 10th floor of City Hall from 11am-12:30pm, every other Monday, at City Hall, 200 N Spring St, Los Angeles CA 90012.
Past poetic action @ City Hall: https://www.youtube.com/watch?v=YRIP0ubA-vk
Poets at the Polls @ Election Day:  https://www.facebook.com/rentpoet/videos/725425784266937/
Information on the Council Meeting: http://lariver.org/arts-parks-and-river-committee
Agenda of the Council Meeting:
http://ens.lacity.org/clk/committeeagend/clkcommitteeagend16110387_03202017.html
To be involved in future Poetic Actions, please email RENTPoet@gmail.com expressing your interest.
Artists of all genres are welcome to get involved – also, if there's a Council Meeting or action we should be at, please invite us.