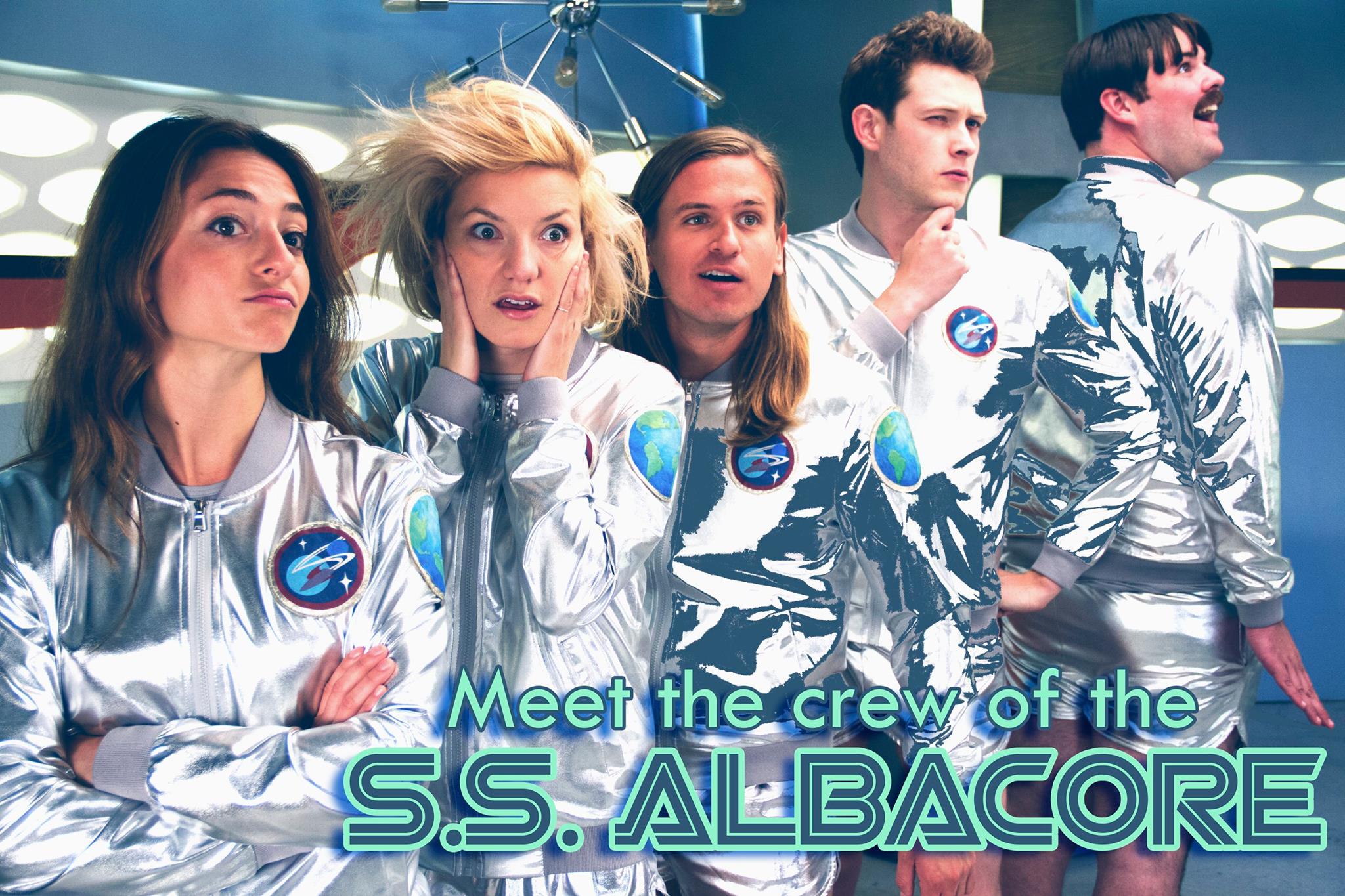 The show's producer/performer, Kat Primeau talks about this year's Fringe World Premiere musical comedy 'Turbulence!'
Making its triumphant return after last year's acclaimed Thug Tunnel, the award-winning musical improv group Robot Teammate & the Accidental Party is premiering its third scripted musical for the #HFF17, entitled TURBULENCE!.
The story: The 4242 Intergalympics have arrived, and the competition between humans on Earth and Mars is at a fever pitch. An epic race around the sun concludes the events, but the untimely demise of Earth's designated competitors means the haphazard crew of the S.S. Albacore and their android assistant Mambo 4 (Dave Reynolds) must go to bat. Can Captain Davin Galaxy (Miles Crosman) win the respect of his team in time to win the race and prove that Earth isn't the shabby dirt turd the Martians think it is? Will astrophysicist Dr. Joules Johnson (Kat Primeau) be able to master turbulent energy to their advantage? Can demolition derby mechanic Mick Cribbins (Chris Bramante) translate his expertise in space? And will nihilist navigation specialist Pattern MaGerk (Molly Dworsky) find a way to really care about it all?
Robot Teammate producer/performer Kat Primeau was kind enough to take some time out of the busy preproduction schedule to answer some questions about the show and the troupe's activities.
ARTSBEAT LA: What was the inspiration behind this year's show?
KAT PRIMEAU: The Robot Teammate ensemble floated a lot of ideas before TURBULENCE! was voted into development. The story is very loosely based on a zany space crew musical with the same title that we improvised in 2016 at Impro Theatre, but we had no recordings of the show, so only our best memories have made it into the script. After last year's original musical Thug Tunnel, we were really excited by the idea of doing an ensemble piece, and we love playing with sci-fi, but this show also has a sports comedy twist.
What about the development process? How did the show evolve?
We continue to refine our process through trial and error, and for the first time this year we codified how the script was to develop. Pulling what we loved from the initial improvisation, we started by creating an outline as a group, with Miles (our head writer) hammering out drafts, watching reference materials (Cool Runnings, Galaxy Quest and Noises Off, especially), researching the science behind the story (Cosmos and StarTalk Radio with Neil DeGrasse Tyson), and bringing what made us laugh to each subsequent round of revisions. It is still evolving as we get it up on its feet, and we're grateful for our improv background for allowing us to be comfortable with changes this late in the game.
Tell us about the actors involved and what they bring to the show.
Each member of Robot Teammate is contributing to the story, lyrics, production, and most importantly, their characters in this show — even the musicians! We're celebrating our fifth Anniversary as a musical comedy ensemble in 2017, and know that we are our most entertaining selves when we lean in to our unique chemistry as an ensemble. When we are making each other laugh and bringing our critical eye to the table, we are able to create stories that have a larger impact than any of us could have done alone.
What about the music? Is there a particular theme or style?
We initially wanted a more electronic palette with our spaceship's console as functional, pre-programmed synth pads the crew would play in conjunction with the action on stage. We still hope to do that one day, but we've transitioned to our music director, Sam Johnides, composing tracks and all of us writing lyrics. The style is very modern, with thick harmonies and high-intensity arrangements to go along with the sports theme, but we hope audiences will still find it to be catchy and most of all fun!
For fans of Robot Teammate (and I'm thinking along the lines of MST3K), are there easter eggs in TURBULENCE! that will strike a chord in the new show?
There are many nods to classic sci-fi tropes. As for Easter eggs, you'll have to bring your baskets to the hunt (aka the show). We don't want to spoil the fun.
Since you've become Fringe veterans, have you become more confident with the time constraints involved in setup and staging? How have you taken advantage of it?
Making cuts for time is challenging, but always leads to a tighter, more comedic script, so we are embracing that and anticipating killing many more of our darlings before opening night. We're being more playful with our set and costumes and have a load-out joke in our closing number. Knowing what to anticipate is helpful, but there are always new obstacles in Fringe theater!
What is it about the Fringe that makes it so welcoming to projects like TURBULENCE!?
Robot Teammate performs a lot in comedy venues and weekly on the Geek & Sundry live stream, which broadcasts on Twitch.TV to audiences around the world, so Fringe really allows us to get back to our theatre roots and be a part of the immediate community. We love seeing our peers experimenting on stage, and enjoy challenging ourselves to write better jokes, songs and heartfelt stories in response to the raw feedback inherent in Fringe.
Talk a bit about the release of the soundtrack of last year's show, Thug Tunnel. How did that come about?
We were thrilled when A Little New Music gave us the 'Outstanding Songwriting Award' at Fringe last year as well as being encouraged by the effusive response to our music we received from audiences, so recording it for our fans seemed like a no-brainer. I work part-time at a recording studio and my boyfriend, Chris Sousa (who was also the bassist for THUG TUNNEL) is an audio engineer, so we spent Labor Day 2016 recording vocals in Frank Sinatra's old room at EastWest Studios and the remaining five months recording, editing and mixing the album at home. Check it out on Spotify, iTunes, and robotteammate.com now!
What other shows are on your hit list for #HFF17?
We're excited for Cherry Poppins' Shakeslesque, MB Productions' remount of The Video Games, Trump in Space (which Sam Johnides also composed music for), Office Beat and SLASHED! The Musical.
What's next on the agenda for Robot Teammate?
We have new live-stream shows in development at Geek & Sundry as well as three live shows, an album release, an album release party and multiple rehearsals before the end of this week, so we're taking it one day at a time. We'll have more songs, stories and narrative musicals available for more audiences soon. Stay tuned!
~~~
TURBULENCE! plays June 10 through June 22 on various dates and at various times at the Sacred Fools Theatre Main Stage, 1076 Lillian Way. More information and tickets can be obtained on the Fringe site.
Here's a quick hello from the cast:
ABLA from Kurt Gardner on Vimeo.