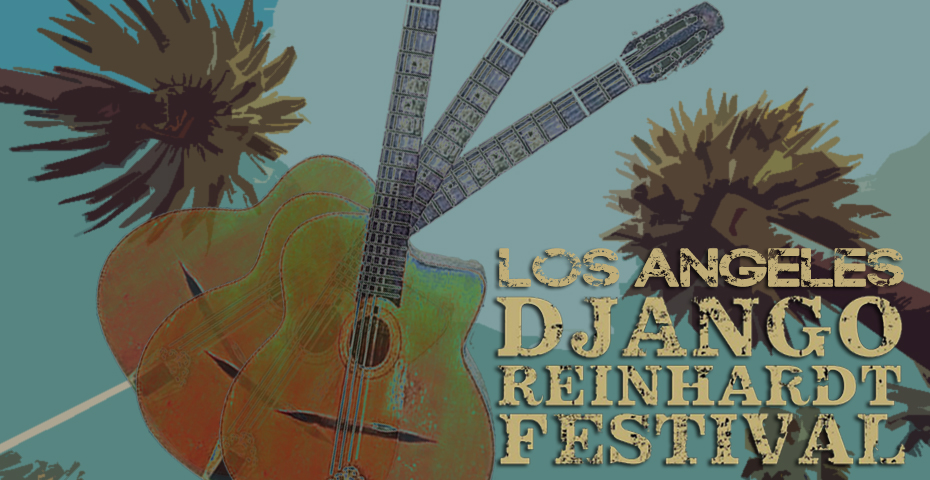 Théâtre Raymond Kabbaz (TRK), the innovative performance space at Le Lycée Français de Los Angeles is proud to present the first edition of the LA Django Reinhardt Festival.
Named after the pioneer of jazz guitar and the originator of "Gypsy Jazz", the festival carries on his profound legacy with an all-star list of instrumental artists who elevate the genre to the next level. Our headliner is Yorgui Loeffler, French Manouche guitarist in the style of Django, and rounding out the bill (also from France) are Samy Daussat, Noé Reinhardt, Frank Anastasio, Aurore Voilqué, Claudius Dupont, and LA-based band Trio Dinicu. The festival will also include master classes, lecture, film screening, guitar displays and vendors, and open jam.

The Festival in detail.
Saturday, June 17:
10am – noon – Master Class with Yorgui Loeffler, 2 hours, Main Stage, Tickets $50.
11am – noon – Workshops by Frank Anastasio, Claudius Dupont, Noé Reinhardt, Aurore Voilqué, one-hour class, TRK campus, Tickets $25.
1:00pm – Film Screening: Les fils du vent, a film by Bruno Le Jean Main Stage, Tickets $15.
3:00pm – Open Jam + guitar displays + vendors outside in the TRK courtyard + Lounge FREE
7:00pm – TRK presents: Yorgui Loeffler Trio (with guest Tommy Davy) 75 minute Concert, Main Stage, Tickets $30-40.
9:00pm – Samy Daussat Quintette (Noé Reinhardt, Samy Daussat, Frank Anastasio, Claudius Dupont, Aurore Voilqué) Main Stage, Tickets $30-40.
Sunday, June 18:
10am – noon – Workshop Samy Daussat 2 hours, Main Stage Tickets $50.
2:00pm – Lecture by Michael Dregni: Django and History of Jazz Manouche, Main Stage, Tickets $20.
3:30pm – FREE Open Jam + guitar displays + vendors TRK courtyard + Lounge- FREE!
7:00pm – Concert, Trio Dinicu and company, Yorgui Loeffler Trio, Tickets $30/40.
9:00pm – Finale All-Star Session: With Samy Daussat, Frank Anastasio, Noé Reinhardt, Aurore Voilqué, Yorgui Loeffler, Tommy Davy, 75 minutes, Tickets $30-40.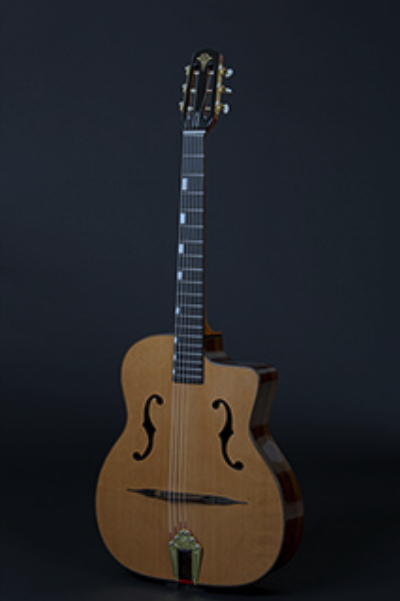 LOS ANGELES DJANGO REINHARDT 2017 FESTIVAL RAFFLE –
A Manouche Latcho drom guitar TO WIN!
Gypsy Jazz Distribution is the proud sponsor of the Los Angeles Django Reinhardt Festival Raffle. The Gypsy Jazz package for the raffle includes a Manouche Latcho Drom Swing 42 model guitar, a gig bag, a Manouche Django Jazz pick, five sets of Savarez Argentine strings and a copy of the Angelo Debarre/Samy Daussat tutorial book: Astuces Manouche Volume 2. Please check the details at the Gypsy Jazz Distribution booth.
No limits as to how many raffle tickets you can buy. You don't need to be present, either. The name of lucky winner will be drawn at the beginning of the All Stars concert Sunday June 18th.
All proceeds will benefit the Theatre Raymond Kabbaz.
RAFFLE TICKET $15.00
Call theatre at 310 286 0553
MANOUCHE LATCHO DROM GUITAR: SWING 42 MODEL DETAILS
Handcrafted in the small Altamira workshop supervised by Master luthier Hanson Yao, the Manouche Latcho Drom guitars offer outstanding quality and a superb level of craftmanship. These guitars are the best Selmer replicas Asia has to offer. Imported for over ten years by Gypsy Jazz Distribution of San Diego and finished in the Dell'Arte workshop, these instruments are very impressive. In addition to being Selmer replicas in terms of shape, dimensions and appointments, these guitars also have some of the feel and sound of the original Gypsy Jazz guitars of the 1930s. They are a real joy to play!
This particular model, the Manouche Latcho Drom Swing 42, features a solid Cedar top, laminated Rosewood back and sides, and a truly ergonomic C shaped Sapele neck adapted to the demands of the modern player. The appointments include a high quality Ebony fretboard, highly polished nickel frets, quality tuners, and the same high quality bridge, moustaches and tailpiece found on Dell'Arte guitars.
Loosely based on a 1940's Di Mauro Special Chorus guitar, the Swing 42 really showcases the skill level achieved by Hanson Yao. Hanson has built a reputation as a very fine Classical guitar luthier following his apprenticeship at the Rodriguez workshop, in Spain.
The tone of this guitar offers a very fast response, a deep, resonant bass, an impressive presence in the mid-range, a clear singing treble and a tremendous volume throughout.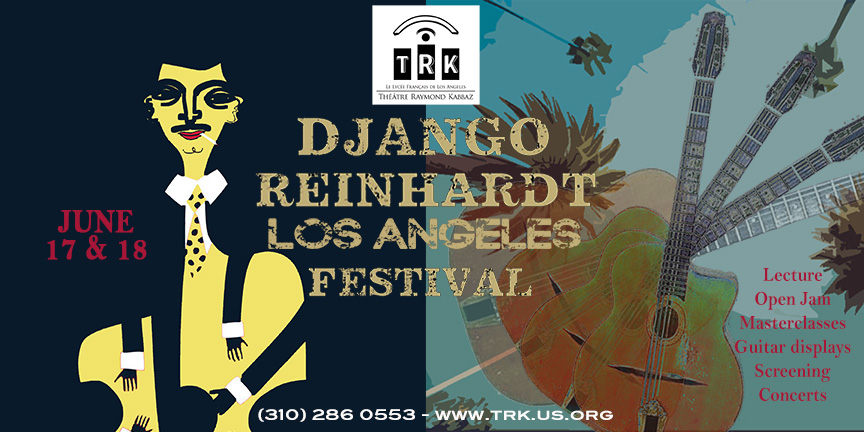 About the Artists:
YORGUI LOEFFLER –
Born in 1979 into the Manouche-Sinti community of Alsace, Yorgui displays a virtuoso style combining strength, rhythmical confidence and melody, defining him as an artist with rare musical qualities. He is one of the most interesting guitarists of his generation due to his spontaneous sense of improvisation and the freshness of his phrasing showcased by an unusual lyricism, than to any breathtaking instrumental technique.
He took up the guitar at the age of 14 alongside his uncle and brother, who soon became aware of his outstanding ability. Besides Django Reinhardt, the defining influence for every young Manouche guitarist, Yorgui also fell under the spell of Bireli Lagrène and Tchavolo Schmitt.
He released in 2002 his first record as a leading artist, "For Magnio", which instantly kick started a promising career. He then started to tour Europe and worldwide and won his first accolade in 2003 in the form of the "Jazz Revelation" award at the Juan-Les-Pins Jazz Festival.
SAMY DAUSSAT –
Born in 1972 in Brettany, France, Samy is one of the best and most experienced musicians in the traditional French Manouche style. Growing up in a jazz family and beginning to learn classical guitar at the early age of 7, his musical training led him to the heart of what will become a revelation: The gypsy jazz.
His ability to adapt, his sense of observation and decoding, and his finely tuned ear have enable him to accompany the biggest names and to be recognized as a jazz musician.
From time to time attending the "Chope des Puces", Moreno taught him to play the instrument and welcomed him to the world of jazz manouche. Since 1990, he studied with and accompanied the greatest musicians like Raphaël Fays, Angelo Debarre, Tchavolo Schmitt and of course, Babik Reinhardt. Samy has developed all the qualities and skills of a grand solo player. He will, in turn teach numerous young musicians with amongst them David Reinhardt. In 2008, he moved on to the next stage: creating his own Trio. Accompanied by David Gastine (rhythm guitar and vocals), and Claudius Dupont (double bass), Samy revealed his talents as a composer and arranger in the finesse of phrasing and harmonic subtlety. He paved the way to a modern, tonic, and surprising style while paying tribute to the tradition genre.
Samy daussat has produce over 70 jazz albums over the last 25 years and is playing on all big international Jazz Festival around the globe. Lately, with Noé Reinhardt, Claudius Dupont and Aurore Volqué, they have re-created many of Django's original arrangements from the 1930's.
Audios:
Videos:
Daussat quintet with Aurore Voilqué, Frank Anastasio, Noé Reinhardt and Claudius Dupont (last December)
TRIO DINICU –
Hailed as "dazzling" by the San Francisco Chronicle, Trio Dinicu combines the forces of three highly distinguished musicians. Luanne Homzy a world renowned concert violinist; Tommy Davy, a virtuoso guitarist of the young generation of Franco-Russian guitar; and Frank Anastasio, a legendary gypsy jazz bassist, vocalist, and guitarist.
Highly regarded for their creativity, Trio Dinicu blends acrobatic technique with the improvisatory language of jazz and the richness of Eastern European folk, including Romanian violin, Russian balalaika, and French "Jazz Hot". They have performed for audiences across the United States, Europe and Canada.
Their music pays homage to the golden age of the Parisian-Russian cabaret. The Trio is named after the Romanian virtuoso violinist and composer Grigoras Ionica Dinicu, who influenced the one and only Jascha Heifetz and who was admired by Stephane Grappelli, the world's most famous jazz violinist.
Their first album, "Trio Dinicu: Live in Los Angeles" (Hot Club Records) was released at Djangofest Northwest in Washington in September 2013.
SCREENING: LES FILS DU VENT (2012) – Bruno Le Jean
This documentary is considered the reference book par excellence on the gypsy jazz of Django Reinhardt.
For eight years, the filmmaker Bruno Le Jean followed the gypsy guitarists Angelo Debarre, Moreno, Ninine Garcia and Tchavolo Schmitt. They are guitarists. They are Manouches. They play and perpetuate the music of Django Reinhardt. They also cultivate a certain sense of humor, friendship, and a way of living upright.
Penetrating on tiptoe, in their camps, caravans, or apartments, one discovers between the notes and the words, a community that preserves an authentic and singular way of life, a taste for difference, where in spite of the difficulties, the important thing remains the pleasure of playing.
In total, 120 hours of images. Despite the generosity of the musicians, the filming of this documentary was not always easy. The unpredictable lifestyle of those nicknamed the Travelers and their discreet character added a few degrees of difficulty to filming. The filmmaker could interview them next to their trailer, but was not allowed to film life on camp freely.
Even though the four men all talk about the problems "Roms" live in Europe, this "road movie" skilfully emphasizes the music and poetry of these nomads of the 21st century.
LECTURE EVENT –
Michael Dregni, author, historian and expert authority on the life and music of Django Reinhardt. Tickets $20.
Django & History of Jazz Manouche:
In his presentation, Michael Dregni offers a definitive portrait of the great guitarist. Born in 1910 in a gypsy caravan at a crossroads in Belgium, he was almost killed in a freak fire that burned half of his body and left his left hand twisted into a claw. But with his
maimed left hand flying over the frets and his right hand plucking at dizzying speed, Django became Europe's most famous jazz musician. Dregni not only chronicles this remarkably colorful life–including a fascinating account of gypsy culture–but he also sheds much light on Django's musicianship. He examines his long musical collaboration with French violinist Stéphane Grapelli – and he traces the evolution of their innovative string jazz ensemble, Quintette du Hot Club de France. And along the way, the author offers vivid snapshots of the jazz scene in Paris–colorful portraits of Josephine Baker, Bricktop, Louis Armstrong and countless others.
Dregni traveled to France to interview many individuals who knew Django, documenting their accounts for posterity and also meeting with his modern disciples in Paris. Capturing the extraordinary life and times of one of the great musicians of the twentieth century, Dregni's insights are not to be missed.
During the presentation, several expert musicians who will be performing in the Festival will take the stage to assist Mr. Dregni in demonstrating the techniques of the genre.
ABOUT TRK –
From Adam Gopnik of The New Yorker Magazine: "How and why this should be—how an illiterate, happy-go-lucky Gypsy could have created a style that goes on creating itself—is at last the subject of serious study, in Michael Dregni's biography, "Django: The Life and Music of a Gypsy Legend" (Oxford). Dregni, who writes for the magazine Vintage Guitar, and whose first biography this is, not only has managed to break into the French milieu of jazz aficionados and sects in which Django worked but has penetrated the Gypsy, or Romany, world…. Dregni clears up the two much mystified areas of Django's life—what exactly he did during the Second World War, and what really happened on his one trip to America, in 1946—and he sorts through the music and, nice bonus, manages to suggest plots for at least three fine French movie musicals."
TRK
Theatre Raymond Kabbaz (multidisciplinary and multicultural shows) is a non-profit institution dedicated to the promotion of art and culture in the West Los Angeles area.This 220-seat theater welcomes
TRK's mission is to be an open window on French and international cultures and to inspire and sustain a lifelong appreciation for the arts.
"The goal of our programming is to produce a range of live performances with an eclectic array of creative artists from around the world," says Pierre Leloup, Théâtre Raymond Kabbaz Director, "Our events bring diverse cultural traditions from across the globe to our stage, enriching the lives of our students and attendees from the greater Los Angeles area."
Ticketing
TICKETS ARE NOW ON SALE.
Each event can be bought separately here.
Master Class: two hours $50, one hour $25 Concerts: $30 for students / $40 for adults Film: $15
Lecture: $20
or
Pass for Saturday one film and 2 concerts: $75
or
Pass for Sunday one lecture and 2 concerts: $75
or
Pass for whole festival (Master Classes not included): $135.00
The Los Angeles Festival is paired with the Festival Jazz Manouche of Zillisheim, France.