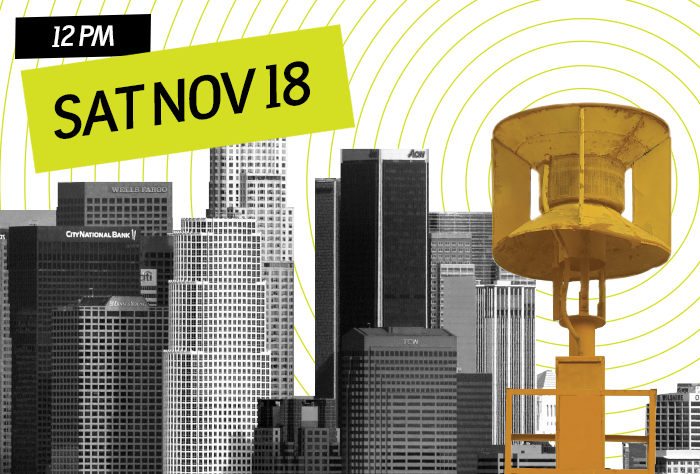 Don't miss the latest opera/performance/art project from The Industry and artistic director Yuval Sharon.
Presented by the LA Phil and co-produced with The Industry and Now Art  WAR OF THE WORLDS  begins this weekend and will play over two weekends with three performances only.
The opera will be happening concurrently at four locations in Downtown LA, including the Walt Disney Concert Hall as well as being broadcast onto the streets of downtown L.A. at three specific Siren Sites.
You can reserve your tickets here — it's FREE to attend any of the three siren sites, though reservations are recommended.
Dates:
Sunday November 12, 2017 —  2pm
Saturday November 18, 2017 — 12pm & 2pm
A co-production featuring:
LA Phil New Music Group
Music by Annie Gosfield
Concept, Direction, Libretto by Yuval Sharon
Conducted by Christopher Rountree
Production Design by Calder Greenwood
See complete cast and production
REMEMBER! You can attend a performance at Walt Disney Concert Hall or at one of the three siren locations, each featuring a different character: Professor Pierson (Siren 1), Mrs. Martinez (Siren 2) or General Lansing (Siren 3). Or go to more than one performance to experience multiple locations!
ABOUT WAR OF THE WORLDS:
WAR OF THE WORLDS is a new opera that eliminates the boundary between Walt Disney Concert Hall and the streets of Los Angeles. Orson Welles' 1938 "fake news" radio program led millions of panicked listeners to believe that aliens were invading Earth. Yuval Sharon has used the original radio script as the basis of this audacious new performance piece.
The LA Phil New Music Group will perform onstage at Walt Disney Concert Hall and be broadcast onto the streets of downtown L.A. through three refurbished WWII-era sirens – reactivated for two-way communication – while performers stationed at the sirens will send their reports of alien invasion back to the Concert Hall. Composer Annie Gosfield's use of radio sounds makes her the ideal collaborator in this must-see event.
THE HISTORY
WAR OF THE WORLDS delves into new layers of the city's history and bring them to life in an unprecedented way. The sirens that dot the landscape of Los Angeles are silent witnesses to a time filled with existential anxiety, and also to the birth of the city's cultural development.
World War II brought to Los Angeles both the constant fear of annihilation from beyond – and, paradoxically, a stream of European refugees who shaped the city's cultural growth. As markers of the turning point of the city, the 240 defunct sirens are ideal icons to resurrect in the hopes of both commemorating the past but also meditating on the present and future life of a city undergoing such an exciting cultural transformation.