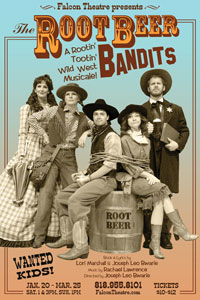 This review dates back to January 22, 2007.
Root Beer Bandits is an utterly delightful play for kids that was staged at the Falcon Theater in 2007, and directed by Joseph Leo Bwarie. Book & Lyrics by Lori Marshall & Joseph Leo Bwarie; Music by Rachael Lawrence.
The Falcon Theater has been revamped and renamed as the Garry Marshall Theatre.
Hopefully one day they'll re-stage this marvelous musical for kids. Until then, here's my original review:
Root Beer Bandits   
Yee-haw! Grab your cowboy hat and boots and head on down to the Falcon Theatre where a bubbly musical, The Root Beer Bandits, guarantees a rootin', tootin' good time for kids and adults.  Playing over several weekends, this good ole-fashioned slapstick musical comedy, set in a rustic Californian frontier town during the 1860s, will have you giggling and clapping along.
The show kicks off with a lively number from the Sarsaparilla City welcoming committee, a trio of colorfully dressed saloon can-can women who sing a song about "Californai-aye."
Next we meet one of the five main characters, the small town's Sheriff Bailey (Tom Hines) who explains that "here in the land of the lucky, home of the brave, we make root beer. Period."  Sheriff Bailey is a mild-mannered kind of lawman rather than the gun-slinging type. Smartly dressed in a three-piece suit and overcoat, he frequently consults his dog-eared but handy book of American laws.
Next on the scene is a black kerchief-wearing bandit who attempts to stick up the audience, but really he's just fooling with us. This wiry fellow is Zeke (Justin Roller) who has joined forces with a rough-talking, brassy and red-haired outlaw named Copper Penny (Susan Dohan) to lead a life of crime. As she explains, "They call me Copper Penny, Princess of the Ponderosa.  I'm bad!"  The two villains blow into town with a bit of a half-baked scheme. They are planning to steal the town's supply of root beer, though it's unsure what they then intend to do with their spoils.  The pair sing a witty song called "Dastardly Duo" describing how "being bad ain't easy, but it's our evil recipe – we've got bad guy style!"
When they run into the town's southern belle and dress store owner Sally Sue, played with genteel aplomb by Fawnda McMahan, Zeke attempts to stick her up with a banana. The dastardly pair decides to kidnap this poor hapless maiden lest she expose their wicked scheme.  Meanwhile, plucky little Polly Peppercorn (Erin Matthews) from the pony express mail service has stumbled into town with an important letter for Sheriff Bailey. But poor Polly's pony has run away and now she can't find the important letter. Racked with a sense of failure, Polly sings a ballad about how she'd really rather write songs for a living.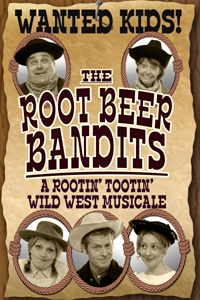 There's plenty of silliness, pratfalls and gentle humor in this charming show. The gorgeous costumes are designed by Lou Carranza and the simple and clever sets by Sherry Santillano.  Composer Rachael Lawrence's songs are lovely and drive the plot forward beautifully, showcasing the thoughtful lyrics. A song that encourages you to "Believe in yourself" was an audience favorite.  Although I could have done without the pink dress makeover, it was nice to see there were no guns or shoot-outs at high noon in this town. When Sheriff Bailey catches up with the thieves, he insists on a sing off instead.
The Root Beer Bandits is a really fantastic little show that's sweet, fun and inoffensive (no guns or violence).  With inexpensive tickets and a brisk running time of only one hour, it's a perfect slice of delightful entertainment that families will enjoy.