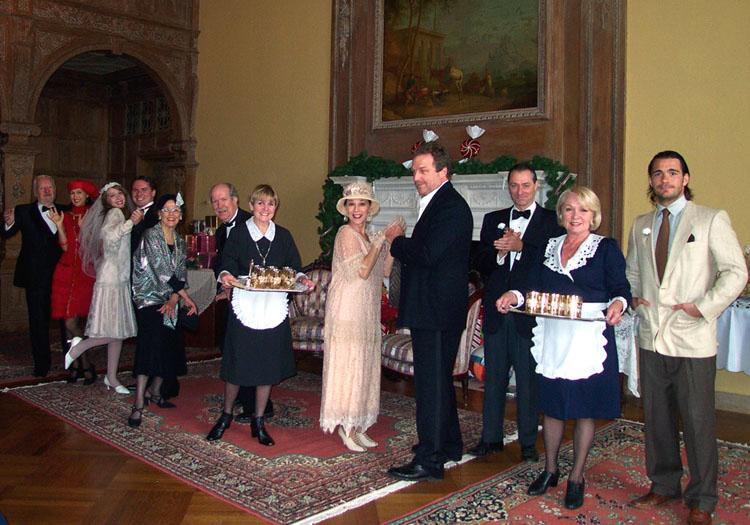 A fun and highly entertaining way to wander through one of Los Angeles' storied mansions is Theatre 40's critically-acclaimed production of The Manor. The melodrama continues its remarkable run, now in its 16th year, at the magnificent historical landmark in Beverly Hills, the stately Greystone Mansion.
Inspired by the true and tragic events that took place in this historic and stately home, the play was written and co-produced by Kathrine Bates. With it she makes loose reference to the Doheny family.
Side note:
Edward Laurence Doheny was an Irish American oil tycoon who in 1892, along with partner Charles A. Canfield, drilled the first successful well in the Los Angeles City oil field, setting off the petroleum boom in Southern California.

Bates' play touches on Doheny's involvement in President Warren G. Harding's disreputable dealings at Teapot Dome, an association which ultimately led to his eldest son Ned's demise. For years Edward was subsequently plagued by intense litigation.
The Manor is staged at 1pm on selected weekends, and 6pm on selected weeknights at —
Greystone Park 
905 Loma Vista Drive,
Beverly Hills 90210
Tickets are $65.00 per person, plus $3.00 service charge.
Please call (310) 364-3606 for bookings.
DATES & TIMES:
Matinee dates (performances begin at 1:00pm): January 13*, 14*, 20*, 27 & February 4
Evening dates (performances begin at 6:00pm): January 11, 12, 17, 18, 19, 24, 25, 26, 31 & February 1, 2
(Note early curtain time)
For more information or to purchase tickets, please call 310-364-3606 (Reservations required)
* indicates sold out performances
Other dates TBA – check their website.
This year's company (in alphabetical order):  
KATHERINE HENRYK, DARBY HINTON,   DANIEL LENCH, DANIEL LESLIE, MELANIE MacQUEEN, CAROL POTTER,  ESTHER LEVY RICHMAN and  ANNALEE SCOTT.