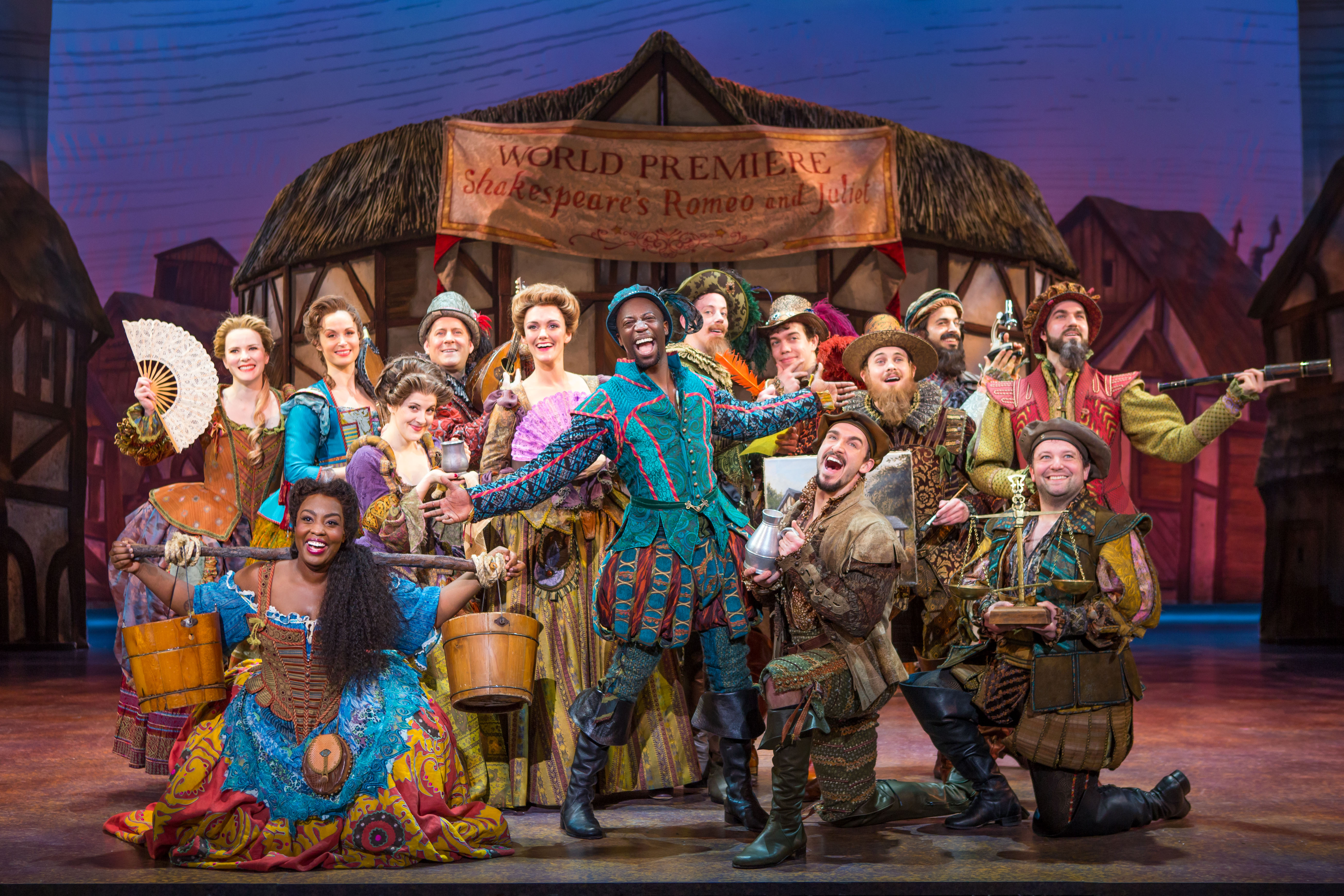 A lively, fun and almost frenetically-paced musical comedy, Something Rotten! comes to LA fresh from a hugely successful run on Broadway.
Last year the show gained ten Tony nominations including Best Musical. Music and Lyrics are by Wayne Kirkpatrick and Karey Kirkpatrick; Book is by Karey Kirkpatrick and John O'Farrell. The production is directed and choreographed by Casey Nicholaw.
The show's book, lyrics and music combined work diligently to both parody and celebrate the stage musical with its countless in-jokes, motifs and superb song and dance numbers. The tap dancing sequences are especially electric, expertly performed by a talented ensemble. It's such a joy to see dancers tapping with expert synchronicity. Opening night saw a rare standing ovation during act one following one rousing and complex number.
While the song and dance numbers are showstoppers, the plot is complex enough to keep you engaged. The story is set in London during the late 1500s, where Shakespeare is a wildly celebrated playwright. Two competing writers, Nick (Rob McClure) and Nigel Bottom (Josh Grisetti), suffer in the shadow of the glittering fame of their 'rock-star' rival who, somehow, always seems to beat them to opening night with a play suspiciously like one of theirs. Facing dwindling audience numbers and loss of faith from financial backers, Nick gambles everything he has on one last desperate hope. Eventually he concocts a brand new genre – the musical – that he hopes will catapult his family and company to fame and fortune.
Despite an abundance of that Broadway-style of effusive overacting, performances from the company are universally strong. Backed by Scott Pask's relatively simple scenic design (mostly painted backcloths rendered in the style of the Elizabethan stage), the lavish costumes by Gregg Barnes really shine.
From the press release:
Three principal cast members direct from Broadway: Rob McClure as Nick Bottom, Adam Pascal as Shakespeare and Josh Grisetti as Nigel Bottom.
The touring cast also features Maggie Lakis as Bea, Blake Hammond as Nostradamus, Autumn Hurlbert as Portia, Scott Cote as Brother Jeremiah and Jeff Brooks as Shylock.
Rounding out the ensemble are Lucy Anders, Kyle Nicholas Anderson, Kate Bailey, Daniel Beeman, Brandon Bieber, Mandie Black, Nick Rashad Burroughs, Ian Campayno, Pierce Cassedy, Drew Franklin, Cameron Hobbs, Ralph Meitzler, Patrick John Moran, Joel Newsome, Con O'Shea-Creal, Kaylin Seckel, Sarah Quinn Taylor, Tonya Thompson and Emily Trumble.
Worth seeing!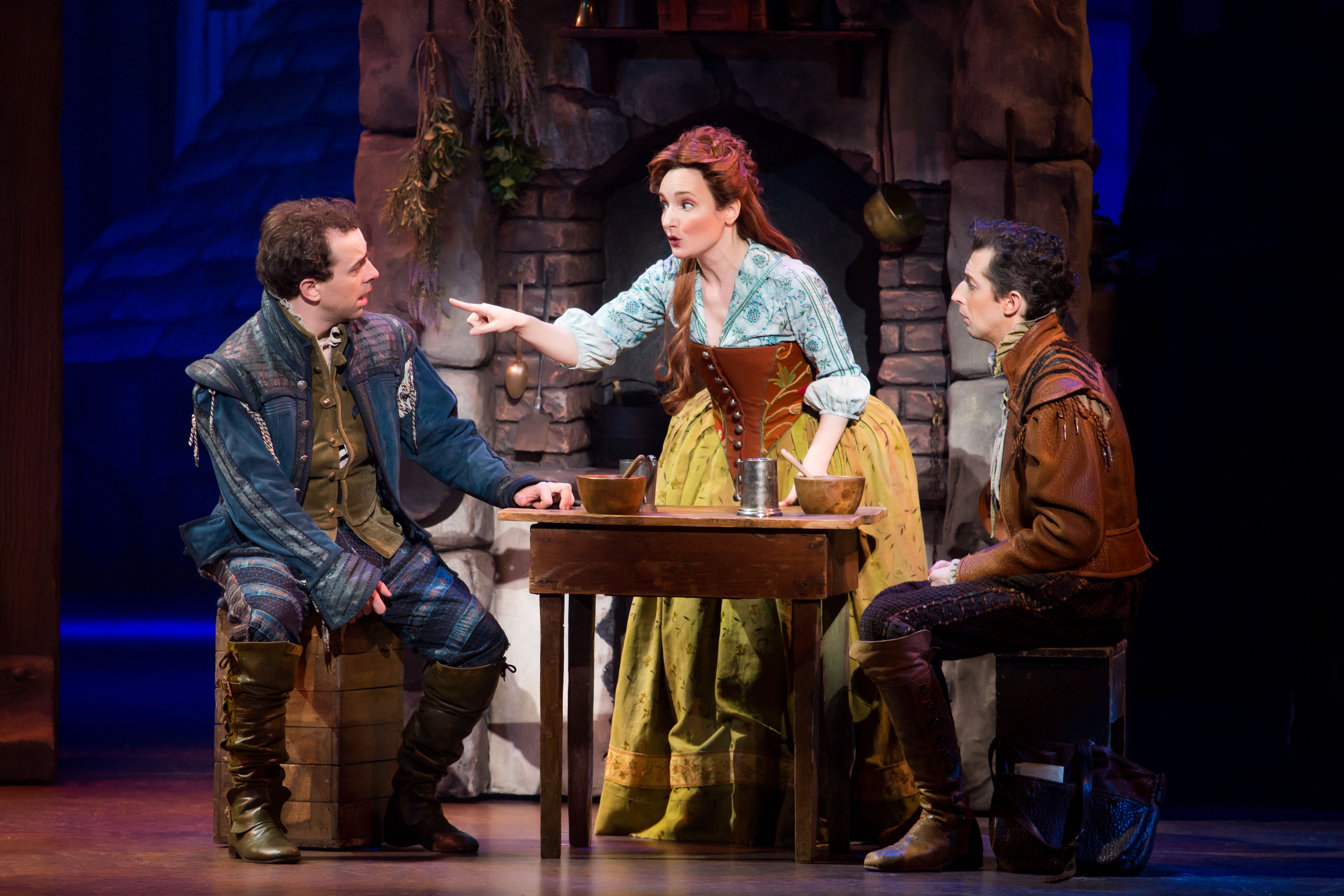 "Something Rotten!"
Music and Lyrics by Wayne Kirkpatrick and Karey Kirkpatrick
Book by Karey Kirkpatrick and John O'Farrell
Directed and Choreographed by Casey Nicholaw
Center Theatre Group/Ahmanson Theatre
The Music Center,
135 N. Grand Avenue in Downtown L.A. 90012
Runs through December 31, 2017
PERFORMANCES:
Tuesday through Friday at 8 p.m., Saturday at 2 and 8 p.m., Sunday at 1 and 6:30 p.m. No Monday performances.
Exceptions: No 8 p.m. performance on Thursday, November 23 (Thanksgiving Day). Added 2 p.m. performance on Friday, November 24. No 6:30 p.m. performance on Sunday, December 24 (Christmas Eve). Added 2 p.m. performances on Wednesday, December 27 and Thursday, December 28.
TICKETS:
Ticket Prices: $30 – $140 (Ticket prices are subject to change.) Tickets are available online at CenterTheatreGroup.org, by calling Audience Services at (213) 972-4400 or in person at the Center Theatre Group Box Office. Groups: (213) 972-7231.
Deaf community: Information and charge, visit CenterTheatreGroup.org/ACCESS.