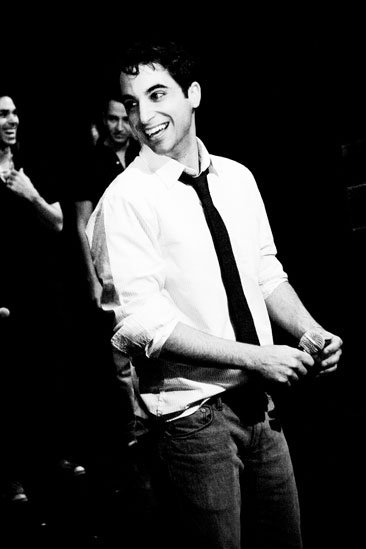 Broadway star and Falcon theatre regular Joseph Leo Bwarie performed last week at the Garry Marshall Theatre (formerly The Falcon) in the nonprofit theatre's winter fundraising concert entitled My Funny Valentine.
The smooth singer was backed by a sterling outfit of nine jazz musicians, Good Stuff Band, featuring Grammy-nominated and all-star musicians.
Much like Bwarie's two solo album releases, Nothin' But Love and The Good Stuff, the intimate concert My Funny Valentine redefined the American songbook and featured songs from artists as varied as Johnny Mercer to Rihanna.
Readers, this concert was flawless! This singer's confident presence, superb voice, banter — all of it was completely on point. It's a joy to be in the presence of such a talented performer. 
And Paulinho Da Costa made an appearance on percussion— wow!! What a legend. 
All the musicians were amazing, of course, and the dancers were wonderful. I especially loved the lighting design by Jim Montecalvo. Really nice.  Sound mix and design by Robert Arturo Ramirez was outstanding as well — a tough job in such an intimate space. The Garry Marshall Theatre has always been one of my favorite LA venues and their upcoming (inaugural) season is a varied and exciting one.  
Now playing at the Garry Marshall Theatre is Edward Albee's Occupant through March 4, 2018. Neil Simon's Laughter on the 23rd Floor opens on March 23 – April 22, 2018 with previews March 21 & 22.

Don't miss Wood Boy Dog Fish written by Chelsea Sutton with Rogue Artists Ensemble. It's playing May 18 – June 24, 2018, with previews: Saturday, May 12 at 2pm & 8pm, Sunday May 13 at 3pm & 7pm, Wednesday May 16 at 8pm. 
I can totally envisage this super entertaining and well-crafted show at the Hollywood Bowl, so here's hoping that eventuates one day soon.
The Good Stuff Band included:
Mike Cottone (trumpet), Brian Scanlon (alto saxophone), Kirsten Edkins (tenor saxophone), Ermuelito Navarro (trombone), Josh Nelson (piano), Zane Carney (guitar), Brian Ward (bass), Terry Schonig (percussion) and musical director, one of Broadway's most sought after drummer Jared Schonig (Terry's acclaimed son).
The superb musical arrangements were courtesy of legendary hit-maker Charles Calello (famous for working with legends such as Barbra Streisand, Frankie Valli, Neil Diamond, Laura Nyro – to name a few).
Bwarie is one of the Artistic Directors at the Garry Marshall Theatre, now in its inaugural season.
Proceeds for the fundraising event supported the Inaugural Season at the Garry Marshall Theatre.
ABOUT THE GARRY MARSHALL THEATRE:
Garry Marshall Theatre is a nonprofit organization providing innovative performances, educational opportunities, and storytelling activities for all ages, year-round. Located in the heart of Burbank and Toluca Lake's entertainment industry, the critically acclaimed and Ovation Award-winning 130-seat theatre was founded in 1997 as the Falcon Theatre by Hollywood legend Garry Marshall. Reestablished as the Garry Marshall Theatre in 2017, the theatre continues to cultivate new artists and experiences that spark ideas and build community.