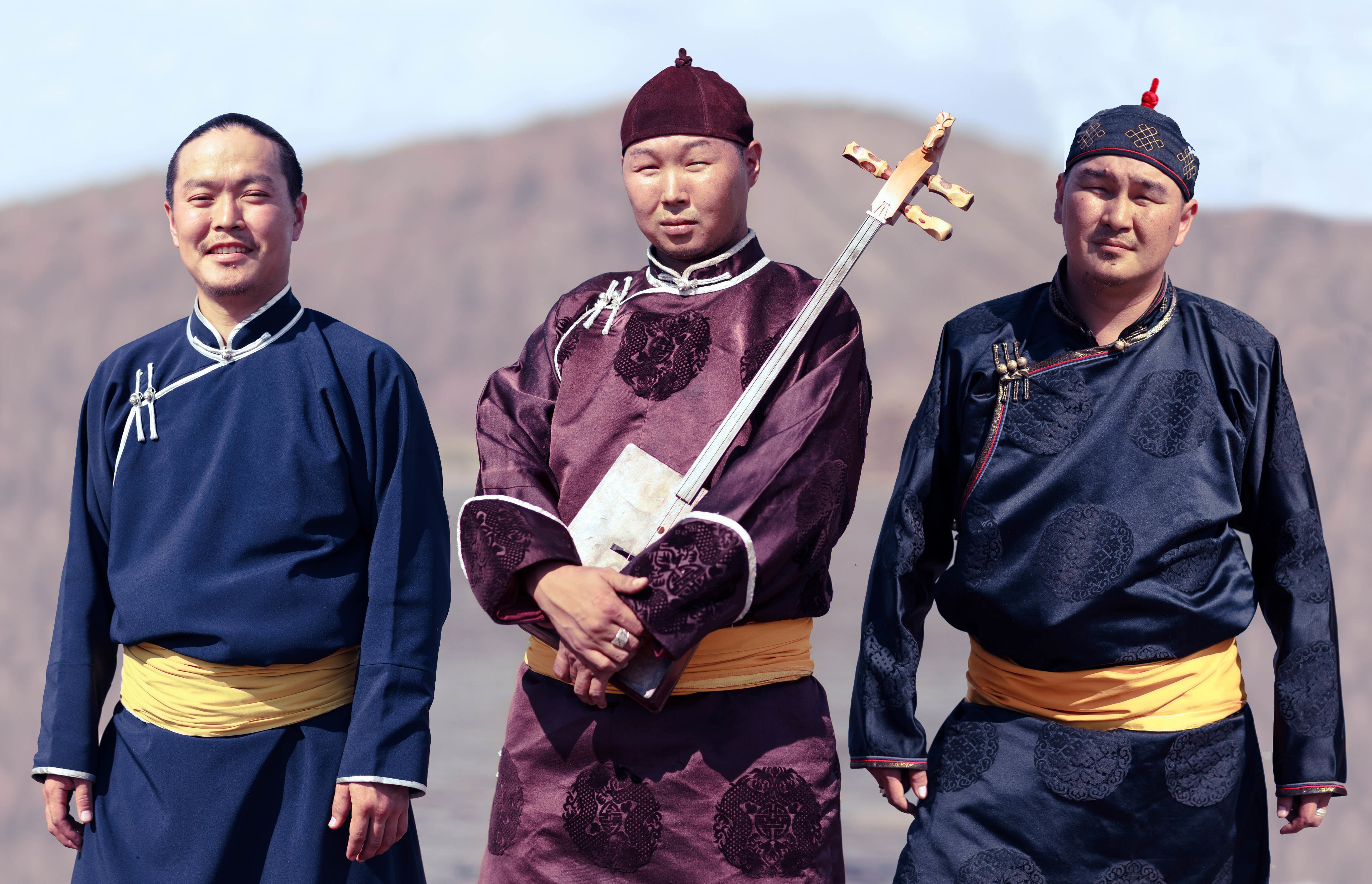 The Eli and Edythe Broad Stage in Santa Monica presents a rare performance by Alash, a trio of master throat singers from Tuva, a tiny republic in the heart of Central Asia.  Grounded in tradition while expanding its musical vocabulary with new ideas from the West, the ensemble and its individual members have consistently won top honors on the highest stages.
Tuvans boast a musical identity all their own, featuring a vocal tradition that has put them on the world-music map: throat singing. The Alash Ensemble honors that heritage with a modern twist. Its influences include all the modern throat singers, but also American innovators such as Jimi Hendrix and Sun Ra.
In an interview with NPR, Sean Quirk, Alash's interpreter and manager explains, "Throat singing is technically the art of controlling overtones. The act of singing generates many partials — frequencies that are present, but not always readily heard. What [throat singers] are doing is essentially — they're filtering out their voice[s]. They're amplifying the overtones that they want, and de-amplifying the ones that they don't want. And they're doing that by making certain pressure at their vocal folds, and… at their 'false' vocal folds."

Quirk continues, "Tuva is actually the center of a very ancient cultural sphere that people don't know much about, because [Tuvans] were nomadic. They didn't build any palaces or leave behind any written language. But it's an amazing, very unique culture. And so it touches people a lot, because it's so ancient."
  ­­______________
Alash
The Broad Stage,
1310 11th Street
Santa Monica CA 90401.
Parking is free
Friday, March 8 at 7:30 PM
Tickets:             Start at $45.00
Online:             www.thebroadstage.org
Phone:              Box Office at 310.434.3200
In Person:         Box office at 1310 11thSt. Santa Monica CA 90401
beginning three hours prior to performance.
             ­­______________
Click here to hear a demonstration of the different Tuvan Throat Singing styles.
About Alash:
Trained in traditional Tuvan music since childhood, the Alash musicians studied at Kyzyl Arts College just as Tuva was beginning to open up to the West. They formed a traditional ensemble and won multiple awards for traditional throat singing in international xöömei competitions, both as an ensemble and as individuals. They have borrowed new ideas that mesh well with the sound and feel of traditional Tuvan music, but they have never sacrificed the integrity of their own heritage in an effort to make their music more hip.
Alash first toured the U.S. under the sponsorship of the Open World Leadership program of the Library of Congress and the National Endowment for the Arts. They appear as guest artists on Béla Fleck & the Flecktones' holiday CD Jingle All the Way (2008), which won a Grammy. The Denver Post remarked, "As electrifying as the Flecktones' performance was, the band were nearly upstaged by Alash Ensemble." Since Alash's first partnership with the legendary Sun Ra Arkestra, they have collaborated with musicians across the spectrum, from country to classical to jazz to beatboxing. Most recently, the jazz CD The Viridian Trio (2017) features Alash in a musical remembrance of the late Kongar-ool Ondar­­.
Beyond performing, Alash has a passion for teaching and promoting understanding between cultures. Their tours often include workshops where they introduce Tuvan music to students from primary, middle and high schools, colleges, universities, and music conservatories. Children as young as 8 and 9 have learned to throat-sing.
Bady-Dorzhu Ondar: vocals, igil, guitar. Kyzyl Arts College, East Siberia State Academy of Culture and Art. Best soloist, 2005 All-Russian Festival of traditional ensembles and orchestras. Best in Maxim Dakpai xöömei competition, 2006. Named People's Xöömeizhi, 2007. Grand prize, International Xöömei Symposium, 2008.
Ayan-ool Sam: vocals, doshpuluur, igil, guitar. Republic School of the Arts, Kyzyl Arts College, Moscow State Pedagogical University. First prize, International Xöömei Symposium, 2008. Named People's Xöömeizhi, 2015.
Ayan Shirizhik: vocals, kengirge, shyngyrash, shoor, murgu, xomus. Kyzyl Arts College, East Siberia State Academy of Culture and Art. Second prize, International Xöömei Symposium, 2008. Named Distinguished Artist of Tuva, 2009.
Sean Quirk: interpreter and manager. Studied music in Tuva on a Fulbright fellowship. Named Distinguished Artist of Tuva, 2008.
  ­­______________
The Eli and Edythe Broad Stage:
The Eli and Edythe Broad Stage at the Santa Monica College Performing Arts Center opened its doors in October 2008. The Broad Stage is an artist's dream and an audience's delight.  Unlike any performance space in the country, it is sublimely intimate with just over 500 seats and strikingly grand at the same time–allowing eye contact with artists from the boxes to the back row–forging a new kind of artist and audience experience in Los Angeles. Boasting one of the city's largest proscenium stages, The Broad Stage offers theatre, dance, film, opera, jazz, world music, musicals, symphony and chamber orchestras, family programming and more. Each genre features superlative talent from every generation and around the globe. No other performing arts center west of the 405 can boast such consistently stellar lineups of performers, including André Watts, Anna Netrebko, Sir James Galway, Sutton Foster, Preservation Hall Jazz Band, Mikhail Baryshnikov, Patti LuPone, Aaron Neville, Lee Ritenou, Dave Grusin, Joshua Redman, Lil Buck, Bobby McFerrin, Helen Hunt, Academy of St Martin in the Fields and many others.
In addition to The Broad Stage, The Edye, our 100-seat black box theater, presents new, developing and innovative work in theatre, music and dance as part of our Under the Radar Series, as well as offerings from our other genres. Featuring younger, emerging artists, chamber pieces and plays, programming at The Edye reflects the dynamic nature of the space and allows for the latest, most exciting artists to be booked on short notice.  The Broad Stage's Education and Community Programs offer opportunities for cultural exposure through various student events.