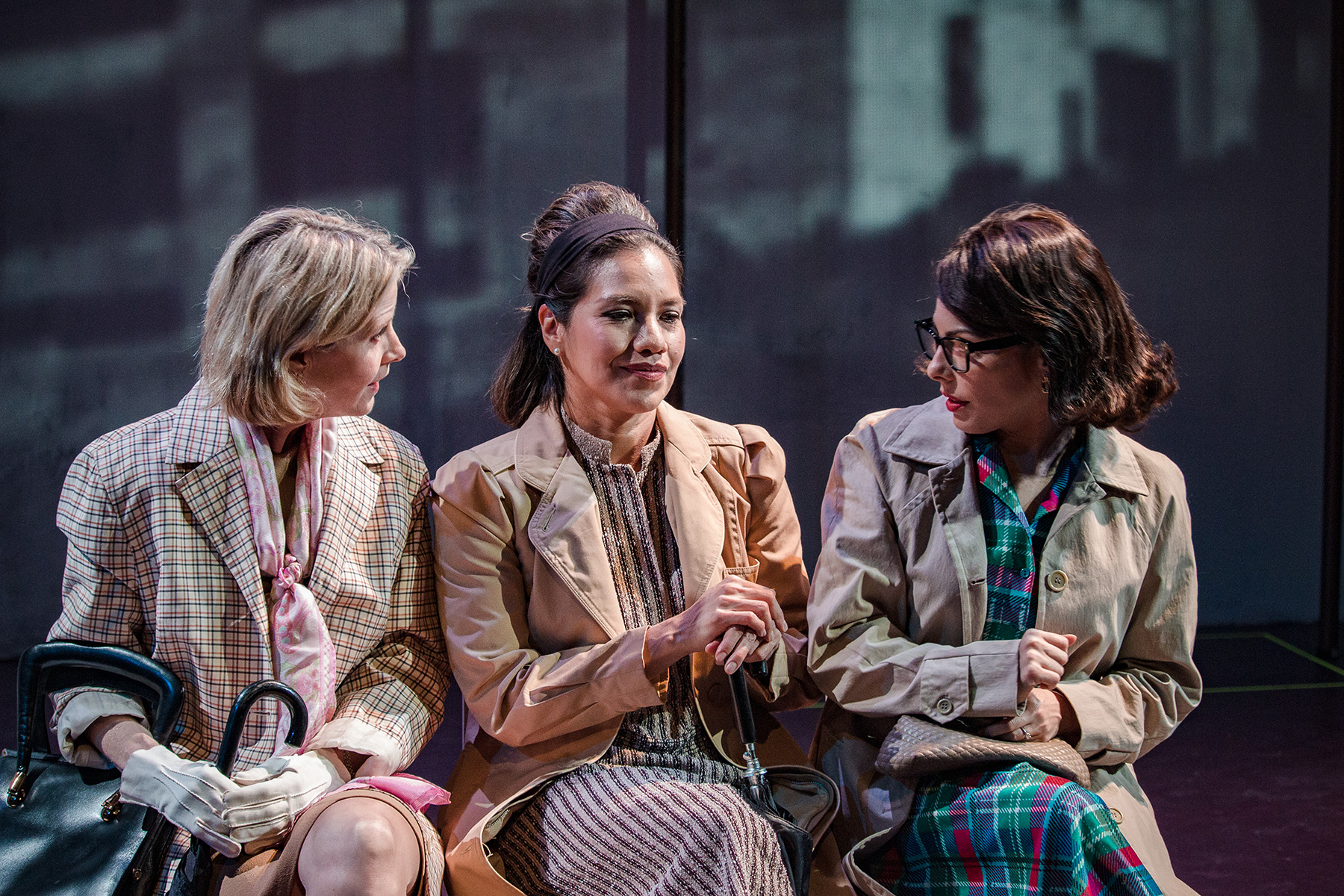 A gorgeous new play written by Evelina Fernández is now running at The Los Angeles Theatre Center in Downtown LA. Presented by The Latino Theater Company, The Mother of Henry combines magical realism with harsh truths as it focusses on the interactions between five employees in the returns department at Sears, circa 1968.
1968 is arguably one of the most tumultuous years in recent decades. Civil rights protests and violent anti-Vietnam demonstrations were happening all over the nation, while countries such as Poland and France experienced political crises due to volatile student and workers' riots. The decade saw numerous high-profile political assassinations, most notably that of Martin Luther King Jr. and Bobby Kennedy in 1968.
The late sixties setting proves a rich backdrop as Fernández locates her story in the specific and historic neighborhood of Los Angeles in Boyle Heights, known for its diverse population. Each of the Sears co-workers grapple with and discuss the issues of the time, such as the anxieties of war, civil unrest and the political assassinations that are dominating the news. Fernández concentrates on Connie (played beautifully by Cheryl Umaña), a single, working class mother who realizes her agency and discovers her true identity when the Vietnam War tragically affects her directly.
Director José Luis Valenzuela stages the play well, making good use of the dual level set (scenic and lighting design is by Emily McDonald and Cameron Mock, respectively). Yee Eun Nam created the projections that provide plenty of newsworthy context as well as vivid floral animation to enhance Connie's encounters with La Virgen.
Curiously, the title of the play almost obscures our central protagonist. Is Connie's identity so buried in her role as a mother to two (unseen) children? Connie is a devout Catholic, so she prays to the Virgin Mary for comfort and assistance. Esperanza America is wonderful as La Virgen de Guadalupe, gliding through the two-level set and offering solace along with dry wit and the occasional hilarious blasphemous remark. She exquisitely sings the protest songs of the decade, accompanied by her rocker angel. As the winged angel, Robert Revell shreds his guitar, effortlessly duplicating some of the most famous solos of the era (Hendrix etc.) Ultimately, when Connie declares she is the 'Mother of Henry,' it's a poetic moment and we realize she's speaking for all mothers. It's here that  Fernández' gently comic yet profound drama explodes into the universal.
Wonderfully moving and deeply human, The Mother of Henry is a beautiful play that resonates on many levels.

Highly recommended.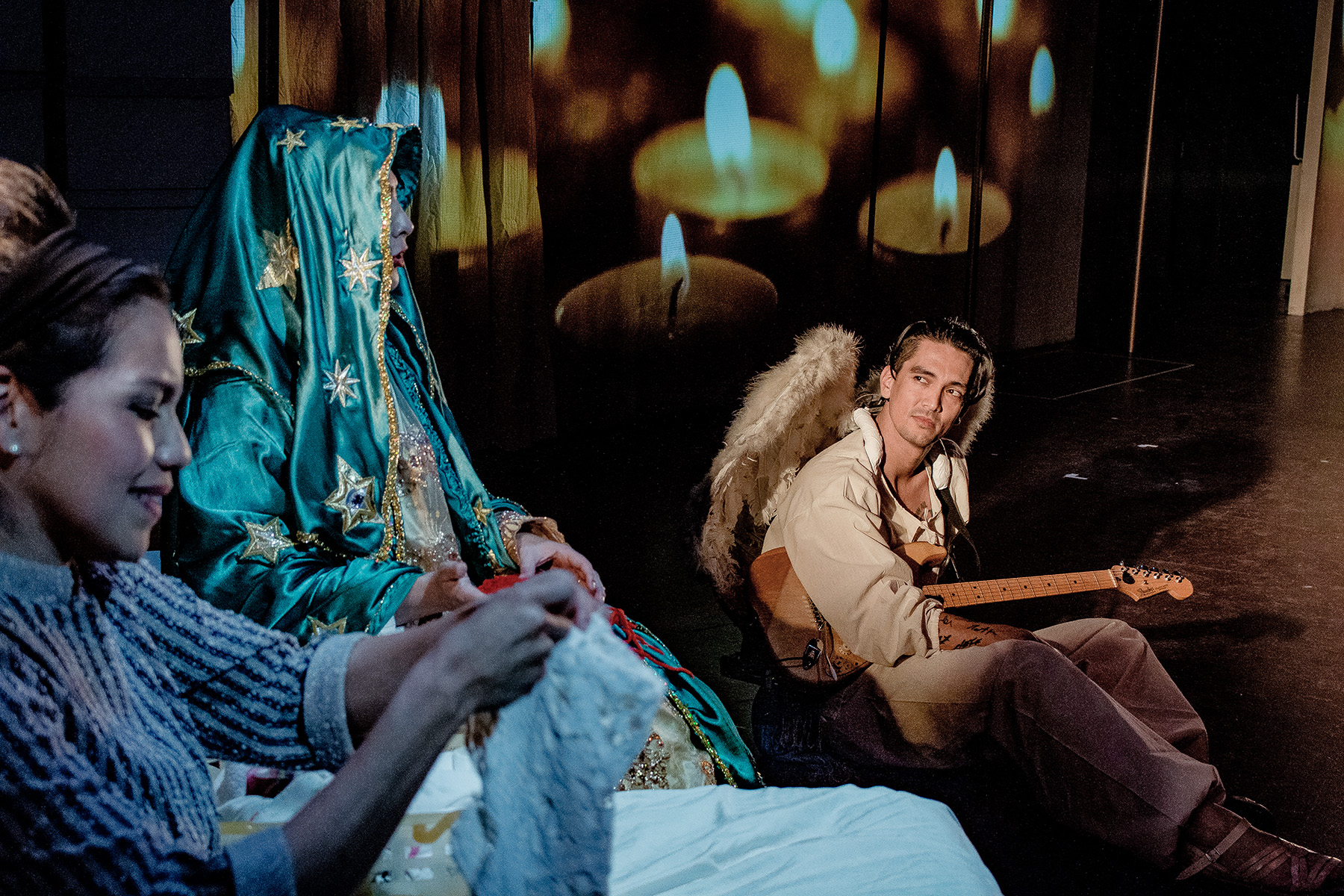 World premiere of The Mother of Henry
• Written by Evelina Fernández
• Directed by José Luis Valenzuela
• Starring Esperanza America, Mary-Beth Manning, Xavi Moreno, Ella Saldaña North, Gary Patent, Robert Revell, Cheryl Umaña
• Produced by The Latino Theater Company
The Los Angles Theatre Center
514 S. Spring Street
Los Angeles CA 90013
Runs from March 23 – April 20, 2019.
Performances:
• Wednesday at 8 p.m.: April 17 ONLY
• Thursdays at 8 p.m.: March 28; April 4, April 11, April 18
• Fridays at 8 p.m.: March 29; April 5, April 12, April 19
• Saturdays at 8 p.m.: March 23 (opening), March 30; April 6, April 13, April 20
• Sundays at 4 p.m.: March 24, March 31; April 7, April 14
Box office:
• To purchase tickets, call (866) 811-4111 or go to http://thelatc.org/
• For group sales, call (213) 489-0994
• Like us on facebook: www.facebook.com/theLATC
• Follow us on twitter and instagram: @theLATC
TICKET PRICES:
$20-$50
PARKING:
• $5 with box office validation, Joe's Parking structure, 530 S. Spring St. (immediately south of the theater)
• Metered parking available on streets surrounding the theater.
• Take the Metro: nearest stop is Pershing Square (two blocks west of The LATC).