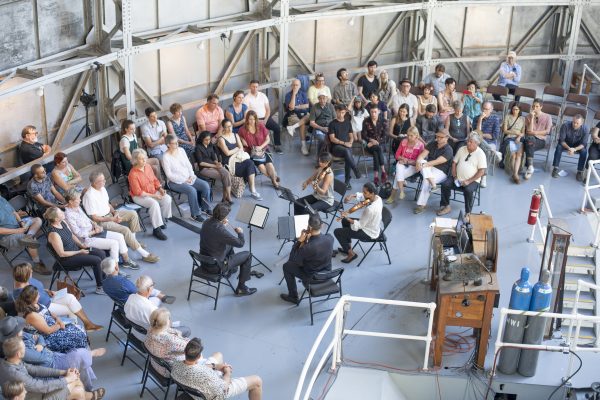 Mount Wilson Observatory – the scientific marvel above Pasadena, atop Mount Wilson – is pleased to announce the third season of its Sunday Afternoon Concerts in the Dome, which will take place on the first Sunday of each month, inside the iconic vaulted dome of the 100-inch Hooker telescope. A wide range of musical adventures, thoughtfully curated by Artistic Director Cécilia Tsan, will be presented in this acoustically remarkable venue during the six-month run of the 2019 season, which concludes on October 6th. See the Concert Series schedule and line-up below. Poised for rediscovery, the grounds of the legendary observatory— founded in 1904 by astrophysical pioneer George Ellery Hale—are open for free to the public year round.
For visitor information please see https://www.mtwilson.edu/visiting.
"The inaugural concert of the season, on Sunday, May 5, 2019, is inspired by the Hot Club de France," notes Tsan. The afternoon concerts will feature music by and in the style of the great guitarist Django Reinhardt and violinist Stéphane Grappelli. Violinist Ben Powell and guitarist Roch Lockyer will be joined by Brian Netzley on bass for hot gypsy jazz on a cool spring afternoon.
In addition, concert-goers will be treated to an exhibition featuring rare scientific artifacts, drawings, and illustrations from the Observatory's collection.
The program will be offered in two performances, one at 3:00 PM and one at 5:00 PM. There will be a reception with the artists at 4:00 PM. Seating inside the historic dome is limited. Tickets cost $50.00 each and must be purchased in advance.
From there, you can purchase tickets to the May 5th 3:00 PM performance or the 5:00 PM show.
For more information on the concert series, please visit https://www.mtwilson.edu/concerts.
All proceeds from the concerts go to support the Mt. Wilson Institute in its mission to preserve, protect and promote the Observatory and the science accomplished there.
Please be advised that access to the dome performances is via a 53-step staircase. There is no ADA-compliant access.
2019 Sunday Afternoon Concerts in the Dome include:
Sunday, May 5
Hot gypsy jazz on a cool spring afternoon with violinist Ben Powell, guitarist Roch Lockyer and bassist Brian Netzley playing music by and in the style of the great guitarist Django Reinhardt and violinist Stéphane Grappelli.
Sunday, June 2
Leslie Reed, oboe, Roger Wilkie, violin, Alma Fernandez, viola and Cécilia Tsan, cello, in a program of oboe quartets by Mozart and Britten and a Beethoven string trio.
Sunday, July 7
Voices in the Dome with Hila Plitmann, soprano, Sangeeta Kaur, soprano, Sara Andon, flute, Reina Inui, violin, Jacqueline Marshall, harp and Shea Welsh, guitar. On the program are compositions by Danaë Vlasse, Todd Mason, Bruce Babcock, Mark McEncroe and Anthony Constantino.
Sunday, August 4
Schubert's String Quintet in C major performed by the Lyris Quartet featuringAlyssa Park, Shalini Vijayan, violins, Luke Maurer, viola, Timothy Loo, cello andCécilia Tsan, cello.
Sunday, September 1
Cello duets performed by Eric Byers and Cécilia Tsan featuring works by Bach, Barriere and Offenbach.
Sunday, October 6
The concert series wraps up the summer season with Mozart and Brahms Quintets for clarinet and strings. The artists include Pierre Génisson, clarinet, Ambroise Aubrun and Henry Gron nier, violins, Virginie d'Avezac, viola and Cécilia Tsan, cello.
ABOUT THE ARTISTS:
Ben Powell (Violin) May 5th Performer:
Ben Powell is fast assuring his position as one of the most versatile violinists of his generation. British born, he now lives in Los Angeles after residencies in Boston, Paris and New York. He is an alumnus of Berklee College of Music where he majored in composition and performance.
Upon hearing the playing of Stephane Grappelli in his early teens his journey into string improvisation was born. Recently, Powell has collaborated on his own recording projects with renown musicians such as vibraphonist Gary Burton, cellist Lynn Harrell and percussionist Peter Erskine. A lover of Gypsy Jazz, Powell recently performed the acclaimed 'Symphonic Django' suite as a soloist with the Tacoma Symphony Orchestra joined by American guitarist John Jorgenson. An experienced performer, Powell as appeared alongside Paul Simon, Herbie Hancock, Gloria Estefan, Danny Elfman, Celine Dion, Andrea Bocelli, and recently performed as an improvising soloist with Steve Wonder at The Forum, Los Angeles. Fusing the improvising worlds with his classical pedagogy, Powell is truly a musician who transcends boundaries, not only by his own playing but by bringing together such varied musical company to join him in his creative ventures.
Roch Lockyer (Guitar) May 5th Performer:
In a short time, Roch Lockyer has forged a musical pedigree that begets the question as to why he's not a household name in the guitar world. He has recorded and played with modern jazz masters such as trumpet luminary and current Grammy nominee, Ron Miles (Brian Blade, Bill Frisell, Joshua Redman) and ECM Artist Art Lande (Jan Garbarek, Miroslav Vitous). His first album, NonDirectional in 2010, featured all original material and was critically acclaimed. Lockyer has played and performed in Asia, Europe, and North America.
In a surprising departure from his debut, Lockyer released When Frank Met Djangoin 2018. He gave a nod to Mr Sinatra, the greatest interpreter of the American Song Book, done in the style of Django Reinhardt. Critics again sang his praises. Lockyer was inspired by his close friendship and mentorship with the legendary French Gypsy band Les Doigts de L'Homme.
Brian Netzley (Bass) May 5th Performer:
Brian Netzley has spent the last decade as one of the most in-demand Gypsy Jazz bassists working in the United States. He made a name for himself while with the groundbreaking Gonzalo Bergara Quartet and went on to form the pop/jazz quintet The Black Market Trust.
https://www.facebook.com/brian.netzley
Cécilia Tsan, Artistic Director Sunday Afternoon Concerts in the Dome –
Born in France, Cécilia Tsan began playing the cello with the same teacher as her childhood friend Yo-Yo Ma. A Philosophy and Chinese major, she also graduated from the Conservatoire National Supérieur de Musique de Paris under André Navarra. She is a prizewinner at the Barcelona, Florence and Paris International competitions.
Tsan toured throughout the world as a soloist and as a chamber musician with Rudolf Firkusny, Jean-Yves Thibaudet, Michel Dalberto, Pascal Rogé, Pierre Amoyal, Augustin Dumay, Martin Chalifour, and others. She has also recorded hundreds of movie soundtracks with John Williams, James Newton-Howard, James Horner, Randy Newman, Danny Elfman, Alexandre Desplat, and others.
She currently serves as Principal Cellist with the Long Beach Symphony Orchestra and the Los Angeles Master Chorale Orchestra. In 2012, she performed the World Premiere of Eric Tanguy's piano trio specially written for her. She also gave the West Coast Premiere of Tanguy's 2nd Cello Concerto. Tsan has also served as Principal Cello for the Pasadena Symphony, the Los Angeles Chamber Orchestra, the New West Symphony, the Santa Barbara Symphony, the Academy Awards, the Emmys,American Idol, Dancing with the Stars and America's Got Talent
Since 2017, she has been the Artistic Director for Mount Wilson Observatory's concert series. In April 2019, she will be the narrator in Stravinsky's "Perséphone" with the Los Angeles Philharmonic, Esa-Pekka Salonen and Peter Sellars at Disney Hall.