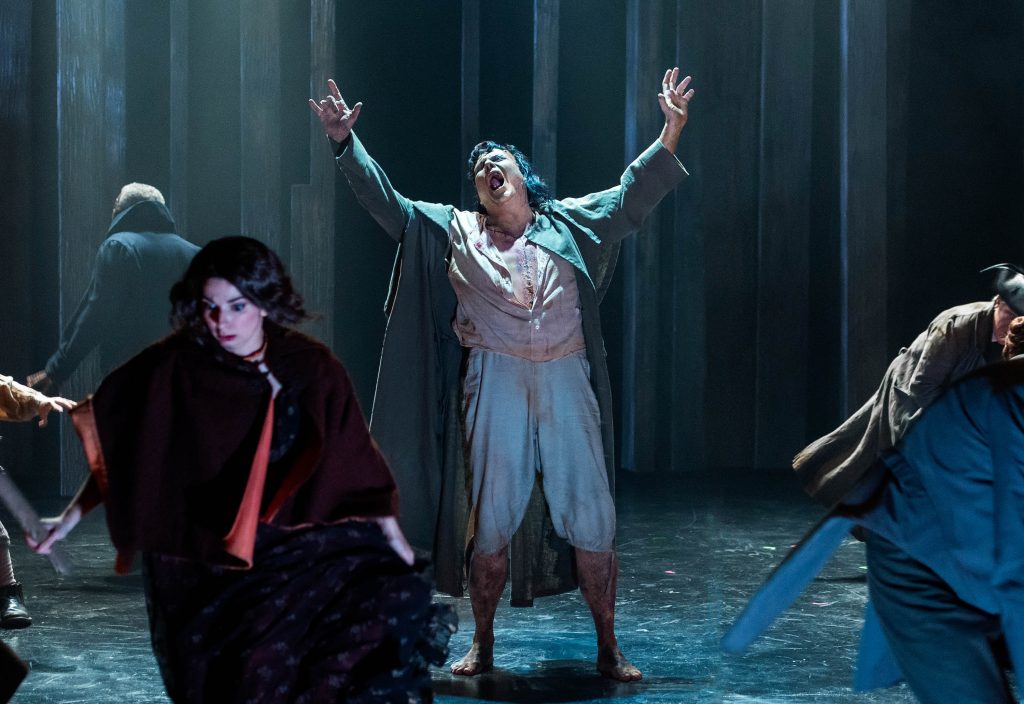 Pictured (L-R): Katie Rodriguez, Michael Manuel, Ensemble. Production photos by Craig Schwartz.
Nick Dear's theatrical version of Mary Shelly's classic Gothic fable Frankenstein opens dramatically, with gloomy music. The ominous score (original music composition and sound design from Robert Oriol) is paired with flashing strobe lights (moody lighting design is by Jared A. Sayeg) representing Dr. Victor Frankenstein's harnessing of electricity to animate a creature cobbled together from dead body parts. We catch a glimpse of the experimental doctor (Victor is played by Kasey Mahaffy) as he flees his lab when confronted with his creation, dropping his notebook in panic. There's barely any dialogue for the first 20 minutes of the play, as we endure the Creature struggle with a sort of birthing sequence.
The majority of Dear's scenes concentrate on the evolution of The Creature (played well by Michael Manuel) as he flees from a world of chaos and violence within the rowdy Victorian-era population. His development towards sentient human being progresses during a lengthy stay with a blind man (played cornily by Harrison White)—the first person to relate to him as an equal rather that something to fear, attack or flee. It's well over an hour into this two-hour, one act play before we formally meet Victor Frankenstein (Kasey Mahaffy), bickering with his fiancée Elizabeth (Erika Soto).
Long, slender blocks of wood hang like stalactites, suggesting the woods. Other scenic pieces include mirrors as screens that can be moved around. The scenic design by François-Pierre Couture makes good use of the traps in the stage for various moments, such as grave-robbing and serving as a fire pit. I found the handheld follow-spot work by two technicians at the edge of the stage to be distracting, as was the sight of a fully-costumed character waving a fog machine around.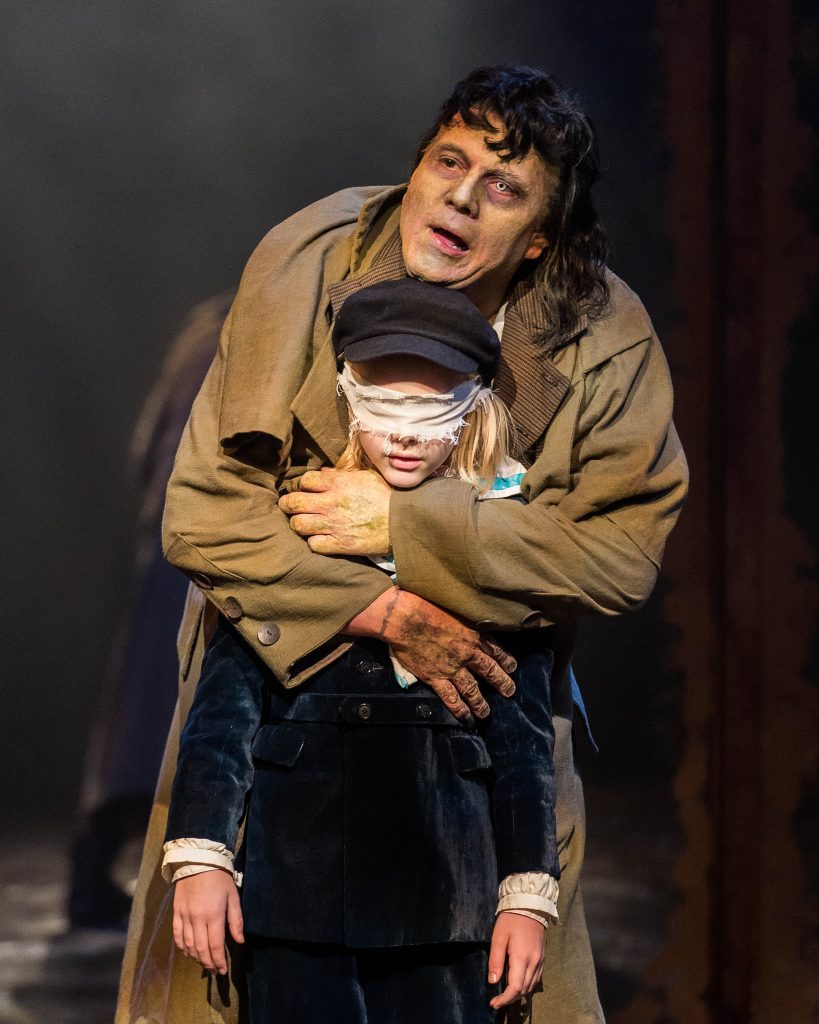 Directed by Michael Michetti, the production feels overlong and dull and the performances one-note and corny. At the heart of the piece is a philosophical debate tinged with recriminations. Dear's play itself not only fudges the timeline but it lacks subtlety, especially suffering from his obviously expository and cutesy dialogue. "What is love?" muses the creature. Cue a woman in a flowing white gown doing an interpretative dance routine upstage, amongst the trees, that becomes a cringey pas de deux between her and the Creature.
As Victor Frankenstein, Kasey Mahaffy's role and two-dimensional performance is overwhelmed by petulance, and entitlement, leaving scant room for shades of humanity nor permitting much connection thanks to his demonstrable lack of compassion. As his ill-fated younger brother William, Christian Ganiere gives the finest performance of the ensemble, especially during a haunting dream sequence that springs from the imagination of Victor. Despite its grisly, ghoulish climax, this production of Nick Dear's Frankenstein proves a largely dull theatrical experience.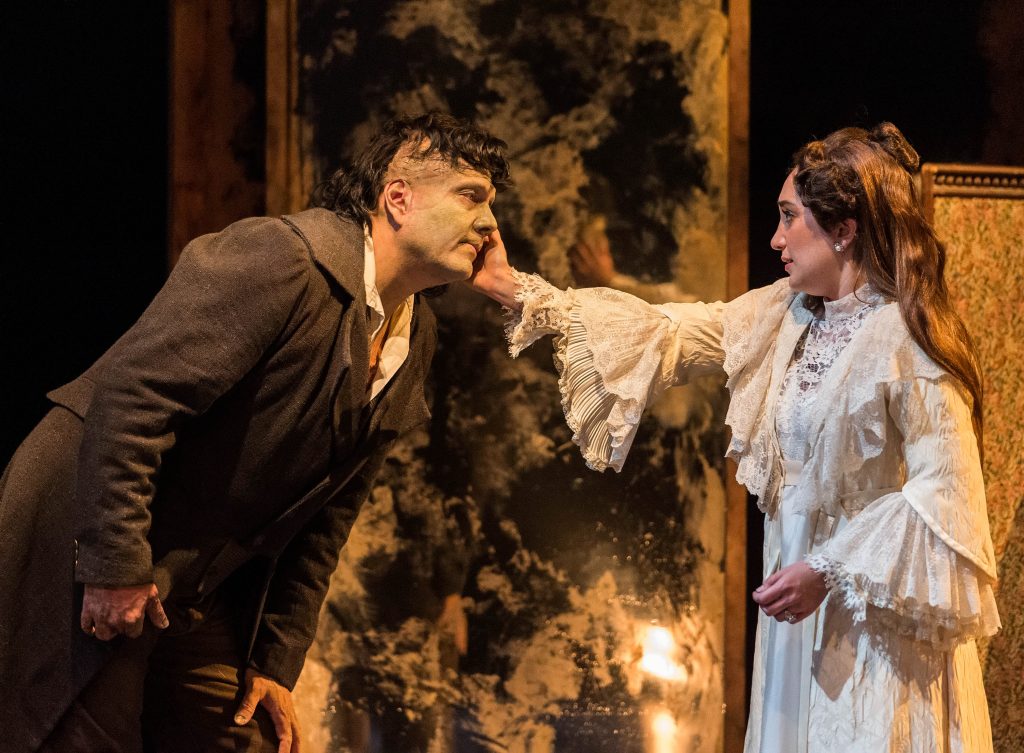 Frankenstein by Nick Dear.
From the novel by Mary Shelley.

A Noise Within,
3352 E. Foothill Blvd,
Pasadena, CA 91107
Running time — two hours, no intermission.
Runs through Sunday, September 8, 2019.
Performances:
Wednesday, Aug. 28 at 7:30 p.m.
Thursday, Aug. 29 at 7:30 p.m.
Friday, Aug. 30 at 8 p.m. (Post-Show Conversation)
Saturday, Aug. 31 at 2 p.m.
Saturday, Aug. 31 at 8 p.m.
Sunday, Sept. 1 at 2 p.m. (Post-Show Conversation)
Thursday, Sept. 5 at 7:30 p.m.
Friday, Sept. 6 at 8 p.m. (Post-Show Conversation)
Saturday, Sept. 7 at 2 p.m.
Saturday, Sept. 7 at 8 p.m.
Sunday, Sept. 8 at 2 p.m.

Ticket and Price Information:
Buy online: www.anoisewithin.org
Buy via Phone: 626-356-3121
Purchase at Box Office: 3352 E. Foothill Blvd., Pasadena, CA 91107
Regular Prices: Single tickets from $25, Student Rush with ID an hour before performance $20.
Groups (10 or more): Adults from $25 to $50 a ticket, up to 35% off; Students from $18/tickets. Call 626-356-3121 for more information and ask for Subscriber Services Manager Deborah Strang.
Pay What You Can (PWYC): Thursday, Aug. 15 at 7:30 p.m. – all tickets remaining are Pay What You Can, cash only, exact change appreciated, at the box office on day of performance after 2 p.m. Limit two per person. Suggested price of $10.
Sunday Rush: Aug. 25 at 7 p.m. – all tickets remaining are $25, available online after 12 a.m. day of performance with the code SUNDAYRUSH or at the box office, cash or credit, after 2 p.m. day of performance.
Symposium and Post-Show Conversations:
This run of Frankenstein includes a symposium with Professor of English from Glendale Community College, Susan Henry, at 6:45 p.m. on Aug. 14, 2019 and post-show conversations on Aug. 30, Sept. 1, and Sept. 6, 2019.

Free Bloody Poetry Reading:
Monday, Aug. 26 at 7 p.m. An elegiac and fiery play about poetry and failed utopias, Bloody Poetry follows Percy Bysshe Shelley and Lord Byron, and their lovers Mary Shelley and Claire Clairemont, into exile and stages the famous biographical events of the writers' lives—the meeting of Shelley and Byron and the stormy night when Frankenstein was conceived. The reading is free to attend, but reservations are strongly encouraged.

Noise Now Mexican Monsters Exhibit:
Aug. 17 – Sept. 8 Noise Now and LA Plaza de Cultura y Artes present Latinx print-makers Daniel González and Joel Rendón for a visual art exhibition titled, "Tlacantzolli: Monsters and Chimeras." Tlacantzolli in Nahuatl means "men squeezed together" and alludes to the monsters and chimeras that will illuminate ANW's walls. Human beings have always been fascinated by the idea of being able to absorb the energies of other creatures and manifest their attributes through some sort of magical process or meditation. Daniel González's and Joel Rendón's hybrids of creatures and humans illustrate the idea of Tlacantzolli while also contemporizing it, pushing viewers to consider how their everyday interactions with the environment and the world transforms them.
About A Noise Within:
A Noise Within has been called "an oasis for those who love classic stories" by Los Angeles Times and is a leading regional producer based in Pasadena, Calif. ANW's award-winning resident company practices a rotating repertory model at their state-of-the-art, 324-seat performance space. This venue, established in 2011, has allowed ANW to expand its audience, surpassing its previous box office, subscription, and attendance records year after year.

In addition to producing world-class performances of classic theatre, the organization runs robust education programs committed to inspiring diverse audiences of all ages. Helmed by Producing Artistic Directors Geoff Elliott and Julia Rodriguez-Elliott, who hold MFAs from San Francisco's renowned American Conservatory Theatre (A.C.T.), A Noise Within truly delivers CLASSIC THEATRE, MODERN MAGIC. http://www.anoisewithin.org