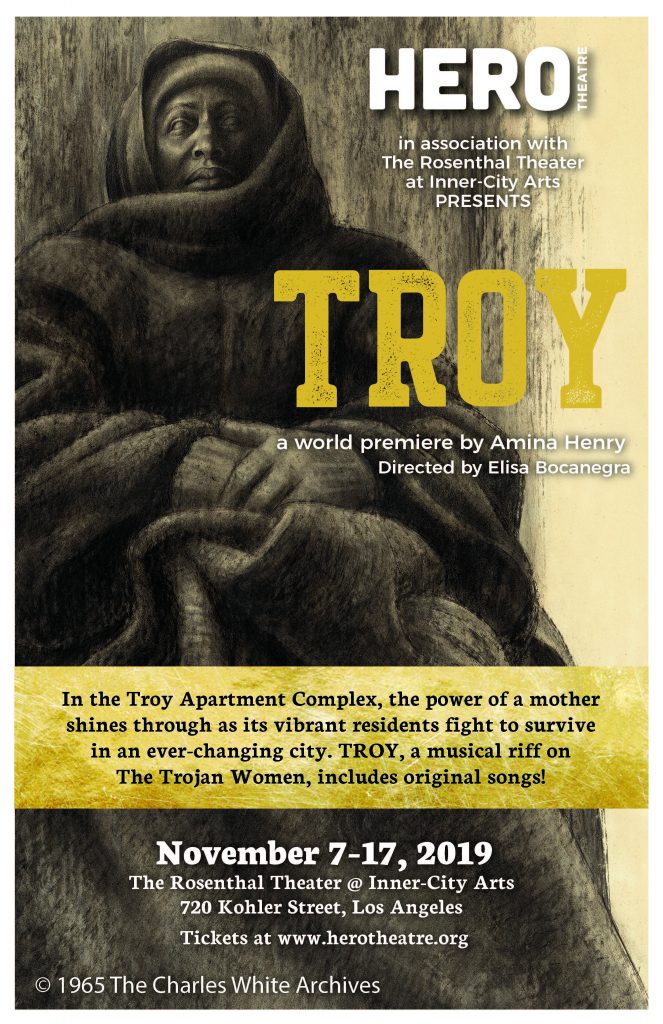 Hero Theatre is presenting the world premier of Troy by playwright Amina Henry.
Troy, a musical riff on The Trojan Women, chronicles the story of a single-mother struggling to save her family from homelessness amidst rent-increases in her neighborhood. Set in a fictional city, Troy is inspired by true stories of homeless families in Los Angeles. It includes original songs by T.J. Keanu Tario and is directed by Elisa Bocanegra.
Troy previews on November 7, 2019 and runs November 8th-10th and 15th-17th at the Rosenthal Theater at Inner City Arts.
Featuring: Ryan Hardge, Jack Landrón, Mildred Marie Langford, Carene Rose Mekertichyan, Adam Mendez Jr., April Nixon, Shakira Reedus, Larrieux Ross, DeForrest Taylor
*No refunds. If you are unable to attend, your ticket will be donated to someone from the homeless community.

About Hero Theatre:
​HERO Theatre provides a way for audiences to see America through a different lens.
At HERO Theatre, we present classical plays and new works. We seek to use art to model and bring about social progress.
Stories on our stage mirror America today. We examine classical and contemporary works, ensuring that equity, diversity and inclusion remain in the forefront.
We challenge the traditional definition of classics. What will future generations call a classic? We define future classics as those that have a lasting impact on audiences, help shape a better society and reflect our nation today.
We produce work that reflects, uplifts and invites marginalized communities.
Hero Theatre welcomes many first-time theatregoers to our plays by providing free to low cost admission. Granting access to all.
With our newly formed SoCal Latinx Artists Lab, we provide a platform for Latinx artists to use theatre to explore race, culture and identity. Audiences in attendance are given the opportunity to experience a different, yet important kind of American story.
We champion work that we feel is relevant. In our production of Tea, audiences hear the experiences of Japanese war brides living in the United States after WWII. Tea is a story of immigration and an inspiring tale of overcoming prejudice and hardship. Written 30 years ago by Japanese-American playwright Velina Hasu Houston, Tea stands as a vital addition to the American cannon.
Our play-commissioning project, Our America provides women and playwrights of color the opportunity to explore real stories of cities in America undergoing socio-economic change.
Hero Theatre invests and believes in the next generation of audiences and theatremakers.
HERO Ignite, a new division at HERO Theatre, serves as an incubator for new works created, and inspired by, the millennial generation.
Our rigorous Mentorship Program provides students from local universities, historical black colleges, in addition to early-career artists, an opportunity to learn from theatre practitioners in the field. Many of our mentorship program alumni have secured leadership and acting positions at HERO Theatre and beyond.
We give back.
With projects such as The Super Sabado Show, we were able to raise money to help families in Aguadilla, Puerto Rico who were affected by Hurricane Maria. With Festival Irene, we raised money for playwright Maria Irene Fornés, who was suffering from Alzheimer's at the time. With our upcoming production of Troy​, we are donating a portion of the proceeds to women living in domestic violence and homeless shelters.
Hero Theatre. Building a better society by championing voices that need to be heard. Now.