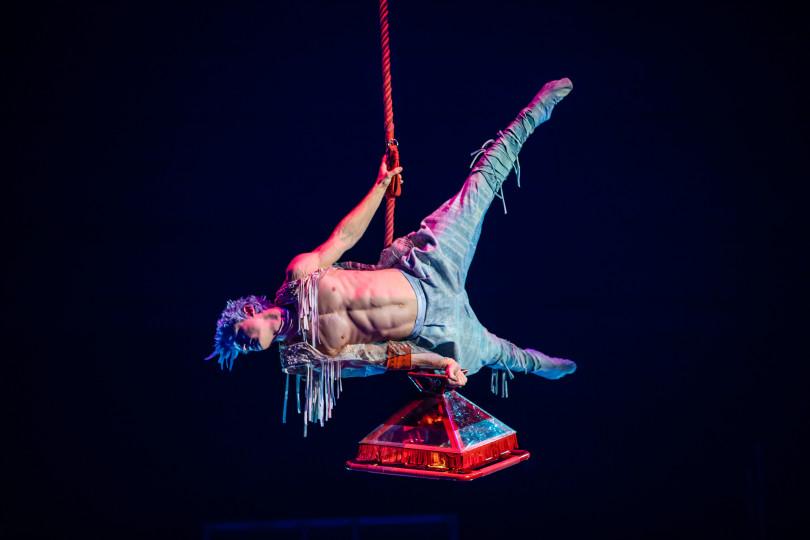 Dazzling spectacle, breathtaking artistry, effortless grace and elegance – you can experience all these things during a Cirque du Soleil's live show.
Cirque du Soleil's latest show Volta has opened in 'le grand chapiteau' — their large tent located in downtown LA. The show has been touring for three years and is the company's first ever sports-inspired performance.
Volta opened Tuesday in the Dodger Stadium parking lot where it will play through March 8, 2020, before moving to the Orange County Fair & Event Center for a second engagement, March 18-April 19, 2020.
Beginning as street performers in Canada, the Cirque du Soleil company was established in 1984 leading to its first appearance here in LA in 1987 as the opening act of the Los Angeles Festival. Cirque du Soleil has evolved from a one-tent troupe of traveling gymnasts and clowns characterized by their theatrical style and panache into a massive International organization worth billions of dollars.
Anyone familiar with their spectacular shows knows to expect a range of gravity-defying acrobatic and trapeze acts.
Volta features a number of theatrical presentations of jaw-dropping acrobatic feats, including roller skaters, daredevil bicycle stunt riders, jugglers, dancers, singers and other artists performing theatrical and physical acts that define Cirque du Soleil's big top shows.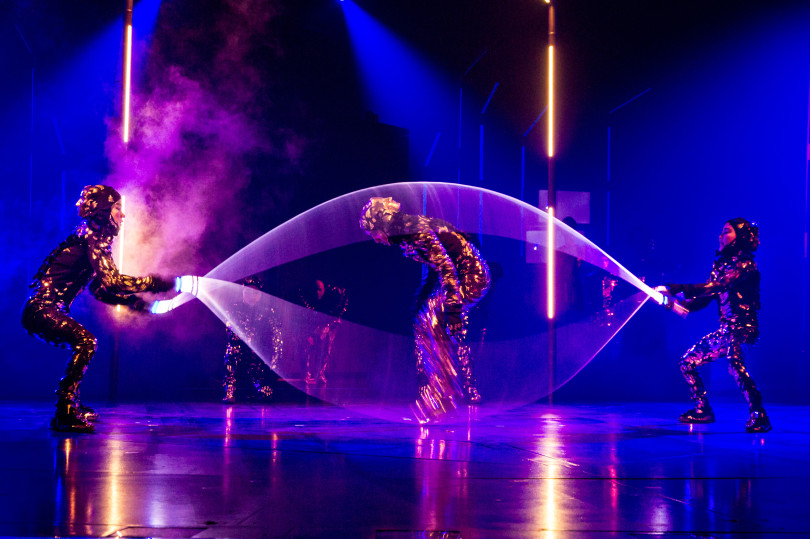 The two-act evening opens with a Japanese troupe of 'double dutch' rope skippers. While skipping between two turning ropes, the performers execute flips and handstands as they jump the ropes. For the flashy finale, the lights are dimmed. Now the rope skippers navigate two LED-lit ropes that are spinning so fast it blurs into an imaginary bubble around the performers who apparently are skipping as fast as eight steps per second.
Throughout the live music-infused show, performers roller-skate, they jump rope, they break dance, they swing on the rings and even levitate.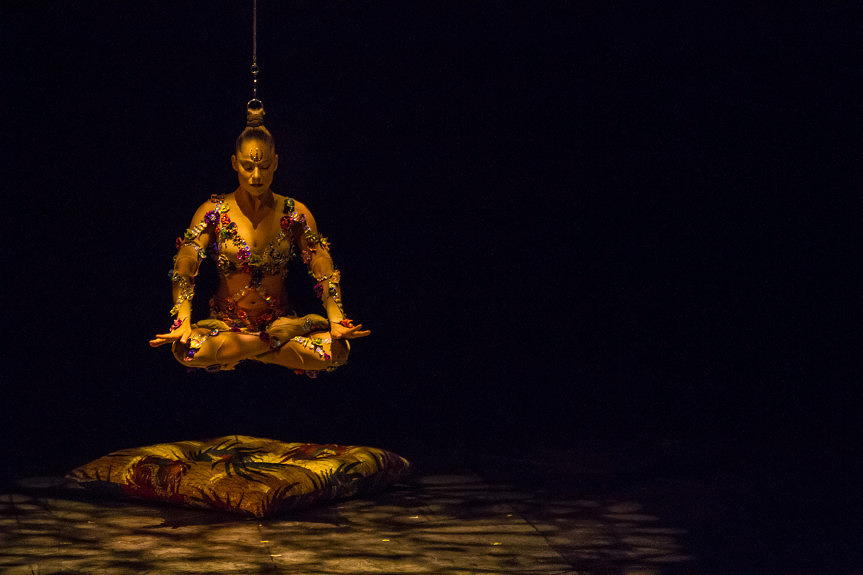 One act is called "Mirage." In it we see a dancer is costumed like an Indian goddess, seated in a cross-legged yoga position while illuminated by shafts of gold and red light. Her long hair is bundled on top of her head and attached to a cable. Before you know it, she has levitated several feet up in the air and appears to float as she continues to perform choreographed movements while floating in mid air.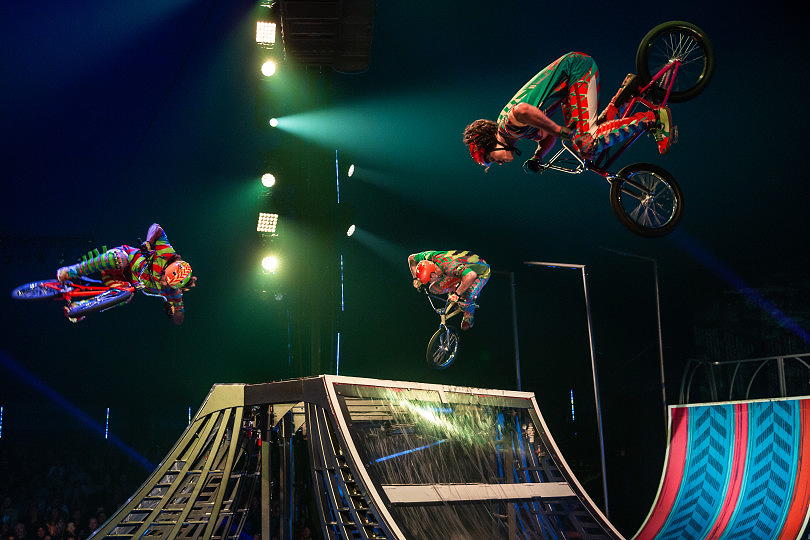 Inspired by street sports, the evening culminates in a thrilling BMX finale as daredevil cyclists invade the stage to deliver a jaw-dropping, fast and furious performance of nonstop acrobatics on wheels. The riders race up the jump boxes and perform mid-air stunts before landing and leaping off the ramps again, crisscrossing and spinning their bikes throughout.
Volta – Cirque du Soleil
Dodger's Stadium
1000 Vin Scully Ave
Dodgertown, CA, United States
Parking is $25.00
Dodger Stadium in Los Angeles January 18—March 8, 2020
The OC Fair and Event Center in Costa Mesa March 18–April 19, 2020.
Purchase tickets here. Or call 1-877-9CIRQUE (1-877-924-7783).
Also available is their Hennessy Black VIP Experience package, which includes a cocktail reception with open bar and hors d'oeuvres inspired by the show, access to the best seats for greater comfort, complimentary parking and more.
About Volta:
Written and directed by Bastien Alexandre, with Jean Guibert as the director of creation, Volta weaves acrobatics in a visually striking world driven by a stirring melodic score, composed by Anthony Gonzalez from the international electronic group M83.
About Cirque du Soleil:
From a group of 20 street performers at its beginnings in 1984, Cirque du Soleil is now a major Quebec-based organization providing high-quality artistic entertainment. The company has 5,000 employees, including more than 1,500 performing artists from close to 50 different countries. Cirque du Soleil has brought wonder and delight to more than 100 million spectators in nearly 300 cities on six continents.
For more information, visit their official site.