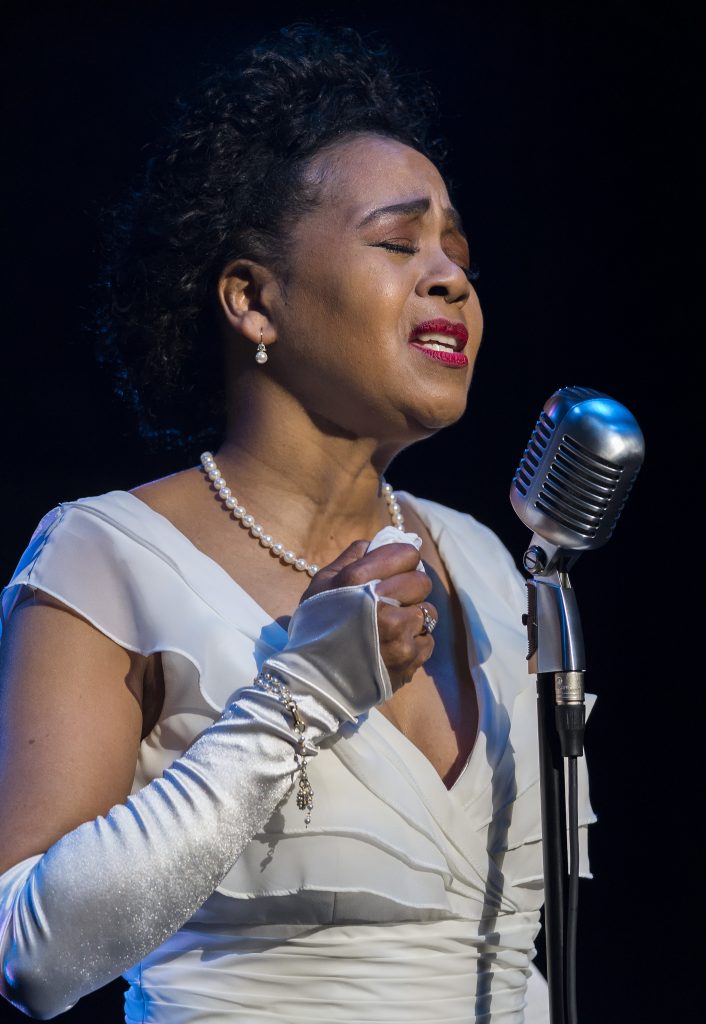 Clutching a cocktail as she emerges onto the dimly lit nightclub stage, resplendent in a white satin gown with long white gloves, Karole Foreman channels tragic Blues legend Billie Holliday in this heartbreakingly poignant musical play. The time is 1959, and the setting is Emerson's Bar & Grill in South Philadelphia—the kind of seedy dive in a shabby backwater town that we learn Holliday is reduced to performing in, having been shut out of all the upscale jazz clubs of New York.
All production photos are by Craig Schwartz.
Backstory: In 1947, Holiday was arrested for possession of narcotics in her New York apartment. Later that month, she was sentenced to Alderson Federal Prison Camp in West Virginia. The drug possession conviction caused her to lose her New York City cabaret card, preventing her working anywhere that sold alcohol for the remaining 12 years of her life and significantly reducing her earnings. Thereafter, she performed in concert venues and theaters. This injustice is alluded to in the play.
Lady Day at Emerson's Bar & Grill is an absorbing one-act play with songs that focusses on the fading career of the iconic jazz singer and charts her life story interspersed with many of the tunes that made her famous, including "Strange Fruit," "God Bless the Child" and "What a Little Moonlight Can Do." The latter song became a jazz standard after she recorded it in 1935.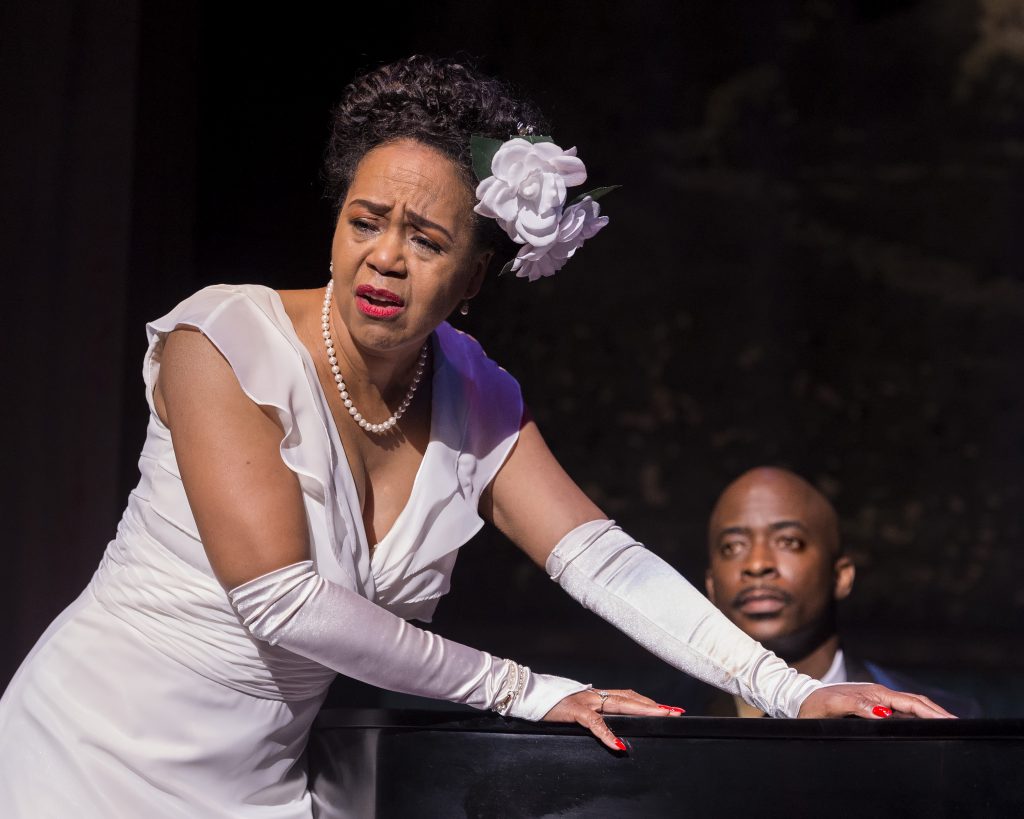 In her compelling performance, Karole Foreman not only conveys the fragility of the embattled singer, but also beautifully captures the edge to Holliday's voice that always made it distinctive and recognizable. With jewels sparkling on her ears and a single, elegant strand of pearls at her neck, her fingernails tipped with vibrant red polish, Foreman's Holliday is stylish and composed until she belies her fragile mental state by frequently dabbing her face with her white handkerchief (before tucking it into her bra) or tops up her vodka mid-song. She intersperses her tuneful renditions of more than a dozen hit songs with some spiky, biting banter. "What they want is the old Billie, she laments, adding with a salty flourish, "…and that's a crock!" While there are some laugh-out-loud moments at first, a bitter edge soon creeps into her ramblings and lamentations, especially when she outlines how she's no longer permitted to play in the decent-paying nightclubs of New York City following her stint in jail.
Foreman gives us a wonderfully (slightly) daffy performance. Sadly, Holliday becomes progressively drunker and messier on stage as the show progresses, something that her steadfast accompanist struggles to manage for her. Music director Stephan Terry gives a superb performance as pianist Jimmy Powers, valiantly trying to keep the show on track while also providing a simply gorgeous piano concert throughout the night. "Jimmy keeps me in line," Holliday confesses to us at one point, just as her personal demons begin to emerge.
Donna Ruzika's subtle lighting design ebbs and flows perfectly, provides some intimate low lighting for the torch songs—even saturating Holliday's white gown with dappled reds for the chilling, horrifying and tragic "Strange Fruit." Kim DeShazo's costume design for both performers is pure perfection.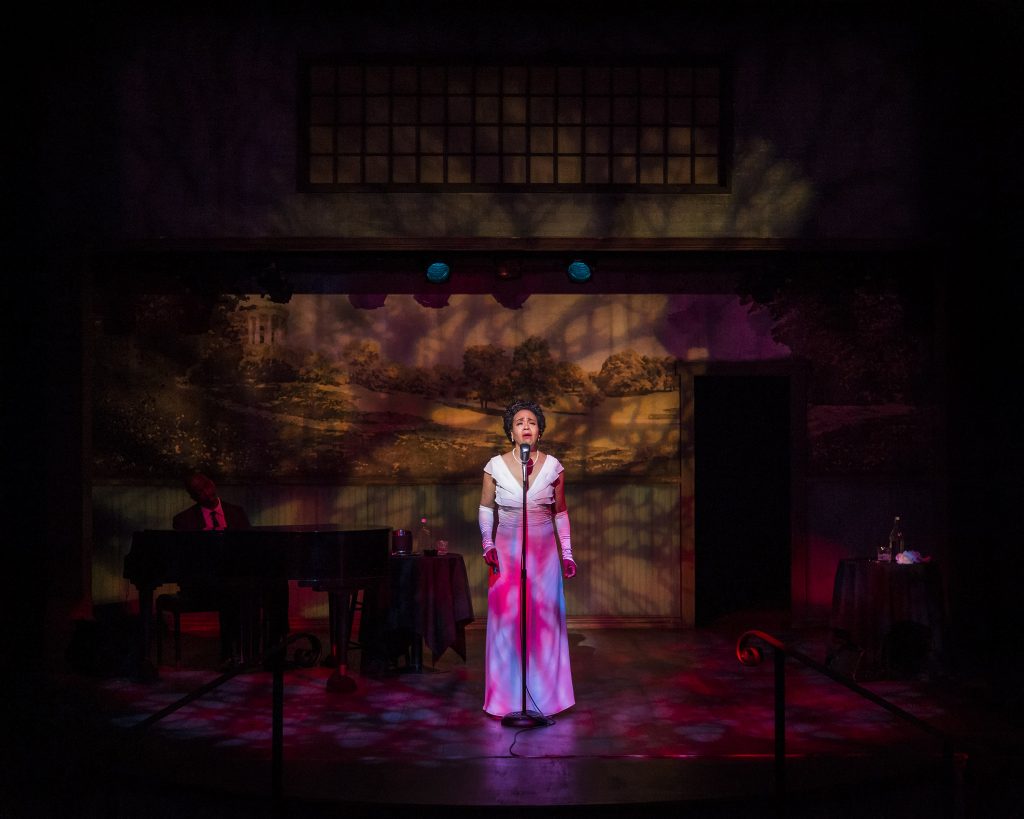 Lady Day at Emerson's Bar & Grill is a marvelous show that satisfies with wonderful musical performances set to a tragic backstory. Recommended!  

Lady Day at Emerson's Bar & Grill  by Lanie Robertson.
Runs February 6 – March 1, 2020
Nate Holden Performing Arts Center
4718 West Washington Boulevard, Los Angeles
Regular performance schedule:
Friday and Saturday at 8:00 pm;
and Sunday at 3:00 pm.
Regular tickets range from $30.00 – $50.00
Available online here, or by phone at 323-964-9766.
Groups of 10 or more are available via email, or 323- 964-9766.