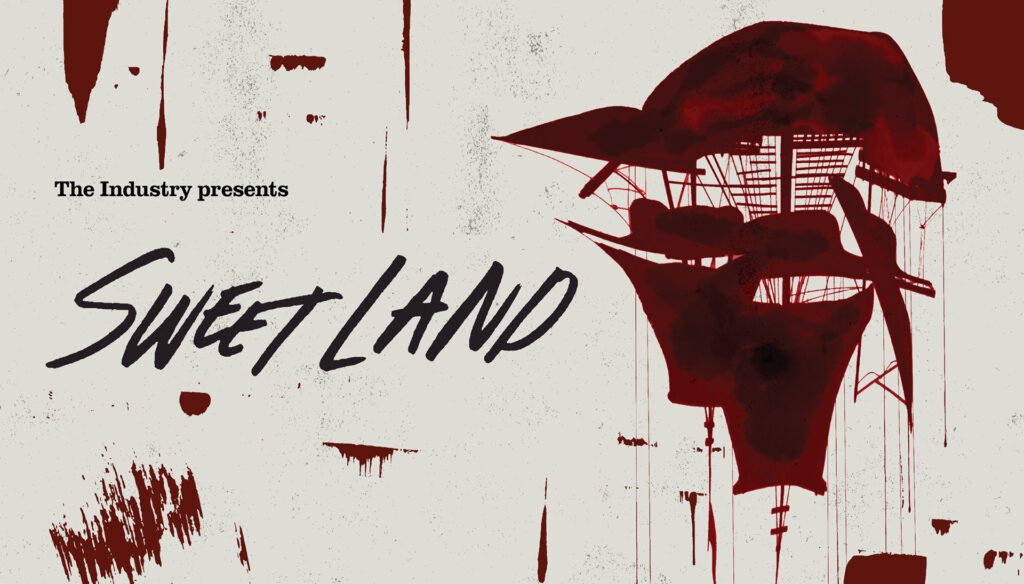 The Industry–the company that created the groundbreaking operatic events Invisible Cities and Hopscotch–now brings you a grotesque historical pageant that disrupts the dominant narrative of American identity.
The Industry and its Artistic Director Yuval Sharon have announced the world premiere of a new project, Sweet Land. 
Sweet Land brings together composers Raven Chacon and Du Yun, librettists Aja Couchois Duncan and Douglas Kearney, and co-directors Cannupa Hanska Luger and Sharon. Together, they spin separate but interconnected narratives that re-imagine the founding of America and westward expansion in order to make visible the violence and erasure of American history. 
Sweet Land will be performed in Los Angeles State Historic Park in the New Chinatown neighborhood; the park—on the site of a former Tongva village and, later, the southernmost point of the Southern Pacific Railroad line—is a palimpsest of exploitation and eviction of indigenous and immigrant peoples alike. Sweet Land premieres on February 29, 2020. 
Premise: The Arrivals wash up on the shore. They make contact with another civilization they call "the Hosts." And from there, the story splinters, following diverging perspectives.
Starting as a procession through the LA State Historic Park, Sweet Land becomes an opera that erases itself.
Continuing their commitment to innovative and original staging, The Industry is offering two versions of this new opera.
Two Tracks:
There are two Sweet Land "tracks." Each track features a different story, with different music and different cast members. Both tracks offer a complete experience and feature music by both composers and both writers. The box office will assign your track.
Please read the Ticketing and Experience FAQ before you purchase your tickets. Information provided there includes the following:
If you wish to see both tracks, you must purchase your tickets for separate days (which you can do in the same transaction or in a different transaction). They will know which track you have experienced and will assign you the other track. If you want to see the same track again or a specific artist, let them know in the comment section at check out.
Use the code SWEETLAND2 in the comment section at check-out to get a 10% discount voucher/refund (the amount will be refunded to your card), while supplies last. *This discount only applies to 2 tickets purchased on separate days in one transaction.*
You can purchase tickets online here.

Sweet Land
Performance dates:
February 29 – March 15, 2020
Music by Raven Chacon & Du Yun
Text by Aja Couchois Duncan & Douglas Kearney
Directed by Cannupa Hanska Luger & Yuval Sharon
For questions about the performances, special access needs, or assistance in making a reservation, please email boxoffice@theindustryla.org or call (213)761-8598.
Please visit  www.sweetlandopera.com to learn more about the story and its creators.
Sweet Land Events*
Saturday, February 29
8 PM – Opening Night
Sunday, March 1
4 PM – Sunday Sessions: destroying // erasure
5:30 PM
8 PM
Friday, March 6
6 PM
8:30 PM
Saturday, March 7
6 PM
8:30 PM
Sunday, March 8
5 PM – Sunday Sessions: building // culture
6:30 PM
9 PM
Friday, March 13
6:30 PM
9 PM
Saturday, March 14
6:30 PM
9 PM
Sunday, March 15
5 PM – Sunday Sessions: searching // religion
6:30 PM
9 PM
*Tickets range from free (Sunday Sessions), $75, $110, to $250 (opening night performance with reception).