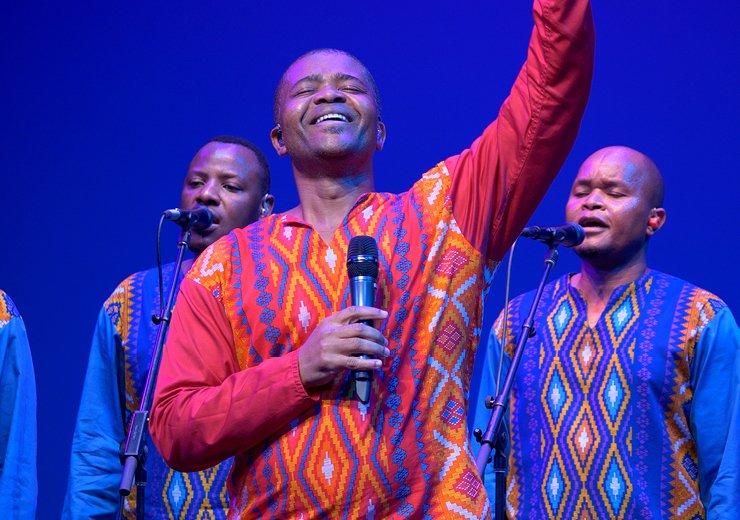 WHO: UCLA's Center for the Art of Performance (CAP UCLA) presents a rebroadcast of a recent concert performed here in L.A. by Ladysmith Black Mambazo.
On March 16, 2020, six days after the stay-at-home order was issued in Los Angeles, CAP UCLA filmed its first pandemic performance on the stage of Royce Hall to an audience of a few dozen people that included three camera operators, a modest crew, a handful of press and a few very lucky staff members. The result was a fully-produced and memorable performance captured on film from one of the world's most beloved and generous a cappella groups, Ladysmith Black Mambazo.
In early March, while en route to the U.S. to resume their tour — which had already been rescheduled due to the death of their founder, Joseph Shabalala a month before — the company was met with the quickly spreading nationwide COVID-19 shutdown. They saw their tour disintegrate before their eyes as, one by one, each performance was canceled. Except for one, at Royce Hall, where CAP UCLA invited them to shelter in L.A. to ensure that "the show must go on" before their imminent return to South Africa.
KCRW has generously offered to broadcast the resulting concert on March 26 — live on-air and on YouTube — bringing the joyful music of Ladysmith Black Mambazo to the world.
WHEN: Sunday, March 21, 2021 at 5 PM PDT
WHERE: CAP UCLA Online for free with registration
Artists website: Ladysmith Black Mambazo
Backstory: Following the untimely passing of their leader Joseph Shabalala earlier that year, and with a series of postponed performance dates necessitated by the COVID-19 public health crisis, CAP UCLA was able to invite Ladysmith Black Mambazo to record a live performance before the "safer-at-home" measure was instated. Although it was originally intended to be a live performance with an audience, KCRW is happy to share this exclusive performance with our audience to enjoy from the safety of their homes Thursday, March 26 at 9pm PDT. We hope that this brings solace during these uncertain times.
CAP UCLA and KCRW present a rebroadcast of Ladysmith Black Mambazo, which was recorded live at UCLA's Royce Hall on March 16th, 2020.
About KCRW:
KCRW creates and curates a unique mix of content centered around music discovery, NPR news, cultural exploration and informed public affairs. We are driven by the spirit of LA and deliver in innovative ways—on the radio, digitally and in person—to diverse, curious communities around the corner and around the world. A community service of Santa Monica College, KCRW can be found on the air in LA, Santa Barbara, Ventura, Mojave, Palm Springs, San Luis Obispo, Berlin, Germany, and worldwide via the KCRW-developed smart phone app, or online at kcrw.com.
Twitter | twitter.com/kcrwFacebook | facebook.com/kcrwInstagram | instagram.com/kcrwYouTube | youtube.com/kcrw

ABOUT CAP UCLA:
UCLA's Center for the Art of Performance (CAP UCLA) is the public-facing research and presenting organization for the performing arts at the University of California, Los Angeles—one of the world's leading public research universities. We are housed within the UCLA School of the Arts & Architecture along with the Hammer and Fowler museums. The central pursuit of our work as an organization is to sustain the diversity of contemporary performing artists while celebrating their contributions to culture. We acknowledge, amplify and support artists through major presentations, commissions and creative development initiatives. Our programs offer audiences a direct connection to the ideas, perspectives and concerns of living artists. Through the lens of dance, theater, music, literary arts, digital media arts and collaborative disciplines, informed by diverse racial and cultural backgrounds, artists and audiences come together in our theaters and public spaces to explore new ways of seeing that expands our understanding of the world we live in now. Like CAP UCLA on Facebook, and follow us on Twitter and Instagram. #CAPUCLA