The Getty Center in Los Angeles will reopen to a limited number of visitors with free reservations on Tuesday, May 25, 2021, with specific one-way routes and other measures in place to ensure the safety of visitors and staff. 
"We are delighted to welcome visitors back to the iconic Getty Center, one of Los Angeles' most visited cultural destinations," said Timothy Potts, Maria Hummer-Tuttle and Robert Tuttle Director of the J. Paul Getty Museum.  "As well as all the familiar highlights of the Museum's collections, gardens, architecture, and vistas, we will be featuring our newly acquired painting of Lucretia by Artemisia Gentileschi, and special exhibits of photography and other media. With both the Villa and Center opening, the staff are excited to welcome visitors back to their Getty."  
In addition to Lucretia, by the most celebrated woman painter of 17th-century Italy, also on view are new exhibitions Photo Flux: Unshuttering L.A.; Power, Justice and Tyranny in the Middle Ages; Artist as Collectors; and Silk & Swan Feathers: A Luxurious 18th-Century Armchair.

In accordance with state and county COVID-19 guidelines, free advanced reservations will be required to visit the Getty Center. To avoid overcrowding, a limited number of reservations will be available each day. Galleries too small to accommodate social distancing will be closed, and paths through the galleries and gardens will be one-way.

While the Museum, grounds, store, and some food service options will be open, the Getty Library remains closed for now. Preparations are currently underway to reopen it when it is possible to do so.
"We are grateful for the support of the community, and glad that people have continued to engage with us online throughout this long year. My thanks also go to our staff, who have been hard at work preparing for a safe reopening," said Jim Cuno, president and CEO of the J. Paul Getty Trust. "We hope to increase capacity in the coming weeks and months as we are able."

Visitors will also have the opportunity to download the new Getty Guide app on their phones, either before visiting or while on site. The new Getty Guide app will safely enhance the visit experience, replacing shared guide devices. Visitors should remember to bring their own headphones. Download the app on Apple or Android phones.

In addition to limited numbers of visitors and one-way routes, these safety measures will be in place:
Visitors and staff must wear face coverings
Visitors and staff must maintain six feet distance (except within household groups)
Visitors will have temperatures checked upon arrival
Visitors and staff displaying symptoms (coughing, sneezing, fever) will not be allowed to enter
Staff are required to wash hands regularly; visitors are urged to do so as well
Garden Terrace Cafe and Coffee Cart meals will be pre-packaged
The Family Room remains closed
"We look forward to safely welcoming back our visitors at the Getty Center," said Bob Combs, director of security and visitor services.

Make free advance reservations for the Getty Center.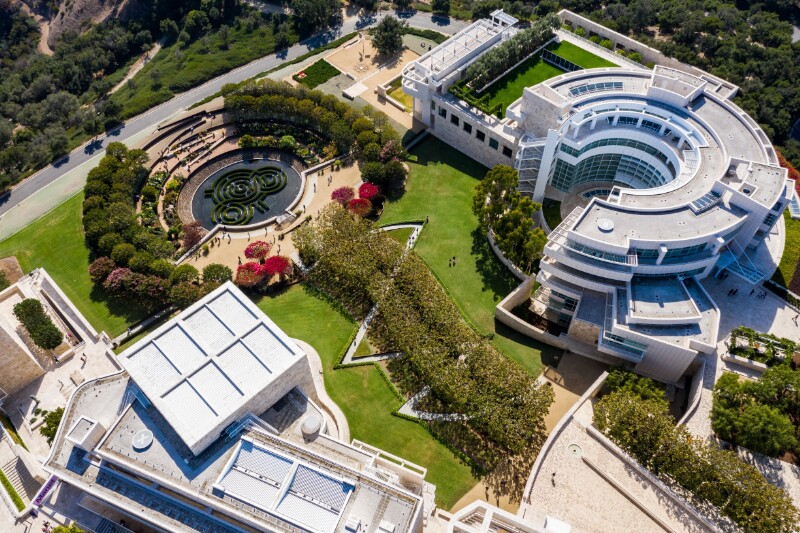 Getty is a leading global arts organization committed to the exhibition, conservation, and understanding of the world's artistic and cultural heritage. Working collaboratively with partners around the globe, the Getty Foundation, Getty Conservation Institute, Getty Museum and Getty Research Institute are all dedicated to the greater understanding of the relationships between the world's many cultures. The Los Angeles-based J. Paul Getty Trust and Getty programs share art, knowledge, and resources online at Getty.edu and welcome the public for free at the Getty Center and the Getty Villa.
The J. Paul Getty Museum collects Greek and Roman antiquities, European paintings, drawings, manuscripts, sculpture and decorative arts to 1900, as well as photographs from around the world to the present day. The Museum's mission is to display and interpret its collections, and present important loan exhibitions and publications for the enjoyment and education of visitors locally and internationally. This is supported by an active program of research, conservation, and public programs that seek to deepen our knowledge of and connection to works of art.

Visiting the Getty Center
The Getty Center is open to a limited number of visitors, in accord with state and local public health guidelines, Tuesday through Sunday, 10 a.m. to 5 p.m. It is closed Mondays, Thanksgiving, December 25 (Christmas Day), and January 1.

Admission to the Getty Center is always free, but in order to allow social distancing, a reservation is currently required for admission. Reservation are available at www.getty.edu/visit or at (310) 440-7300. Parking is $20. The Getty Center is at 1200 Getty Center Drive, Los Angeles, California. 

Additional information is available at www.getty.edu. Sign up for e-Getty at www.getty.edu/subscribe to receive free monthly highlights of events at the Getty Center and the Getty Villa via e-mail, or visit www.getty.edu for a complete calendar of public programs.