Making its West Coast Premiere, for four performances only early September, is Birds in the Moon, a mobile, theatrical chamber opera by Mark Grey and Júlia Canosa i Serra. This new work features mezzo-soprano, male voice, string quartet and soundscapes.
Photo above—Maria Elena Altany (left) as the Bird Mother and Austin Spangler (right) as the Ringmaster in Birds in the Moon. Photo credit Erin Baiano.
The singers will be accompanied by the Friction Quartet, a modern, San Francisco-based chamber ensemble.
Birds in the Moon is a fantastical story that tells a story about migration and a search for a better world. Live music, soundscapes and video projections convey the urgency and hope that the Bird-Mother experiences as she protects her young daughter from menacing forces that threaten to derail their journey—one that embodies themes of freedom, migration and borders.
The story is drawn from a whimsical 17th century theory that birds migrated to the moon, spent their winter there and came back to earth where they would remain for the season.
In this musical tale, a weary yet persistent Bird-Mother lands in a remote desert place, searching for shelter and water for herself and her child. There she encounters an aging circus Ringmaster and his traveling musicians, who live hand-to-mouth, entertaining passersby. Both souls seek escape from the peril of this dry desert, believing in the moon as the answer to their plight. This quest seals their fate as they make a pact that leaves them each forever changed.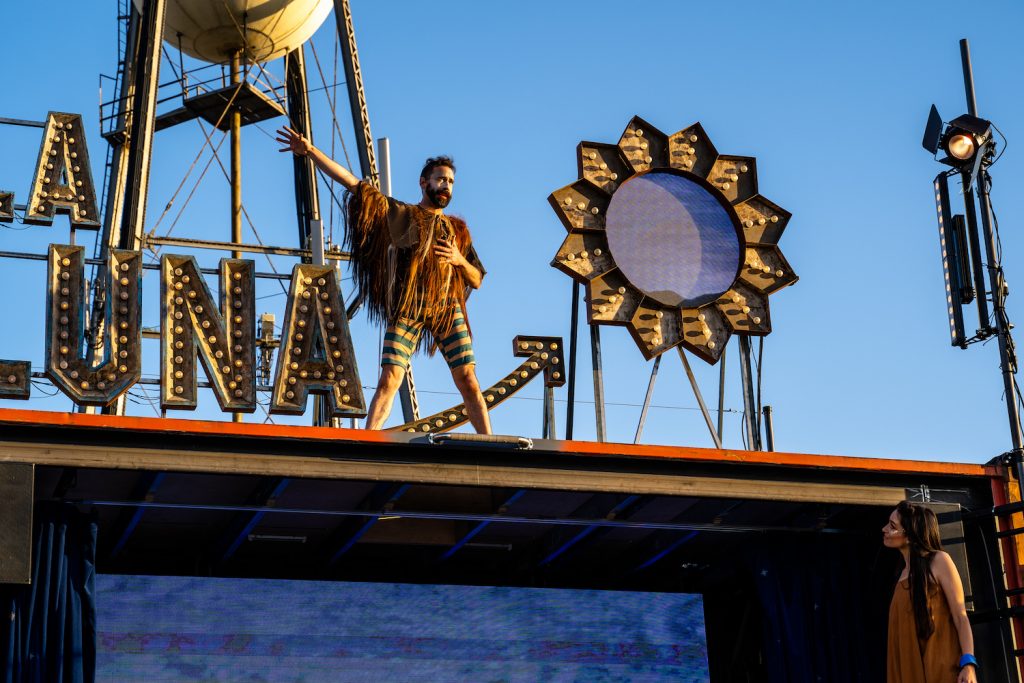 The Broad Stage in Santa Monica is set to present this small-scale opera as part of its Fall 2021 programming.
Tickets can be purchased for $25, $35, $50, or $75.00.
Staging will be outdoors on Santa Monica's Lot 27 (located at the corner of Arizona and 5th Street), in partnership with Downtown Santa Monica, and is supported an Art of Recovery grant from the City of Santa Monica.
COVID protocols will be in place in compliance with the City of Santa Monica's current safety measures.
Birds in the Moon takes place on a traveling, magic box—a fully transformable, self-contained, state-of-the-art shipping container, designed and built by container and set designer Chad Owens, which opens to create a stage, with LED screen, lights and sound system; the top pops up to offer another playing area as well.
Director Elkhanah Pulitzer said, "We had a number of ideas: the dearth of works with compelling, riveting and complicated female protagonists, being captivated with a show that could come out of a shipping container that could turn into a kind of travelling circus, reaching many different communities and audiences, and a fantasy of performing it in the desert."
"Before COVID, Júlia Canosa i Serra and I began to think about developing a song cycle for a mezzo-soprano and a small ensemble that touched on some kind of social and political subject. The Syrian refugee crisis was in the news, so we were thinking about migration as well as thinking about human trafficking, what happens at our southern border and families trying to send their children to a better place. It is a poignant subject, and we wanted to bring a subtlety to the message."

"Júlia found writings from Charles Morton who formulated an idea in the 17th century that birds would migrate to the moon. The following year some would come back and others would be lost in space – placing a scientific canopy over the idea of migration. We could run with the idea with birds as a metaphor that can pass through time and space. Birds have no boundaries in that way. We wanted to infuse our work with Morton's ideas of a physical and scientific exploration of what birds might achieve."

"At first the ringmaster is selling trips to the moon, which is fake. The Bird-Mother wants to teach her child to fly to the moon for a new life. She sacrifices her own feathers for her child but doesn't know if it's for real as she's never been there."

Composer Mark Grey.
"Magical realism is an inspiration. An entry point is that the moon is a utopia without oxygen – the double edge sword of trying to seek a better life. The spiritual component is not unlike Samuel Beckett, and the Bird-Mother takes on resonances with Buddha or Jesus — a shamanistic character providing a deeper promise through her own suffering and sacrifice."

Director Elkhanah Pulitzer.
COVID Protocols for Fall Performances:
The safety and personal comfort of patrons are paramount, and The Broad Stage is confident it can now move forward with minimal risk to patrons, artists and staff. Performances will be made as safe as possible for artists, audiences and staff, with all in-person events meeting or exceeding local, state and national safety guidelines.
Patrons are advised to follow instructions provided by staff on site and follow all safety guidelines at the venues and are asked to stay home if they are not feeling well. The Broad Stage encourages everyone who can to get vaccinated.
For Fall 2021 events, all ticket purchases are refundable prior to curtain, no questions asked. Please call or email Patron Services for a refund or credit on account. Credit is valid through June 2022. Fees are always non-refundable.
The Broad Stage believes in supporting the growth and development of our next generation and is rising to meet a rapidly evolving set of needs for artists, audiences, and community, with the aim to advance our role as an invaluable cultural resource.
A free Learning Guide for learners of all ages is available on The Broad Stage/Birds in the Moon webpage to provide artist insights, inviting the reader to delve further into their creative process and content areas relevant to the performance. Educators are invited to use these elements to create arts integrated lesson plans with the suggested California stage standards, social justice standards and social emotional learning competencies.
The Birds in the Moon creative team in partnership with The Broad Stage, worked with the Santa Monica College (SMC) Art Department to offer SMC students the opportunity to create artwork inspired by Birds in the Moon. This curricular project extended for a full year which included two digital master classes. A digital display of the impressive student artwork created in this year-long project can be found on Santa Monica College's Barrett Art Gallery website: https://www.smc.edu/community/art-gallery/
The creative team for Birds in the Moon includes Container and Set Designer Chad Owens, Costume Designer Christine Cook, Lighting Designer David Finn, Video Designer Deborah O'Grady, Dramaturge Robert Castro and Producer Cath Brittan. Birds in the Moon is created with the support of The Andrew W Mellon Foundation, Meyer Sound and DPA Microphones. Birds in the Moon is commissioned by Linda and Stuart Nelson.
The Birds in the Moon artistic team selected SMC student, Juanita Hernandez, to create commissioned artwork as part of their marketing materials and The Broad Stage is providing prizes for student art pieces as selected by members of the Birds in the Moon artistic team.
The Broad Stage presents the West Coast Premiere
Birds in the Moon—A new chamber opera for mezzo-soprano, male voice, string quartet and soundscapes.
Four Performances Only – September 1-4, 2021
7PM
Tickets can be purchased for $25, $35, $50, or $75.00.
Staged outdoors, in downtown Santa Monica, at Lot 27 (Corner Arizona Ave and Fifth Street)
Music – by Mark Grey
Libretto – by Júlia Canosa i Serra
Stage Director – Elkhanah Pulitzer
Featuring Maria Elena Altany as the Bird Mother, Austin Spangler as the Ringmaster, performing with the Friction Quartet.
Container and Set Designer – Chad Owens
Costume Designer – Christine Cook
Lighting Designer – David Finn
Video Designer – Deborah O'Grady
Dramaturge – Robert Castro
Producer – Cath Brittan
About the creative team:
The music of American composer Mark Grey has been commissioned or premiered by such organizations as The Los Angeles Philharmonic, The Atlanta Symphony Orchestra, The New York Philharmonic, The National Opera of Belgium La Monnaie | de Munt Opera, Carnegie Hall, Cal Performances, The Los Angeles Master Chorale, Kronos Quartet, Berkeley Symphony, Phoenix Symphony, Green Bay Symphony, California Symphony, The Los Angeles Children's Chorus, and several others along with festivals at Ravinia, Cabrillo, OtherMinds, Perth International, and Spoleto. Grey was commissioned by La Monnaie | de Munt to write an evening-length grand opera FRANKENSTEIN which premiered in Brussels during the spring of 2019. In January 2020 his work Rainbow Bridge for 100 electric guitars premiered outdoors on the grounds of Circus Maximus as part of the Rome Festival. Grey is also an Emmy Award winning sound designer having premiered major opera and concert works worldwide over the past 30 years; through this work, Grey was an intimate collaborator with composer John Adams for three decades and with Kronos Quartet for fifteen years.
Playwright and librettist Júlia Canosa i Serra worked for many international projects since 1996. She collaborates with many artists, directors, dancers and composers. Her most notable works include The Lorca Project by Benjamin Dwyer and VOX21 in Dublin, Hafliði Hallgrímsson's Mini-Stories and Raymond Deane's The Wall of Cloud at the Opera Theatre Company, also in Ireland. She worked for Sala Becket Obrador Internacional de Dramatúrgia, in Barcelona, in many productions. She also worked with Àlex Ollé (La Fura dels Baus) as a dramaturge, particularly in Quartett (Francesconi) at Teatro alla Scala in Milan and more recently in Histoire du Soldat (Stravinsky) for Ópera de Lausanne and Lyon. She has also directed and written for La Chaudière Intimae at Le Pot au Noire, Grenoble. In April 2019, her adaptation of Frankenstein by Mark Grey had its debut at La Monnaie Opera House in Brussels. She is currently writing an adaptation of The Odyssey for Mark Grey.
Known for her bold, nuanced, and innovative stage direction, Elkhanah Pulitzer is an esteemed director of opera and theater. A passionate storyteller, she has directed operas nationally and internationally including performances with the Mostly Mozart Festival at Lincoln Center, LA Philharmonic, LA Opera, Washing- ton National Opera, SF Symphony, Boston Lyric Opera, West Edge Opera, and Canadian Opera Company, among others. Additionally, she served as Artistic Curator of SF Opera Lab, an experimental chamber opera program at SF Op- era, where she developed the mission, brand, and programming for the first two seasons. Born in Boston and raised in St. Louis and Marin, Pulitzer is also board vice president of the Pulitzer Arts Foundation, which supports experimentation in art installations and live programming.
Her projects include the premiere of David Lang's Prisoner of the State for the New York Philharmonic and Barbican Theatre; Leonard Bernstein's MASS for the Los Angeles Philharmonic and at Lincoln Center; Luca Francesconi's Quartett, Thomas Adès' Powder Her Face, Hydrogen Jukebox, Lulu and Mahagonny Songpspiel for West Edge Opera; Nixon in China for the Los Angeles Philharmonic; John Adams' The Gospel According to the Other Mary for San Francisco Symphony, Lucia di Lammermoor for LA Opera and the recent live tour of Esperanza Spalding's album 12 Little Spells.
Container and Set Designer Chad Owens is a multidisciplinary maker/artist with a broad background in custom wood and metal fabrication, fabric work, painting, drawing, site-specific in- stallation, and technical production. He has created original staged designs for more than 100 productions, for companies including Washington National Opera, Lyric Opera of Kansas City, Opera Theatre of Saint Louis, West Edge Opera, Cal Performances, RAWdance, San Francisco Shakespeare Festival, West Edge Opera and many others. Set Design and Art Direction for major motion pictures include Blue Jasmine, Milk (Oscar and Art Director's Guild nominations for best production design), Chasing Mavericks, Haywire, Contagion, The Pursuit of Happyness (sic), Haiku Tunnel, and Woman on Top, and others, and for television "The OA," "13 Reasons Why," "Trauma," and others. He has worked extensively as an Associate Designer on Broadway, including Wonderful Town, Dinner at Eight, 42nd Street, and Into the Woods, all of which received Tony nominations for best sets.
Christine Crook designs costumes for opera, theatre, dance, and wildly strange performance art. Recent credits include, Gloria (ACT), The Threepenny Opera (West Edge Opera), Weightless (BRIC/NYC and ACT SF), Men On Boats (ACT), Bernstein's Mass (Lincoln Center NYC), Abraham In Flames (Z Space), Quartet (West Edge Opera). Christine has also presented design-driven live art and costume installations in Los Angeles, Oakland, San Francisco, and Berkeley. She was awarded a Bridging The Gap Grant for continued experimentation with costume design funding a gallery residency in Berlin 2016. She also recently participated as an artist in residence with Light Box in Detroit 2019. Christine has an MFA in costume design from UCSD, and teaches costume design with University of San Francisco and Academy of Art University. christinecrook.squarespace.com
Lighting Designer David Finn's professional career began at age 16, working for puppeteer Burr Tillstrom and Kukla, Fran & Ollie. His first lighting design was for the Birmingham Royal Ballet's acclaimedNutcracker in 1990. David toured/designed for Twyla Tharp & Dancers and was resident designer for Baryshnikov's White Oak Dance Project. He has designed for the Paris Opera Ballet, Royal Ballet, Joffrey Ballet, San Francisco Ballet, National Ballet of Canada and Lyon Opera Ballet, amongst others. His opera career began in 1997 with Otello (Brussels) and has, since, included works at The Metropolitan Opera, La Scala, Salzburg Festival, Paris Opera, Royal Opera, Dutch National Opera, Staatsoper Berlin, New York City Opera, San Francisco Opera and Canadian Opera, where he designed the Ring in 2006. Awards include the 2011 Yomiuri Award for Outstanding Lighting Design for The Hunting Gun (Tokyo), three Dora Mavor Moore Awards for Siegfried, Die Walküre & Rusalka (Canadian Opera) and a Knight of Illumination Award (Royal Ballet). David's work with Cirque du Soleil includes Michael Jackson ONE, ZED, and R.U.N..
Deborah O'Grady, fine art photographer and video artist, is a frequent collaborator with orchestras, including the Saint Louis Symphony, Sydney Symphony, Los Angeles Philharmonic, and the United States Navy Band, creating video projections for live symphonic performance. From 2006-2008, O'Grady traversed the Navajo Nation to create projections for the oratorio Enemy Slayer in collaboration with Mark Grey and Laura Tohe. She continued her collaboration with Tohe in Code Talker Stories, creating portraits of the World War II Navajo Marines. This collection is in the Albuquerque Art Museum. O'Grady's fine art photography examines the landscapes of the western United States using recorded myths and stories as her map. Recent landscape work looks beyond human impacts, to find nature's strength and resurgence, in response to the climate crisis.
Dramaturge Robert Castro directs classics and new work across the U.S. and internationally. Credits include: The Public Theater/NYSF, New York Theatre Workshop, La Jolla Playhouse, Center Theatre Group/LA, Santa Fe Opera, Wiener Festwochen (Austria), Bolshoi Opera (Russia), Teatro Real (Spain). Served as Associate Artist: Mark Taper Forum/Center Theatre Group, Institute on the Arts and Civic Dialogue at ART/Harvard University, and El Teatro Campesino. Awards include: NEA/TCG Fellowship for Directors, TCG/Doris Duke New Generations Grant, Sherwood Award, Hellman Fellows Program. Member: New York Theatre Workshop and Lincoln Center Theater Directors Lab.
Producer Cath Brittan is originally from Manchester, England. She lived in Vienna for many years and was a producer for the Vienna Festival. She has worked as production manager and producer in theaters and opera houses around the world including English National Opera, London; The Bolshoi, Moscow; Teatro Real, Madrid; The National Theater of Finland, Opera de Comique, Paris; The Staatsoper, Vienna; Grand Théâtre de Genève, Geneva, and many more. Recent and up-coming productions include Aci, Galatea e Polifemo (dir. Christopher Alden); Glass Handel (2018 & 2019); Comet Poppea (dir. Yuval Sharon); Bandwagon (New York Philharmonic) – all with Anthony Roth Costanzo; Das Paradies und die Peri, Los Angeles Philharmonic and Peter Sellars; 2018/19 and 19/20 Soundbox Season, San Francisco Symphony; Orphic Moments dir. Zack Winokur with The Master Voices; Abraham In Flames (Aleksandra Vrebalov & Niloufar Talebi); Perle Noir (Tyshawn Sorey & Julia Bullock @ The Met Museum), Arkhipov(Peter Knell & Stephanie Fleischmann); Birds in the Moon (Mark Grey & Júlia Canosa i Serra); Iphigenia (Wayne Shorter & Esperanza Spalding); In a Grove (Christopher Cerrone & Stephanie Fleischmann), History's Persistent Voices with Julia Bullock; MASS Visual Album with Davóne Tines; Everything That Rises Must Converge (Jennifer Koh & Davóne Tines, dir. James Darrah) and The Indian Queen (dir. Peter Sellars) Vienna Staatsoper. Cath is also the producer for AMOC*, the American Modern Opera Company (Artistic Directors: Zack Winokur & Matt Aucoin).