A haunting work, Birds in the Moon—the chamber opera by composer Mark Grey and librettist Júlia Canosa i Serra—made its West Coast Premiere last week, as presented by The Broad Stage.
With its cunning, multi-level set created within a converted shipping container, this fantastical new opera tells a mournful yet enchanting story of struggle and migration. Director Elkhanah Pulitzer masterfully coordinates her team of scenic, lighting, sound and video designers to craft a mythical tale that, according to the press release, "takes place on a traveling magic box." The ingenious set, designed by Chad Owens, begins with this self-contained shipping container, that transforms and opens up to create the various stages, all enhanced by a built-in LED screen, lights and sound system.
Pictured above – Austin Spangler (left) as the Ringmaster and Maria Elena Altany (right) as the Bird Mother.

Production photo by Ben Gibbs Photography.
The original composition blends pre-recorded, electronic-based music with the live musical performance, as well as soundscapes and video projections to craft a unique experience that feels accessible for both adults and mature children.
In the story, a weary yet determined Bird-Mother (performed exquisitely by soprano Maria Elena Altany) lands in a remote desert place, seeking shelter and sustenance for herself and her infant during their perilous migration. Their encounter with an aging circus Ringmaster (actor Austin Spangler) and his traveling musicians (the members of the Friction Quartet, who provide live musical accompaniment and the occasional line of dialogue) promises hope but ultimately proves to be one of entrapment and desperation.
Spangler brings a palpable menace to his role as the pompous and conniving Ringmaster, but it's the breathtaking performance from soprano Maria Elena Altany that draws us in to her emotionally fragile plight, thanks to her soaring and pure vocals, occasionally punctuated by heart-wrenching, bird-like shrieks of grief and pain.
The creative team for Birds in the Moon includes container and scenic designer Chad Owens, as well as beautiful and creative costumes designed by Christine Cook, dynamic and imaginative lighting design by David Finn, and evocative video montages and backdrops created by Deborah O'Grady.
The show was presented in a parking lot in downtown Santa Monica, timed to perfection with the setting sun and fading light.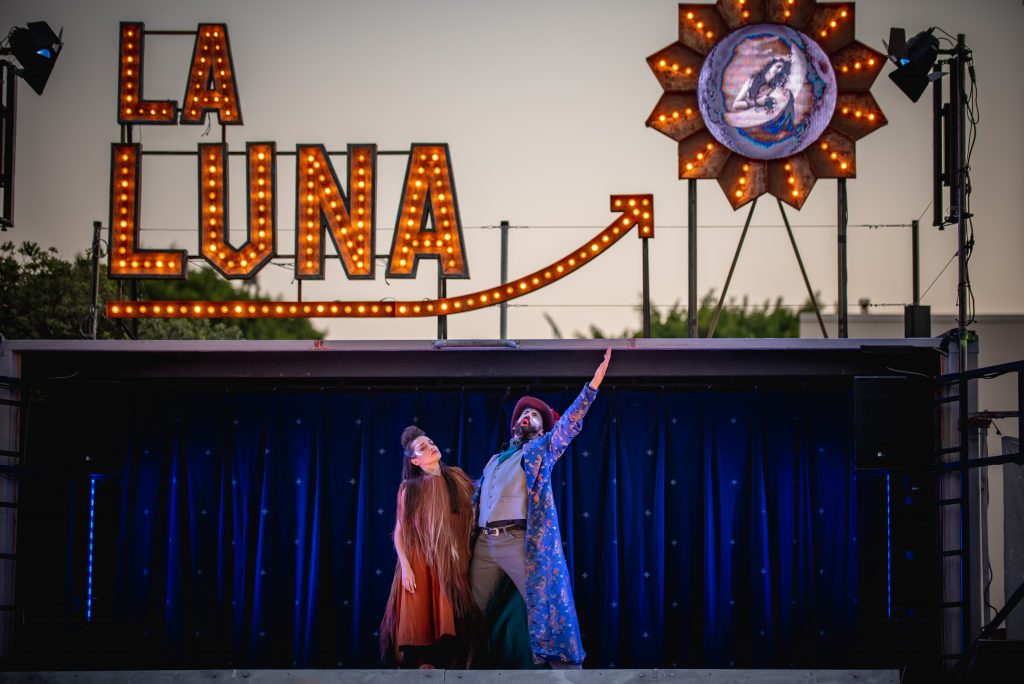 More production information can be obtained here.