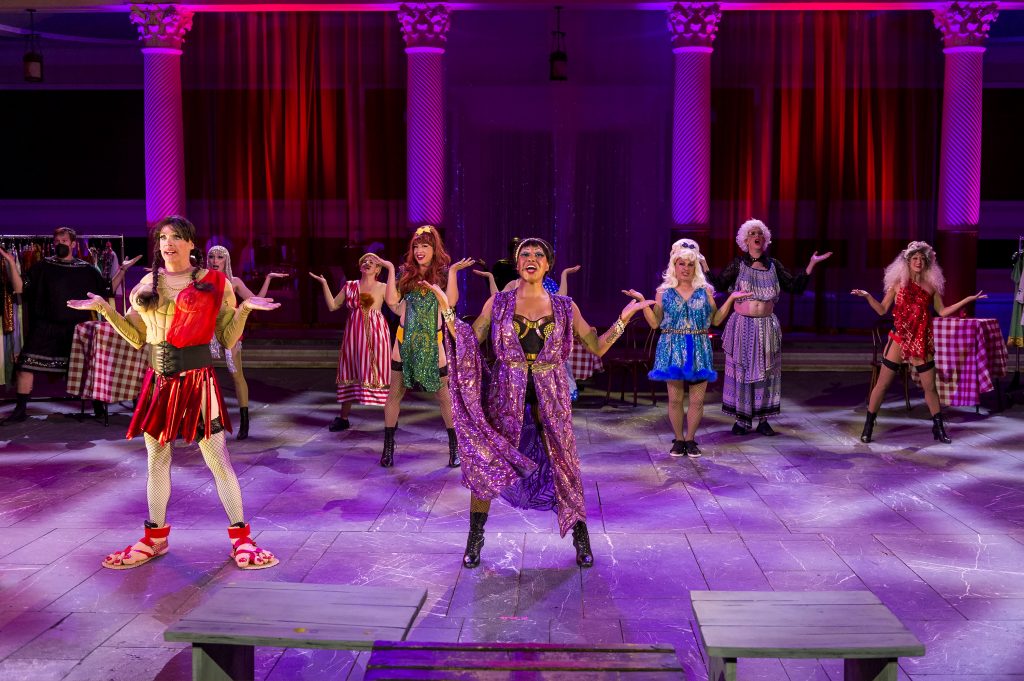 So my first large audience theatre experience since being fully vaccinated featured women sporting two-foot-long phalluses singing Liza Minnelli songs in a Greek amphitheater on the grounds of the Getty Villa. Perhaps this requires some context. Aristophanes's antiwar play, Lysistrata, premiered in 411 BCE, telling the story of how Athenian and Spartan women, tired of their men continuing a seemingly never-ending war, decide that they won't have sex with said men until the war ends. The Troubadour Theater Company, a beloved mainstay of the L.A. theatre scene, is famous for taking classic works and making them into musicals featuring the songs of one artist or band. The Getty Villa, known for its Greek and Roman antiquities, wanted artists to present classical Greek theatre in its authentic outdoor amphitheater. The product of this odd confluence is Lizastrata, a rudely hilarious romp that revels in its naughtiness.
Above photo: "LIZASTRATA" at the Getty Villa. Photo by Craig Schwartz.
Left to right: Matt Walker (Emcee/ Lampito/ Magistrate), Suzanne Jolie (Ojai Amy/Reconciliation), Amanda Pajer (Karen/Chorus Leader/Spartan Ambassador), L.T. Martinez (Calonice), Cloie Wyatt Taylor (Lizastrata), Rick Batalla (Myrrhine/Spartan Herald), Michael Faulkner (Chorus Leader), and Jess Coffman (Valley Deb/Wife).
Lizastrata (Cloie Wyatt Taylor), frustrated by the refusal of men to ever stop warring, gathers a group of women from both sides of the conflict to present them with an idea. She suggests that denying men any sexual relations with them might bring the conflict to a screeching halt. The other women agree, but several of them, especially Myrrhine (Rick Batalla), who is married to the studly Rodney (Beth Kennedy), worry that they may not be able to commit to a vow of temporary celibacy. Despite the scoldings and threats from the Magistrate (Matt Walker), the ladies commit to their sex strike, and before long the Athenian and Spartan Ambassadors (Walker and Amanda Pajer) arrive to negotiate peace.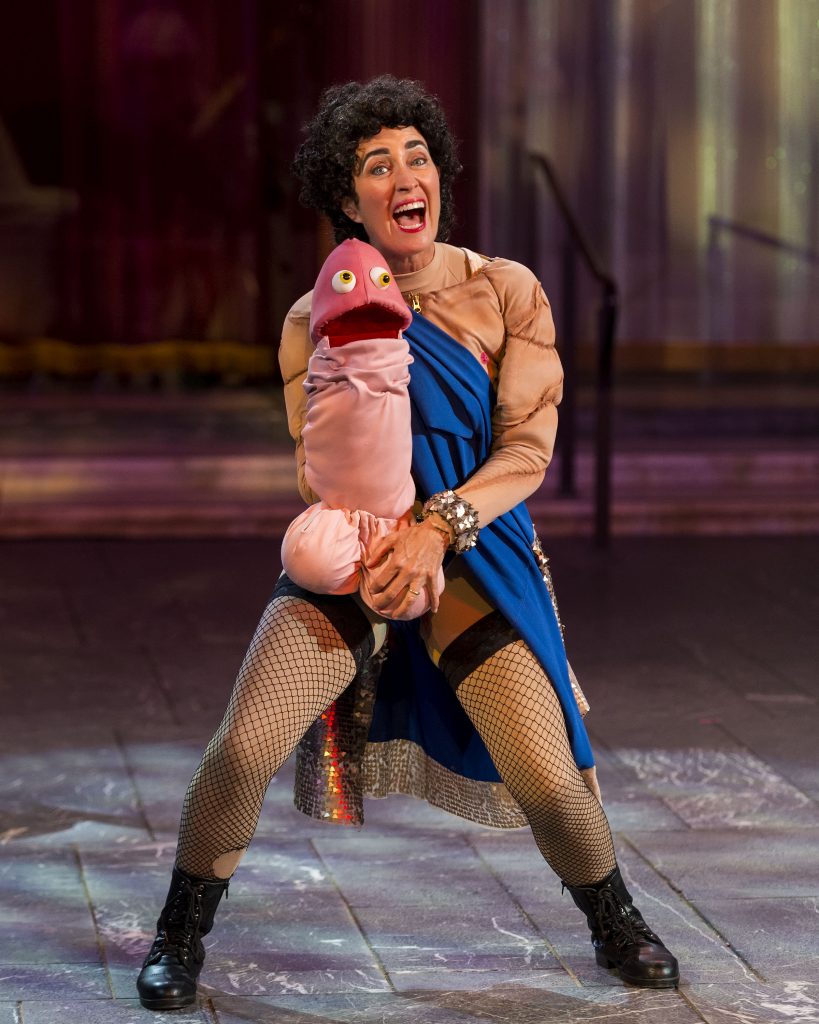 Taylor, who's been great in many Troubies shows, really shines in the title role. Her expert comedic chops and clear singing talent are put on full display here, from her exasperated recitation of euphemisms for sex to her rendition of New York's theme song as the sex strike anthem, "No Pork, No Pork," featuring the helpful exhortation to "Stop spreading your shoes." Pajer and Michael Faulkner are each terrific as the Chorus Leaders, her stomping around in grumpy old man abandon and him camping it up wonderfully as a growly-voiced old lady. Batalla, master of the sudden improv moment, is great as the well-intentioned but horny Myrrhine, at one point humorously jumping two millennia to comment on a line in the script: "'Shit my pants?' What translation are you using?" Kennedy, however, is the show's MVP. She's funny in multiple roles, but must be given most credit for going for broke in a scene in which she both operates a talking penis puppet and wields an inflating prop dong.
Walker's direction strikes a nice balance between professionalism and informality, telling the story with theatrical skill but always leaving room for inspired comedic improv. Bo Tindell's lighting design effectively evokes both settings and moods, and Halei Parker's costume design combines with Lily Bartenstein's prop design to humorously shocking effect. Joe Seely, however, has the best credit in the program, with the rarely encountered "Additional Phallus Designer."
Walker's cheerfully raunchy adaptation of the Aristophanes play leans more toward the source material than toward seriously celebrating Liza-with-a-Z, but that works well for the production. Songs such as "All That Ass" and "Cabernet" are amusing, but it's the delving into Lysistrata that pays the most dividends. The writing is full of funny apropos one-liners ("Greece is the word"), but the show's provocativeness is what's most memorable. The Troubies are usually a family-friendly company, but this play is definitely intended for an adult audience. Penises the size of shillelaghs are prevalent, breasts of all shapes and sizes abound, and unfortunately lush tufts of pubic hair are prominently exhibited. This deliberately crude sexual humor is not going to be to all tastes, which is fine, but there's an argument to be made that it's in keeping with the spirit of the original play. Personally, I enjoyed the Troubies getting their ya-yas out. There's a sort of punk rock exuberance to going this far in a palace of high culture such as the Getty Villa, like the Sex Pistols performing in a Gelson's, which I approve of. To be fair, kudos to the Getty itself for being the host of this bacchanalia – that takes a certain amount of guts.
My only quibble with the production is that not all of the singers seemed to be miked, and as a result occasionally some of the performers were harder to hear clearly. That aside, Lizastrata is a boisterously fun show, and those open to more "adult" content should enjoy it greatly.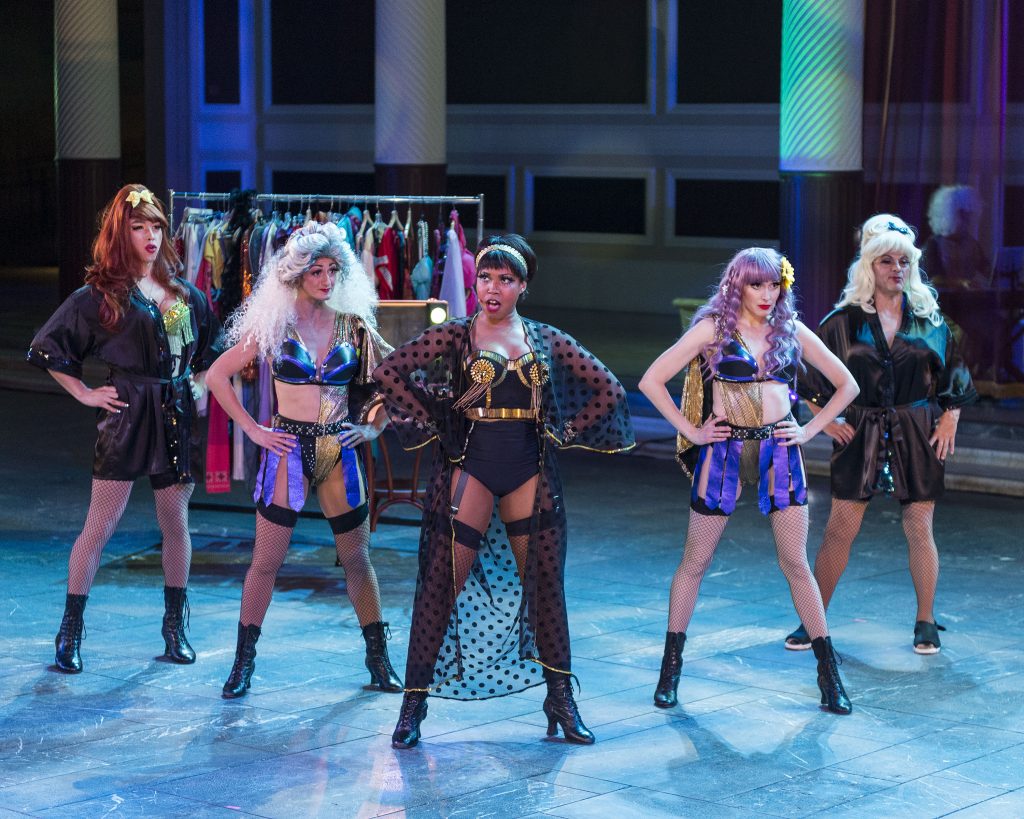 Information on available tickets here, or call (310) 440-7300.
The show's season is almost sold out, so check the website for availability.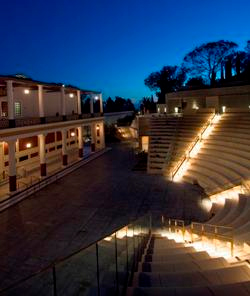 Lizastrata
Thursdays–Saturdays
September 9–October 2, 2021
8:00 p.m.
Getty Villa, the Barbara and Lawrence Fleischman Theater

Thursdays: $40 general, $36 senior/student
Fridays: $42 general
Saturdays: $48 general
Lizastrata contains sexual language, situations, and imagery that is not recommended for persons under the age of 15.
Running time is approximately 90 minutes, no intermission.
Parking is $10 after 6:00 p.m.
The Cast (in order of appearance):
| | | |
| --- | --- | --- |
| | | |
| Matt Walker | | Emcee/Magistrate/Lampito |
| Cloie Taylor | | Lizastrata |
| L.T. Martinez | | Calonice/Chorus |
| Rick Batalla | | Myrrhine/Spartan Herald |
| Suzanne Jolie | | Ojai Amy/Chorus |
| Amanda Pajer | | Chorus Leader/Spartan Ambassador |
| Jess Coffman | | Chorus/Wife |
| Beth Kennedy | | Rodney/Athenian Ambassador |
| Michael Faulkner | | Chorus Leader |
| | | |
| The Creative Team | | |
| | | |
| Christopher Scott Murillo | | Scenic Designer |
| Bo Tindell | | Lighting Designer |
| Halei Parker | | Costume Designer |
| Eric Heinly | | Music Supervisor |
| Daniel Tator | | Additional Sound Designer |
| Ben Rapoport | | Covid Compliance Officer |
| Suzanne Jolie | | Movement Consultants |
| L.T. Martinez | | |
| Jess Coffman | | |
Get answers to frequently asked questions about this performance.
See a list of previous outdoor theater productions at the Getty Villa.
How to Get Here:
The Getty Villa is located at 17985 Pacific Coast Highway in Malibu, California, one mile north of Sunset on PCH. See Hours, Directions, Parking for directions and parking information.
About The Troubadour Theater Company
Troubadour Theater Company is a free-wheeling, no-holds-barred, Commedia Del Arte-flavored, slapstick-driven, Los Angeles-based ensemble of actors, musicians, and comedians that has been performing for audiences throughout Southern California and beyond since 1995. Their fast-paced, laugh-filled, loose adaptations (some of the lines are still there) of classic plays, literature and film, as well as their original productions and hilarious sketch material, make this company a unique and exciting experience for theater-goers of any age, barring this show, of course.
For more information on the Troubies, visit www.troubie.com
IG and twitter: @thetroubies
Facebook: https://www.facebook.com/troubadourtheatercompany
YouTube: http://www.youtube.com/troubadourtheater