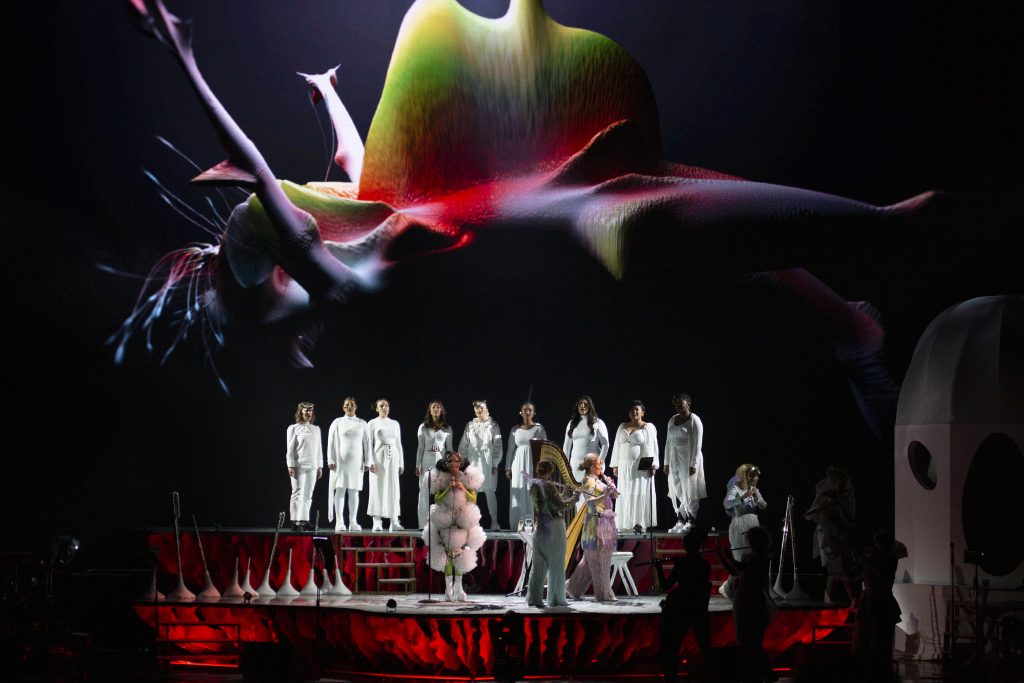 A spectacular opening last night at the Shrine launched the appearance of Iceland's most famous human, singer and techno-eco-feminist-utopianist Björk—presently here in the States for her vivid and dreamy West Coast Cornucopia concert tour.
All concert photos by Santiago Felipe.
"Los Angeles! What a weird city!!" Björk exclaims towards the end of the show, her indigenous accent twisting in its signature fashion around the vowel sounds. "I have memories from ten different L.A.'s," she recalls, before listing them: "There's 90's rave L.A…" the crowd goes wild. Many of her fans are wearing face glitter. Others sport signature Björk hair buns. As an artist who's been touring for decades, Björk has re-invented herself as many times as this city, and much of this crowd — myself included — have grown up with her as an icon for art that manages to seamlessly straddle the line between pop and the avant-garde.
Björk's acclaimed production Cornucopia, produced with an award-winning team of digital and theatrical collaborators and based off her 2017 album Utopia, continues this weekend at Shrine Auditorium on January 29 and February 1, 2022, followed by three nights in the Bay Area.

Björk and a team of digital and theatrical collaborators — including award-winning filmmaker, screenwriter, and director Lucrecia Martel — present a staged concert of live musical arrangements, digital technology, and stunning visuals. This series of concerts is directed by Lucrecia Martel and Björk, with co-creative director James Merry.
A 19-strong, white-clad vocal ensemble opens the show with a pulsing chant, through which the words, "we…will…never…forgive…you…" emerge. This is L.A.'s own Tonality, an award-winning choral group.
The choir's melodic intonations form an introduction to Cornucopia's central theme, the question of generational responsibility in the face of ecological catastrophe. Somehow, rather than pedantic, the whole thing feels religious — Björk is a genius at staging ritual, and the effect is an ecstatic congregation for climate justice.
Tonality, alongside a coven / septet of Icelandic flautists called Viibra, provide a Greek chorus that backs Björk for the duration, performing in a landscape of hundred-foot-tall projections of unfolding flowers and undulating spores (by media artist Tobias Gremmler, on a set by Chiara Stephenson) that look like they could literally eat the musicians at any time.
When it's time for Björk to take the stage, her voice proceeds her, to rapturous applause, a spirit entering the space before her body does. Her face appears projected, larger than life, an animated avatar rippling with pink wings, a techno-deity like the Wizard of Oz before the curtain is pulled back. Even the voice is a technology, she seems to say. If so, Björk is one of its Innovators in Chief, with her wild screeching high notes and pulsing rhythms.
The fringe curtains finally inch open, just a few feet at a time, to reveal the diminutive human Björk at last, in an green outfit with bulbs of white fur that makes her look like she's dressed in dandelions, waiting to be blown away (designed by Olivier Rousteing). She chants, "I care for you…I care for you…" over and over again.
The essence of Björk is so thoroughly laced through every element of stagecraft that we barely need to see her human body. At one point she enters an alien dome or chrysalis stage left (a custom-made reverb chamber, apparently, by engineering firm Arup) for the duration of a song. She is hidden, with only her face live-projected into the silohuettes of sprouting plants. Several times, Björk gives the stage over to her musicians, standing behind spotlit and projected percussionist Manu Delago (who plays, among other things, water drums of hollow pumpkins suspended in an aquarium) for a whole song. It's not quite the death of the ego — it's that a single body is a small, insignificant thing. Björk is an idea. She is so large she takes up the entire stage, whether we see her or not.
Projected trees become spider webs become tunnels. We hurtle through. My editor, sitting next to me, playfully reaches out her hand out as if we're experiencing a 3D movie projection. Flowers become bones. The whole production has been tempered by Argentine film director Lucrecia Martel. It has the feel of a filmic journey.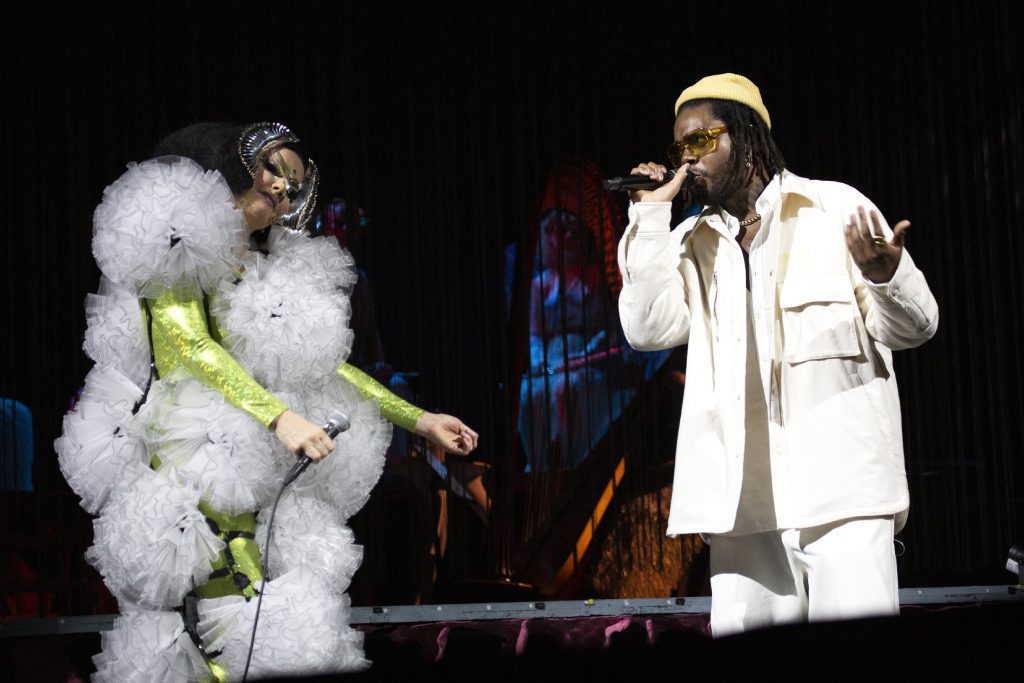 New York-based queer gospel singer serpentwithfeet joins Björk onstage for a duet, his falsetto quavering butterfly-like between five or six different notes on a single word. The lineage feels clear — these two artists from different generations and worlds, exploring the boundaries of the human voice, not rejecting tradition but re-appropriating and re-adapting it to build new worlds that they can live in. Their styles call back to something ancient, religious — but their calls to action are urgently contemporary. I don't recognize the duet. And it makes me cry.
And then — there's an essay. Or maybe a poem. The curtains close and a text scroll invites us to confront our climate crisis and imagine a utopian future together. "What if nature and technology made a song?" it asks. The show itself poses the answer.
Snow falls. It's winter. A ghostly chorus of projected dancers float up, as if returning to the sky. "I'll do my best to give you the least amount of luggage," Björk sings, "you've got the right to make your own mistakes."
She ends, as she began, with a mantra. She started with, "I care for you." She ends with, "You're so strong."
There's a line that Björk is able to draw, perhaps because she is from a fringe European island, between lineage and change, the idea of reinvention not against but through tradition. She's in conversation with mythology, and she's building a mythology. For her, mythology isn't static, it's embodied. It strikes me that there's a distinctly America hunger for this. In our new country, in the midst of struggle about what cannon can represent our multitudes, there's something comforting about an Old World legacy that knows its starting point but isn't afraid to push forward from there.
As a postscript, Swedish teen climate activist Greta Thunberg's face appears, 100 feet tall, with a direct call to action on equity and climate change. When the video ends, a black voice shouts, "You have to be white to get a platform!" We sit together in the dark, in the 6,000+ seat Shrine Auditorium, in the middle of historic South Central, in a complicated America.
And then Björk re-emerges for an encore, sprouting feathers.
She invites us to contemplate what it might look like to be "safe from death."
After the concert, I call a friend who I ran into in the line to get in, but they don't pick up. Before the show, they told me that they already have tickets to see this tour 3 times in a row. The next morning, I wake up to a 2am text from them. They were on shrooms. And they just proposed marriage to their partner of many years.
Yes, I think. It's that kind of a show.
PLEASE NOTE: All concert attendees are required to provide proof of full vaccination when entering the venue.
Björk – Cornucopia
Remaining L.A. dates:
Sat, January 29
and Tue, February 1, 2022
Doors at 6:30 PM / Show at 8:00 PM
The Shrine Auditorium & Expo Hall
665 WEST JEFFERSON BOULEVARD
LOS ANGELES, CALIFORNIA 90007
About the artist:
Björk Guðmundsdóttir OTF (Order of the Falcon) is an Icelandic singer, songwriter, composer, record producer and actress. Her impressive career spans four decades, during which she has developed an eclectic musical style that draws from a vast array of influences and genres, including electronic, pop, jazz, experimental, trip hop, alternative, classical, and avant-garde musical forms.
Björk is a multidisciplinary artist who, time and again, innovates across music, art, fashion, and technology. From writing, arranging, and producing an expansive music catalog, to escapades in virtual reality and digital apps, Björk continues to inspire and experiment, redefining the boundaries of how a musician works.
About the Shrine Auditorium:
The historic Shrine Auditorium & Expo Hall is located in downtown Los Angeles next to USC. The Shrine has hosted many prestigious events such as the Academy Awards, the Grammy's, the SAG Awards, People's Choice Awards, BET Awards and more.
The venue comprises the single largest proscenium style stage with freestanding balcony in North America, with some 6,300 seats and an adjoining 54,000 square foot Expo Hall. The Shrine is operated by Goldenvoice.
The Shrine Auditorium plays the dual role of Southern California headquarters for the Shrine fraternity, as well as a public rental facility for live and televised arts and entertainment productions, theater productions, operas, movie screenings, meetings, conferences, trade shows and conventions.