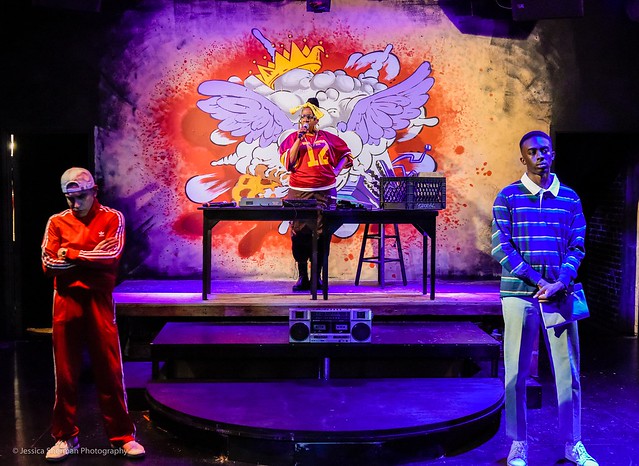 Season extended through March 12, 2022.
It's 1998 in midwestern U.S.A, and three rap-loving teens live in a suburb of The City called The Hill. Hank (E.E. Williams) wants to be a rapper but maybe doesn't have the performance chops, and so he studies the production side. Julian (Isaac Cruz), with his persona of "Vic Vicious," has attitude and chops to spare, but he needs somebody to provide him with words. Luann (Angela Oliver) is pushing against the sexism of the era by trying to be a female rapper, although her writing and performance talent is clear. As time goes by, they compete, collaborate and finally support each other as rap music begins to make a huge impact upon American culture.
Production photos by Jessica Sherman.
Williams portrays Hank's combination of intelligence, frustration and persistence with seamless skill, as a character who will get into the world he wants however he can. Cruz excels as Julian, bringing a tightly wound energy and underlying vulnerability to the role. The rap battle between the two wannabe stars is hilarious, consisting mostly of repetitive accusations of being "whack." Oliver is charming as the irrepressible Luann, practicing her rhymes wherever she can, trying to create a working team. Finally, Jacquelin Lorraine Schofield is excellent as the narrating Selector, acting in a myriad of roles, but especially good as Hank and Julian's very different fathers.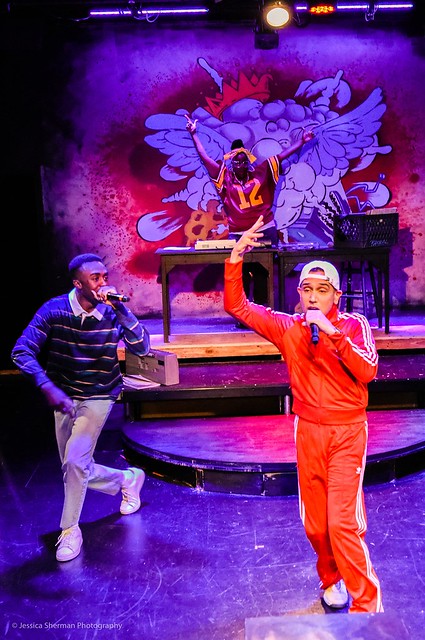 Jaime Robledo's tight direction keeps everything percolating nicely, balancing the needs of drama, rap and dance with poise in a small space with the audience on three sides, which is no easy feat. To this end he is greatly aided and abetted by Derrick McDaniel's lighting, which creates new moods and settings from instant to instant, and Lynn Adrianna Freedman's energetic choreography, which provides a visual equivalent to the propulsive music. Robledo's use of ladders to represent the height of a water tower is an inspired touch, a bit of the creative theatre magic that has been a hallmark of his entire career.
Although Idris Goodwin's play is primarily a character study of three young people at the beginning of rap's ascension, it also works very effectively as a primer of rap's mechanics. His descriptions of the essential building blocks of the art form and how to put them into practice are fascinating and clear, from the uses of alliteration and metaphor to the specific strategies inherent to winning a rap battle. His character work is full of endearing detail, from Julian's enthusiastic enjoyment of peach schnapps to Luann's rap being ended by her mother yelling at her to go to bed. My only quibble with the play is that its conclusion is so open-ended it doesn't feel satisfyingly concluded, but this is a very minor issue.
The Sacred Fools Theater Company production of How We Got On is a smart and enjoyable blast of nostalgia and a welcome return to live theater.
How We Got On, presented by Sacred Fools Theater Company, plays at The Broadwater Black Box. Season extended through March 12, 2022.
Tickets are available at www.sacredfools.org.