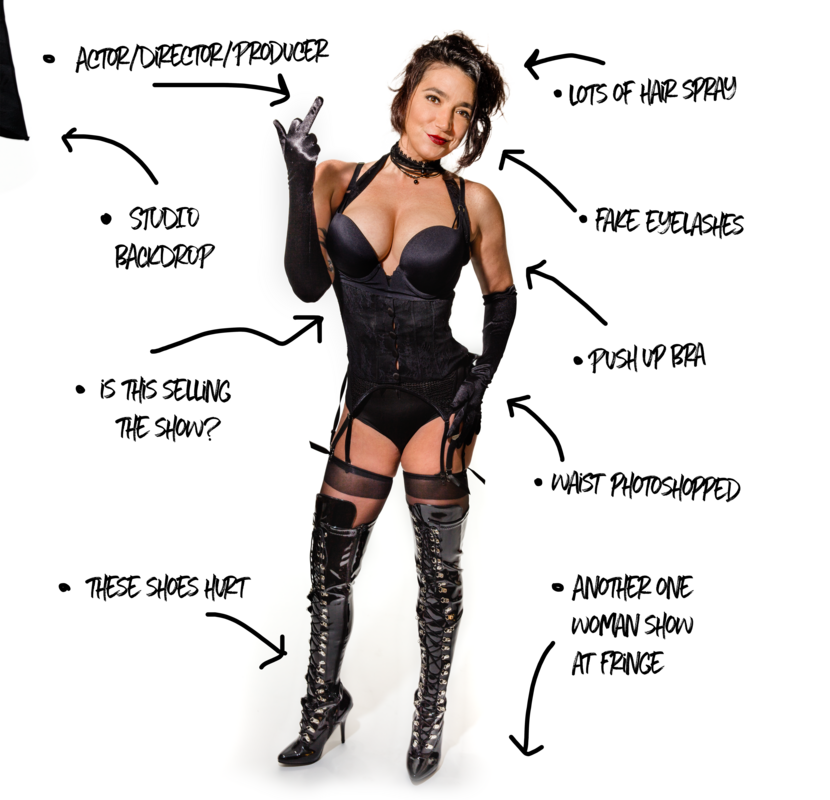 Making its world premiere at the Fringe this year is The Annie Sprinkle Project: Reflections of a Post Porn Modernist. This is a solo show about the controversial Annie Sprinkle, the pornstar turned performance artist. It is performed by Fringe veteran Sophia LaPaglia.

In the 1990s, Annie catapulted into the mainstream with her one woman show, Post Porn Modernist. From burlesque dives to off-Broadway stages in New York and sold-out theaters across the world, this controversial piece moved from the fringes of performance art to the battleground of national controversy.

Known as the Battle of the NEA 4, Republicans like Jesse Helms called for Annie's show to be defunded, naming it a "Sewer of Depravity." Meanwhile, the performance art world struggled to come to terms with the death and devastation of a community demolished by AIDS.

In The Annie Sprinkle Project, Annie (LaPaglia) tells her story in her own words. Set in quarantine 2020, it is comprised of word-for-word interviews with Annie and the legendary team who catapulted her show into theater history. It explores sexuality, feminism, radical love, and the healing impact of theater in the time of a pandemic.

Ms. LaPaglia was kind enough to talk about the show with ArtsBeat LA and give us some insight.

What stirred your interest in this project about the legendary Annie Sprinkle?

I first came into contact with Annie's work in college. We were studying the NEA 4 and discussing censorship, theater and art. You know how college is, and being a feminist theater major, OF COURSE I was obsessed with Vagina Monologues, and performing in it and directing in it, just feeling my feminist 20s theater girl vibes.

Then I started reading about Annie's work and — mind blown! In her one-woman show, Post Porn Modernist, there is a piece called "Public Cervix Announcement" where Annie spreads her vagina with a speculum, and asks the audience to form a line and pass a flashlight to gaze one at a time between her legs to view her cervix. I mean, it really starts to make Vagina Monologues look like nursery rhymes.

What makes you relate to her?

I think as artists it is always our job to push the boundaries, get everyday people to feel where their limits are, and broaden and deepen their experiences. Annie's piece really questions where our shame is hiding. Why is sex censored, why is sex work illegal?

Looking at where we are "sick" or "shameful" brings to light where we can be healed, as a people, as a whole community, as a culture, as a world. Annie set out to understand her own experiences as a woman, as a sex worker, as a pornographer. She wound up healing herself and her community during a time deeply devastated by AIDS.

Is this the original Post Porn Modernist with you stepping in as Annie? Or has it been revised?

Good question! To answer this, I want to cover a little bit about the history and development of the project. So I went from studying Annie in college to years later moving to San Francisco to work beside her on her current projects surrounding Eco-Sexuality (very fun idea, google it!) It was at that time Madison Young a performance artist, porn performer, and sexual revolutionary (as she would say!) decided to adapt Annie's show Post Porn Modernist into her own one woman show, Reveal All Fear Nothing.

Annie knew of my deep connection to the show and I was brought on to direct that project, and we toured the country with it for years, selling out, it was a blast! For this project, however, I wanted to move away from adapting Annie's show, so instead of doing Annie's show now, we as an audience are experiencing Annie's show performed BY Annie in the 1990s! I conducted interviews with the friends and colleagues of Annie's I had met over the years, who were a part of Post Porn Modernist, including Annie herself.

So to answer your question (finally!) my show, The Annie Sprinkle Project: Reflections of a Post Porn Modernist is a performance of these interviews, as a collection of monologues. Among these monologues there will be video of Annie's show I collected from a 1990 performance in Chicago. I think it is really exciting the audience will be able to enjoy Annie doing her own performance of the show, and the video really gives a sense of transporting us to the 1990s.

So alongside the video of Annie performing Post Porn Modernist, my show is a collection of monologues based on interviews that took place during the lockdown in 2020. I think the audience will find there are parallels in these worlds, and Annie's message continues to feel important today.

You've been to the Fringe before. What do you like about it?

Fringe is the perfect place for this project to premiere. It is a supportive group of artists who all have the spirit of working together and making the best art they can make- and having fun at the same time! I am hoping my show will attract like-minded theater folks with a love for Annie's message who want to collaborate on the full length version, or continued use of these important stories of theater history.

I am currently working with Theatre Neo Ensemble to adapt the show into a zoom production, with a full cast of actors. I think it could also be imagined in a dramatized TV show, or movie,so many possibilities! I am looking forward to sharing my work with the Fringe community because I think there is a spirit of collaboration and support. The staff, the theaters, the stage managers, the box office, the audiences, Fringe makes it all easy, it is a huge resource to artists of all experience levels.

Since the Fringe is a collaborative effort, are there any other shows you're interested in seeing?

ALL of them!! I am making it a goal to try to see all the other one person shows and really get a sense of what is possible in that particular category at Fringe.

The Annie Sprinkle Project: Reflections of a Post Porn Modernist plays at various times June 4, 11 and 25 at the Complex Theatre and Studios, 6476 Santa Monica Blvd. The 7:00 performance on June 25 is a virtual performance, and the show is obviously 18+. Tickets are available here.