Another show making its world premiere at the Fringe is Blood Pig, which sounded so crazy that ArtsBeat LA definitely had to find out what it was all about. We talked to producer Adam Bradshaw to get the lowdown.

Like we said. What's it all about? Is it a bromance or a horror show…or both?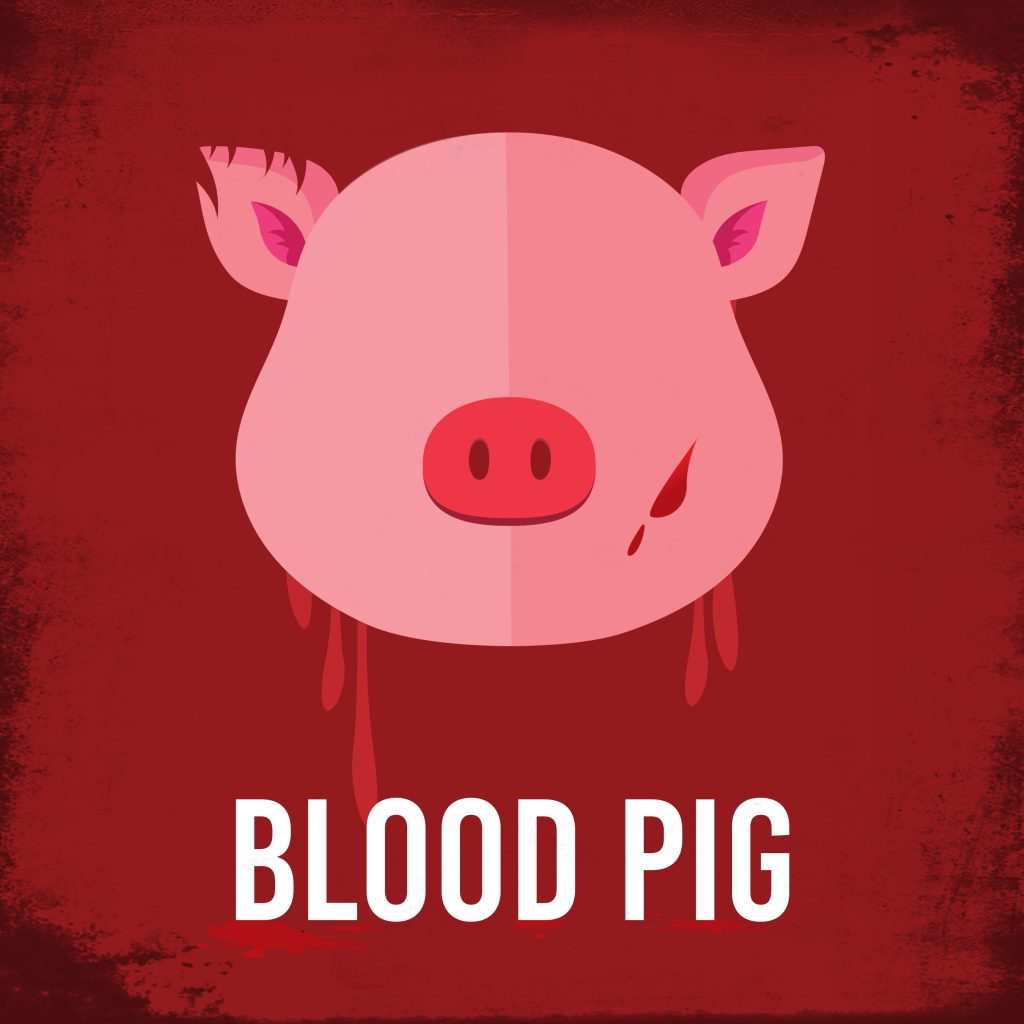 Blood Pig is a horror comedy that leans more toward the comedy side. It's a funny story that takes place in a horrific situation.
The entire show takes place in a creepy basement where a naive virgin named Devin has been locked up for the past four years by the charming narcissist Vince. Over that time, they've formed an epic bromance by way of Stockholm syndrome.
What's the meaning of the title?
What I love about the title is that it allows the audience's minds to wander over all the possibilities. What is a blood pig? Does the show have pigs in it? Will there be blood? Will there be bloody pigs?! Well, I am happy to report that no pigs are harmed in the making of this production. "Blood pig" is the term of endearment that the character Vince uses to describe the people he kidnaps and locks in his basement, using their blood in his sacrificial rituals for the Dark Lord. And yes, there will be a little bit of blood…
Is Blood Pig inspired by the slashers of the '80s? Or torture porn of the 90s? If they're fans of _____, they'll like Blood Pig.
Haha! Well, our playwright Devin Arnold says that the awkward comedic situations of television shows like It's Always Sunny in Philadelphia were the strongest inspiration for Blood Pig. As a huge fan myself of classic horror comedies like the Evil Dead franchise, Beetlejuice and Cabin in The Woods, I was immediately drawn to the script, and it's been so fun to play in the world he's created. If you're a fan of those projects, then you'll love Blood Pig!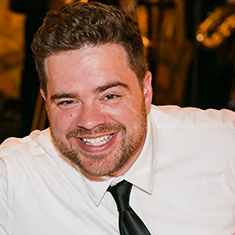 What do you hope audiences will get out of seeing it? What gift of weirdness do you want to give them with Blood Pig?
While we hope our audiences will get a fun night out with a bunch of laughs, we also hope that Blood Pig makes them take a second to consider some of the relationships in their own lives. Yes, the story is a ridiculous sequence of events that will make you laugh but at its core it's an allegory for those manipulative relationships we've all experienced. We explore how sometimes these relationships feel like they are impossible to escape.
Were cast members hired on the basis of their love of strangeness? Or their "type" of the genre? How much do you relish the actors' performances? How much are you enjoying their roles?
We are so fortunate to have such a talented ensemble cast for Blood Pig. I have read this script probably a hundred times but still every day at rehearsal they discover new ways to make me burst out laughing. They have all really taken ownership of their characters and it's been so fun to watch. Chazz Christian plays "Devin", our naïve captive virgin, with a delicious sardonic wit. Jerry Campisi as "Vince" is so charismatic that you almost forget he's keeping a blood farm in his basement. Jennifer Sherer is the Devil's perfect Disney princess in her sweet yet seductive performance as "Jeanette".
And audiences are going to absolutely love Idrees Degas as Detective Michaels. Idrees and I have worked together for many years, and I think this might be my favorite role he's played. He's such a pro and just goes all-in. The chemistry between all four of our cast is just so awesome that I can't wait for us to get in front of live audiences! This show wouldn't be what it is though without the leadership of our great director Troy Whitaker whose guidance has continued to elevate the project from day one.
Is this your first time experiencing the Fringe? How are you enjoying the experience?
This is the first Fringe experience for most of the cast and crew! For myself, I grew up performing in community theater in Michigan all my childhood. I've since hung up the cleats on my acting career, but I've missed the theater world so much that I really wanted to find my way back in. While most of us work in television and film now, the Hollywood Fringe Festival has been such a great opportunity to dip our toes into the Los Angeles theater community. It's been so fun working with Devin and Troy going through the process of developing the script, casting and now rehearsals.
Are you ready for the abbreviated load-ins? Were you folks able to do the staging at the theater or elsewhere?
As a Fringe novice, I think the quick setup and takedowns are the thing I'm most anxious about. I am very used to bigger television and film productions where we take weeks to build and tear down sets. Thankfully we have a great stage crew that will help us to bring Vince's basement to life in under 15 minutes.
For rehearsals, true to the Fringe spirit, we've actually been doing them in my backyard! I'm fortunate enough to have a great patio space that looks very much like a small stage. But we're all very excited to start rehearsing at our stage at The Actors Company next week. You don't realize how often planes fly over North Hollywood until you're in the middle of a rehearsal!
Since the Fringe is a collaboration, what other shows sound intriguing to you?
Another great aspect of Hollywood Fringe has been getting to meet the other show creators. Over the past month we've made friends with a lot of the other productions and we're so excited to see their shows as well. To name a few, we are really looking forward to Camp Ginger, The Toughest Man in Chicago, Ben and George, The Annie Sprinkle Project and The Verse Violent Chorus. I know we'll see a ton of other shows as well. The one-person show format is pretty new to me, so I am definitely looking forward to seeing a bunch of those and I always love a good musical!

You wanna add something else, don't you?

I also want to share that while Blood Pig is a comedy that has some fun with sacrificial blood rituals, due to the COVID-19 pandemic there are many hospitals that are in real need of blood donors. Locally in Hollywood, Children's Hospital Los Angeles is currently experiencing a shortage of blood donors.
So during the month of June, the Blood Pig cast and crew will be working towards registering as many blood donors as we can for the Children's Hospital Los Angeles Blood Donor Center. Audience members can visit www.bloodpigplay.com to find out how they can make an appointment to donate blood to Children's Hospital Los Angeles and receive discounted "Blood Pig" tickets.
Blood Pig plays June 5, 15, 19, 25 and 26 at the Actors Company, Show times and tickets are available here. For those attending remotely, the June 26th performance is available as a live stream.
Blood Pig image credit: Jose Rodriguez.