It's on again!! Downtown L.A.'s largest *free* Fourth of July celebration is back!
Grand Park's 4th of July Block Party is happening this Monday, July 4, 2022, from 4:00 – 9:30 p.m.
Grand Park, backed by The Music Center, affirms its status as the park for everyone with the return of Grand Park's 4th of July Block Party. After a two-year hiatus during the pandemic, Grand Park will welcome thousands of Angelenos back to the highly popular in-person event with live entertainment and an unrivaled fireworks show launched from the rooftop of The Music Center's iconic Dorothy Chandler Pavilion.
Grand Park's 4th of July Block Party returns IN-PERSON with a spectacular celebration packed with fun for the whole family. This year's party will feature a series of interactive multi-media art works in tribute to those who have contributed to the spirit of the Grand Park experience as the Park for Everyone, and will showcase a dynamic retrospective of the last 10 years. Join us for a night that will include food, music, the return of two stages featuring DJs as well as musical performances, dancing, as well as other surprises and dazzling fireworks over Jerry Moss Plaza at The Music Center.
PARKING:
Public parking will be available at The Music Center (135 N. Grand Avenue, Los Angeles, CA 90012) and Walt Disney Concert Hall (111 S. Grand Avenue, Los Angeles, CA 90012) at a flat rate of $9 per vehicle.
Given the large number of guests expected at the event, however, members of the public are highly encouraged to take public transportation.
Grand Park is located conveniently at the Civic Center/Grand Park station along the Metro B Line (Red) and Metro D Line (Purple).
Attendees may access Grand Park's grounds through four specially-marked entrances:
• Olive and 1st Streets
• Hill and Temple Streets
• Main and 1st Streets
• Broadway and 1st Street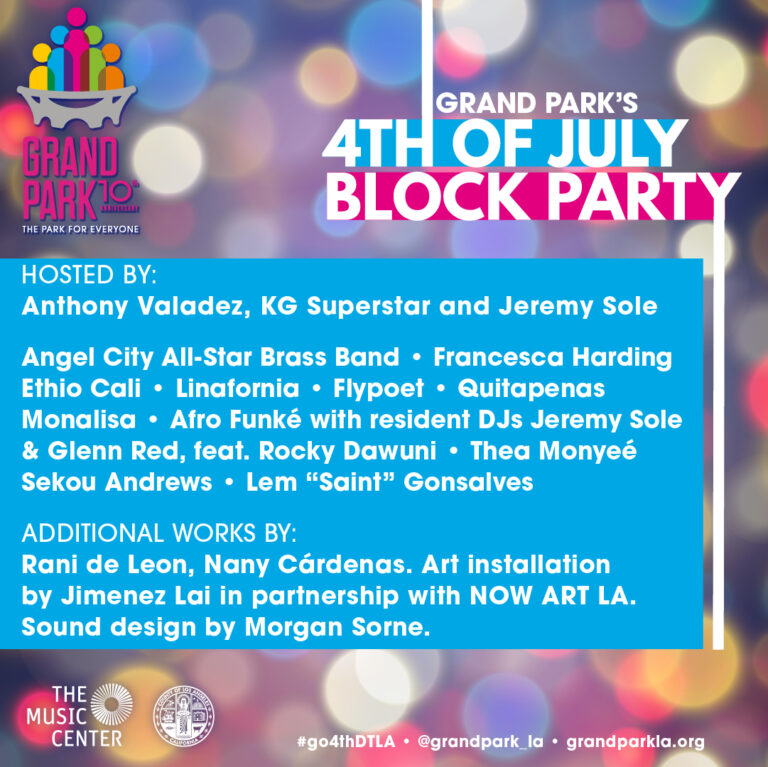 PERFORMANCE SCHEDULE:
PROHIBITED ITEMS:
FOR EVERYONE'S SAFETY, THE FOLLOWING IS PROHIBITED:
GETTING THROUGH BAG CHECK:  All bags will be checked upon entry to event space, please do not bring the following items to this event: Bags and Backpacks Measuring Larger Than Standard Backpack Size (16.75 inches x 13 inches x 8.5 inches) / Coolers / Chairs / Outside Alcoholic Beverages / Sealed or Open Beverage Bottles with Liquid Including Water (fountains and water will be available) / Selfie Sticks / Glass / Smartboards / Projection Devices / Narcotics / Tents / Firecrackers / Explosives / Sparklers / Firearms / Weapons / Frowny Faces / Identity-covering costumes / Confetti Cannons / Generators / Drones / Printed Signage Measuring Larger Than 8.5 inches x 11 inches / Props / Flag Poles / Sticks / Aerosol cans / Smoking Paraphernalia / Lighters / Fire Matches
(Prohibited items subject to change.)
THE FOLLOWING IS ALSO PROHIBITED AT THIS EVENT:  Public Intoxication / Rollerblading / Skateboarding / Smoking / Vaping / Unauthorized Vending / Unleashed Animals / Smart boarding / Outside Solicitation / Staking Objects to Ground / Drone Operation / Amplified Noise / Bicycles (May be parked outside of event at 1st St/Hill St)
PERMITTED ITEMS: Snacks / Food / Sealed juice boxes / Small bags / Smiling Faces / Strollers / Empty reusable non-glass water containers.