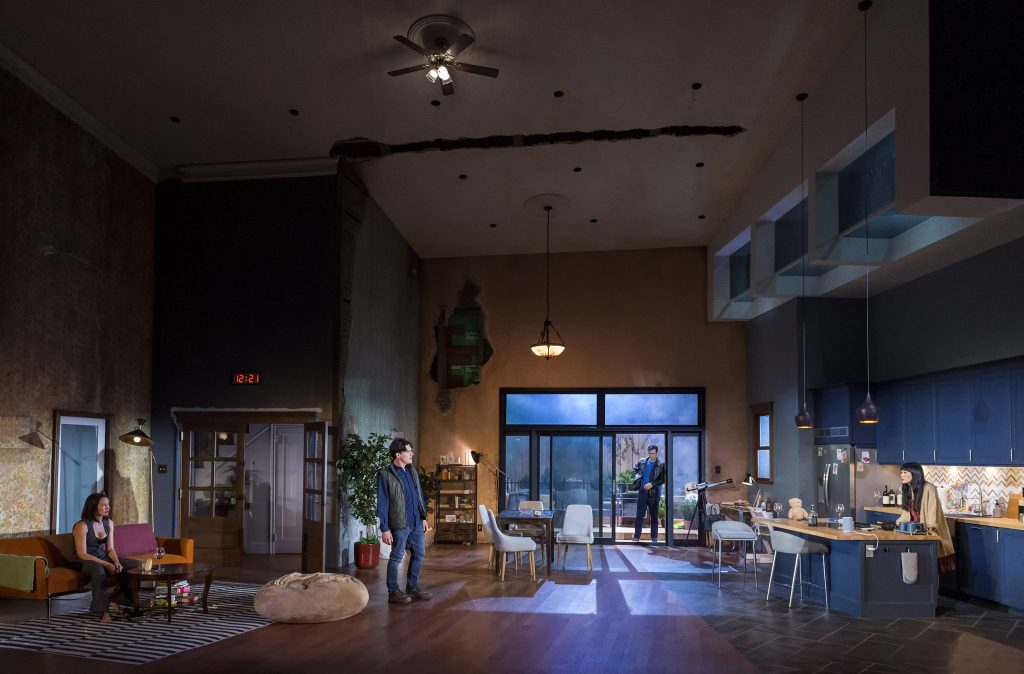 I'm a horror film fan. I probably see 75-100 horror movies a year, and have done so for a long, long time. So I can state with certain knowledge that the cheapest of all scares is the jump scare. I have nothing against them – when a jump scare is well done, it can be a thing of beauty. But a lazy, unmotivated jump scare, just to get a visceral response AAAAAAAAA!!!! (please imagine that this is someone suddenly screaming into your ear at top volume) can be irksome. I wanted to like the new Ahmanson production of Danny Robins' 2:22 – A Ghost Story more than I did, but a surfeit of the same jump scare over and over and a goofy twist kept my enjoyment of the show mild.
Jenny (Constance Wu) and Sam (Finn Wittrock) are new parents, and Jenny in particular is concerned about the safety of her infant. She's annoyed with Sam because he recently went on a hiking trip and was out of contact for a few days. During that time she believes she heard a ghost in the baby's room, every night at 2:22 a.m. Sam, a smug rationalist, refuses to believe her. Thus when they invite their friend Lauren (Anna Camp) and her new boyfriend Ben (Adam Rothenberg) over for drinks, Jenny insists that they stay until 2:22 to prove her claims correct. But as the evening progresses, alcohol is drunk and personalities clash, AAAAAAAAAA!!!!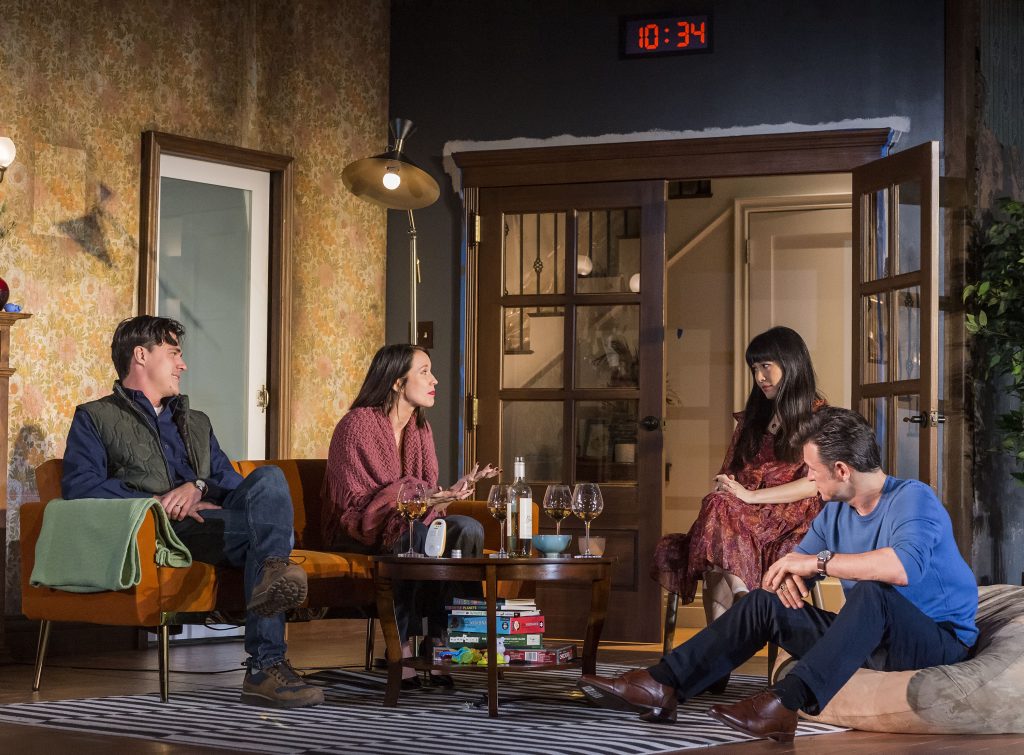 Wu excels as the stressed-out Jenny, trying to be a good mother and hostess but unable to deal with her supernatural situation and her husband's resistance to it. Wittrock is quite good as the arrogant know-it-all Sam, quite happy to argue with anyone or suggest a game of trivia. Camp is the picture of chirpy brightness as Lauren, booze swilling party girl, but she demonstrates the character's dramatic backstory effectively. Rothenberg is wryly amusing as the easygoing and honest Ben, but as the character becomes angrier, he plays threatening well, too.
Director Matthew Dunster gets solid performances from his cast, but his insistence on using the same jump scare at almost every scene break is horrifying in its lack of creativity. It implies a lack of faith in his actors and the material. Anna Fleischle's scenic design is impressive, especially to see one huge house set fill the entire Ahmanson stage. Playwright Robins has a promising premise and some sharp dialogue, but the payoff is unconvincing and frankly silly, which is doubly disappointing because this play is all build-up to the payoff.
In conclusion, if you like your scares to be on the more obvious side, AAAAAAAAAA!!!! Annoying, isn't it?
2:22 – A Ghost Story is presented by Center Theatre Group at the Ahmanson Theatre and plays through December 4, 2022. Tickets are available here.