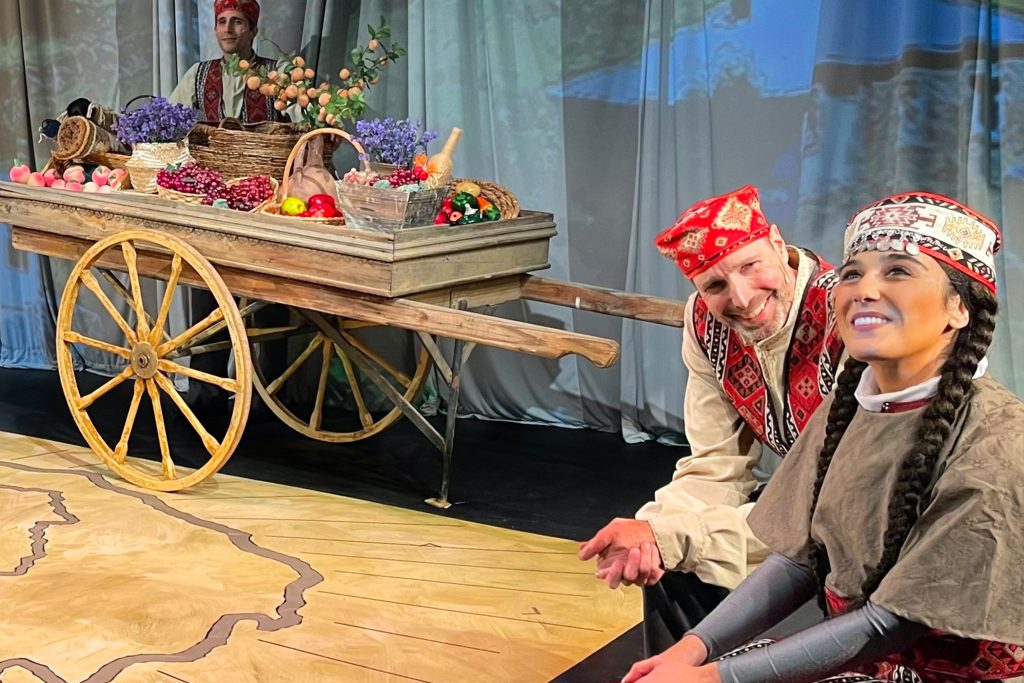 Making its world premiere, a family-friendly one-act musical brimming with empowering messages and role models is now playing at the Colony Theatre in Burbank.
Inspired by an ancient Armenian fairytale, Warrior Queen Anahit the Brave is an entertaining show that's filled with song, multi-media, interactive elements and spectacle. We chart the story of Anahit's transformation from peasant rug weaver to sword-wielding Queen of her land.
Pictured above: Nathan Mohebbi, Alistair McKenzie, and Ani Marderosian
Photo courtesy of Imagine Theatre
In Armenian mythology, Anahit was the goddess of fertility and healing, wisdom and water, while in early periods she was depicted as the goddess of war.
Written and directed by Armina LaManna, this original musical is set in the Armenian highlands of the 18th century. Like all of Imagine Theatre's productions, this show transports young audiences to distant lands and far away places, introducing them to antique cultures and their rich stories.
As we travel back in time to the 1770s, the show begins with darkness and the thundering sound of the galloping hooves of horses. In a prologue, we meet a young woman who is determined to fight for what she believes in. Queen Anahit (played with grace and charm by Ani Marderosian) adopts the mantle of a warrior woman and exhorts other women to join with her to form a new army.
Flashing back a couple of years previously, we meet King Vachagan (played by Nathan Mohebbi), accompanied by his trusty and comical sidekick Arman (hilariously played by Kyle Caldwell.)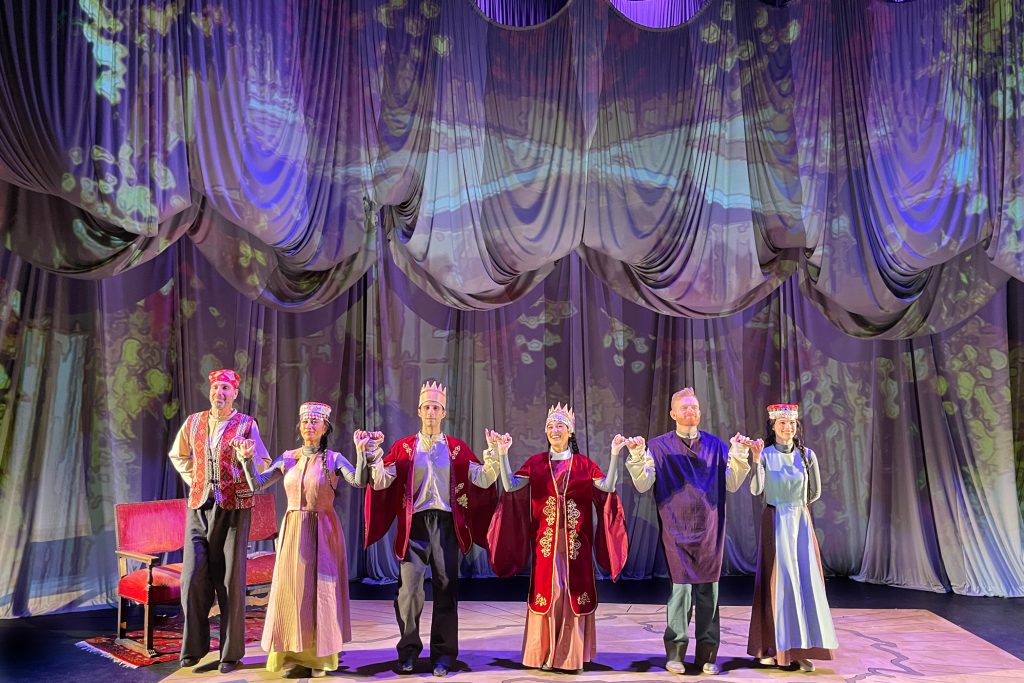 Pictured above: Alistair McKenzie, Christianne Holly Santiago, Nathan Mohebbi, Ani Marderosian, Kyle Caldwell and Sophia Vitello. Photo courtesy of Imagine Theatre
The young King seems a bit conceited, but he's walking around the amongst the people in disguise in order to get to know them better. The women of the village – Anahit and her friends Nairi (Christianne Holly Santiago) and Maral (Sophia Vitello) – are wearing gorgeous flowing costumes as they gather water and dance. At first, our two main protagonists circle one another suspiciously, but this is love at first sight for Anahit and King Vachagan.
As they get to know one another, Anahit explains how she wants a practical husband who can work with his own two hands. She teaches him to weave and he teaches her to wield a sword. Eventually they wed. Soon after Anahit ascends the throne, the mysterious disappearance of many of the men of the village and of the army indicates a crisis has befallen the kingdom.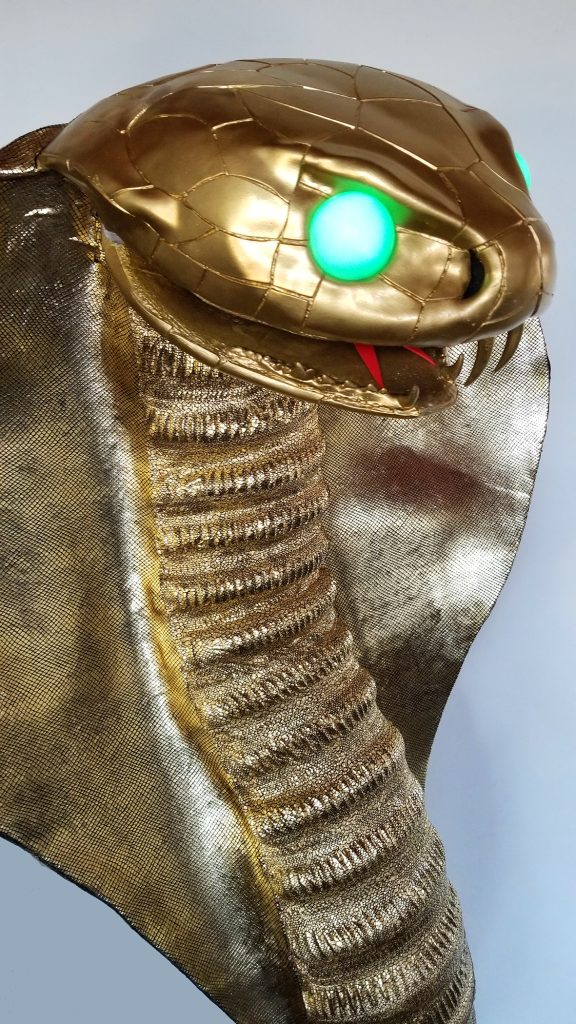 In a haunting and inspirational song Anahit persuades the king to include women in the ministry, urging him to forge his legacy as a visionary.
We meet the villain (played by Alistair McKenzie) Apep – a deliciously evil serpent god who sings a rap song. Can our heroes defeat this mighty foe?
Throughout this delightful show, the songs have sweet melodies and gorgeous harmonies. In traditional costumes the cast sing with soaring voices, exulting the majestic highlands of the region through rousing traditional dance routines.
The cast of six play multiple characters throughout this engaging one-act play. The staging is simple with draped cloths, a map-like carpet and vivid projections.
Recommended for little kids and families.
Imagine Theatre presents Warrior Queen Anahit the Brave
WHO:
• Written and Directed by Armina LaManna
• Original Music by Shahen Hagobian
• Puppet Design and Fabrication by Douglas Wright
• Starring Kyle Caldwell, Ani Marderosian, Alistair McKenzie, Nathan Mohebbi, Christianne Holly Santiago, Sophia Vitello
• Presented by Imagine Theatre

Performances:
November 5 – November 18, 2022:

• Friday, November 11 at 7 p.m.
• Saturday, November 12 at 7 p.m.
• Sunday, November 13 at 4 p.m.
• Friday, November 18 at 7 p.m.

The Colony Theatre
555 N 3rd St.
Burbank CA 91502
(in Burbank Town Center)
PARKING:
Free in the attached Burbank Town Center parking structure.
TICKETS:
• Adults: $30.00
• Children 12 and under: $20.00

Bookings:
(818) 649-9474 or imaginetheatreca.org