According to a survey conducted by American Theater magazine, Lynn Nottage's Clyde's is currently the most produced play in the U.S. It's not surprising that Nottage's work is being done; she's received the Pulitzer Prize twice during her illustrious career. But it's a little disappointing that this show seems to be her most popular. I think she's a talented playwright and have enjoyed several of her other creations, but I found this play to be meretricious and phony – I didn't believe a minute of it. The new production of Clyde's at the Taper is professionally done and features a capable cast, but the play itself feels more like a safe CBS TV sitcom than anything resembling reality.
Production photos by Craig Schwartz Photography.
Clyde (Tamberla Perry) runs a truck stop diner. She only hires ex-cons, and because they have difficulty getting hired anywhere else, she feels free to treat her employees badly. Her latest hire is Jason (Garrett Young), a guy who just wants to keep his head down and get paid. Letitia (Nedra Snipes) and Rafael (Reza Salazar), employees who've been there longer, still give him grief anyway. Things would seem hopeless under Clyde's bullying leadership except for the inspirational presence of Montrellous (Kevin Kenerly), a veteran cook who works to make them the best chefs they can be.
Perry is vivacious and amusingly nasty as the titular tyrant, clearly having fun with the role. Young does what he can to center a character that as written only seems to have two notes – clueless or awestruck. Snipes effectively elicits sympathy as Letitia, and Salazar brings energy and commitment to the somewhat cliched role of Rafael. Kenerly exudes intelligence and calm as the guru-like Montrellous, managing to give this material more dramatic heft than it merits.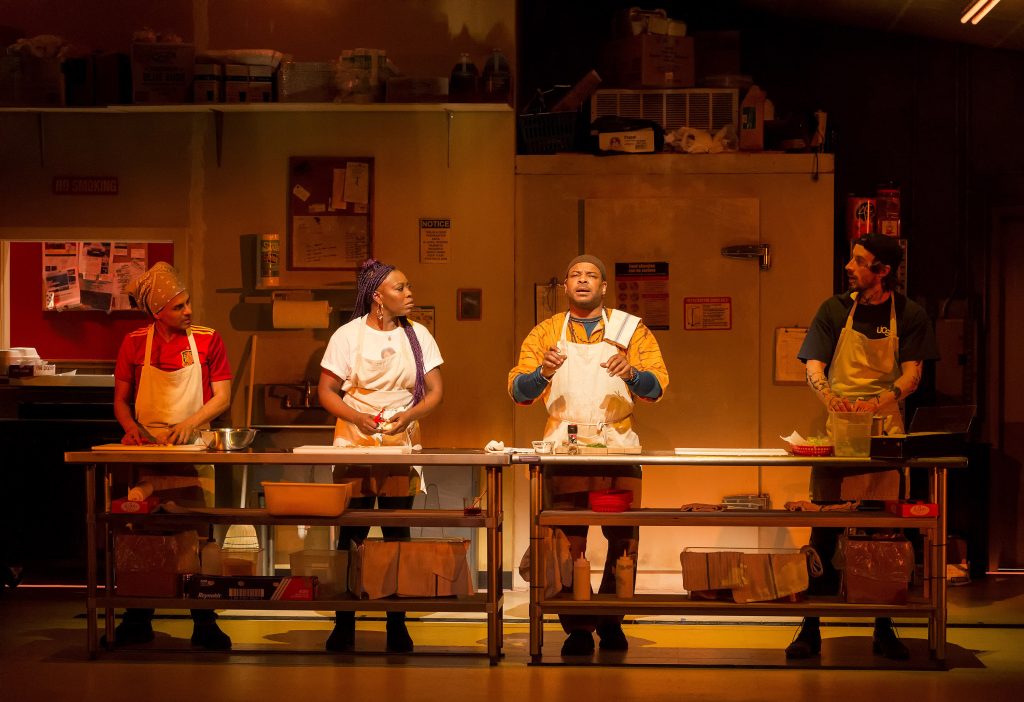 Director Kate Whoriskey gets solid work from her cast and keeps the pacing swift. Takeshi Kata's diner kitchen set is detailed and convincing; it's unfortunate that the writing isn't. It's understandable that Nottage may have wanted a change of pace from heavier works such as Sweat or Ruined, but she's swung too far the other way. The characters seem more like comedic types than believable people, and the serious issues raised by the play (the plight of ex-cons trying to rejoin society, single mothers trying to make ends meet) get shallow treatment.
I know that a lot of people enjoy this show, and the Taper does a good job with the production, but this play is disappointing, given that Nottage is capable of finer work.  
Clyde's is presented by Center Theatre Group at the Mark Taper Forum in Downtown L.A., and plays through December 18, 2022. Tickets are available here.