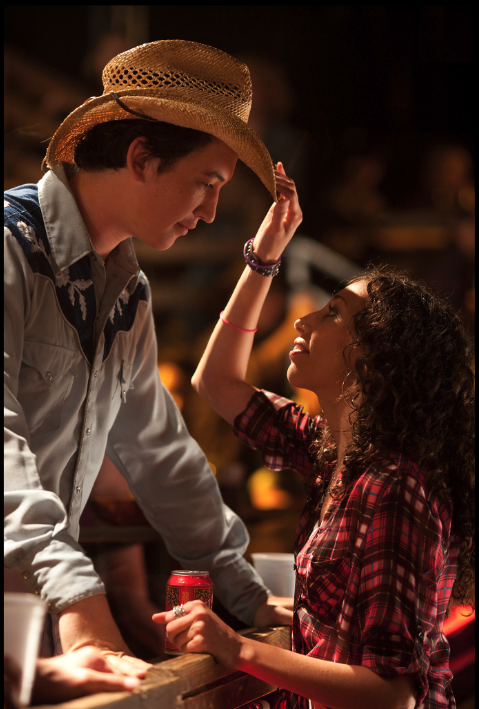 This interview was first published in October, 2011.
New on the scene is quirky young actor Miles Teller, who last year immediately gained notice in his first feature film, Rabbit Hole (2010), playing opposite Nicole Kidman and Aaron Eckhart. Judging by his recent luck in subsequently landing choice parts – three more feature roles in quick succession – this endearing 24-year-old has a long career ahead of him as a likable character actor rather than experiencing the fleeting fame of heart-throb-of-the-minute.
Teller was cast in Rabbit Hole a mere month before he graduated from NYU, where he was completing his drama degree at the Tisch School of the Arts. He has already shot two other films since his breakout picture. (His next film, the comedy 21 and Over, is currently in pre-production.) The first was as one of three high-schoolers in the Todd Phillips–
produced and largely improvised R-rated comedy Project X, about a birthday party that spins
out of control. Then he stepped in the cowboy boots of the late Chris Penn as Willard, the
dance-challenged country bumpkin in director Craig Brewer's faithful remake of Footloose.
Funnily enough, Teller already had the character of Willard down. "The first play I did in high school was Footloose. I love the story, I love this character." The actor grew up in Citrus County in Florida, population around 6,000, which he says is a small Southern town similar to the one where they shot the film. For Brewer's film, Teller had to make his already 'down home' Southern accent more 'twangy' and audible. Teller drawls, "Because in the Deep South, you have no idea what they're saying!"
A genuine camaraderie between Teller and the movie's leading man Ken Wormald, who plays new-to-school Ren, informed their on-screen friendship. "Yeah, Kenny's from the north-east – he's got that Boston background – and up there they're just ball-busters. From the moment I met Kenny, we were just giving it to each other a bit, busting each other's chops, but he's a cool dude."
The young cast bonded during the three month-long shoot in Atlanta, which Teller compares with "being on summer camp." To keep the mood light, the boys indulged in a few harmless pranks. "We stole a golf cart one day because the producer – Craig Zadan, who did the first one – told us we weren't as edgy as the first cast. He said that Chris Penn was doing barbeques in his hotel room and stuff, and that we were very mild-mannered compared with the original cast. So then Kenny and I were, 'Right, we gotta step up the mischief.'"
Confessing he's never watched the original film, Teller is unable to draw comparisons between the two. "All I can say is, I'm a different actor to Chris Penn, so I'm sure we interpreted the role differently. Ours is very true to the original, but it stands on its own. It's a lot of fun." Especially the dancing, "I love to dance, so it was actually hard to dance off-rhythm. I play music, so rhythm comes naturally to me. You know how it goes – you gotta be smart to play dumb."
The visible scars on his face and neck are from a horrific car accident he experienced four years before our interview. In 2007, Teller was a passenger in a car whose driver lost control at 80 mph (130 km/h) and flipped eight times. Teller recalled how his friend had taken over driving his car one night and lost control while switching lanes at 80 miles per hour. Recalls Teller, "The car flipped like eight times. I got ejected from the passenger seat out the window as it was rolling.
"My buddy thought I was dead. I woke up in the hospital. I broke my wrist, I had thirty staples put in my shoulder and I still have two rocks embedded in my face." He had to endure a lot of plastic and painful laser surgery and groans at the memory. "For two years in college I looked like Frankenstein."
These days Teller is getting into shape for '21 and Over' for the scenes where he'll be partially nude. "It'll be a hard 'R' rating. It's gonna be like The Hangover and Animal House, with that innate college raunchiness. Alcohol is involved. I'm mostly naked – it's gonna be all skin." He adds wryly, "My grandmother is not going to be very happy about that."
On the original version of Footloose:
"I was surprised by how much I liked the movie. I barely remember the original, but had an impression it was pretty corny, and so this one is a fairly faithful remake but slightly updated and extremely well cast.
People forget that Kevin Bacon, Lori Singer, Sarah Jessica Parker and Chris Penn were ALL unknowns when that movie came out, so casting Kenny Wormald (James Dean meets Johnny Depp) as the lead worked for me.
Footloose was great fun and had heart."