Viola Davis dominates the screen, leading an equally powerful ensemble cast in the historical drama The Woman King. Stocky and stacked, her formidable and intense presence is riveting to watch. This star-turn as a ruthless warrior is just another jewel in the almost sixty-year-old's crown of acclaimed and award-winning roles on stage and screen.
Set during the 'Age of Discovery' around the 1820s, the story centers on the Agojie, the all-female military regiment who protected the West African Kingdom of Dahomey during the 17th to 19th centuries. For around three centuries, this kingdom was a powerful empire that drew comparisons to Sparta. Davis plays General Nanisca, the army leader who trains the next generation of warriors to fight their enemies. Nicknamed by white colonists as the Dahomey Amazons (referencing the legendary female warriors and hunters of Greek mythology, who beat men in physical agility and strength, in archery, riding skills, and the arts of combat) the Agojie are one of the only documented female armies in modern history. The regiment held a semi-sacred status within the society.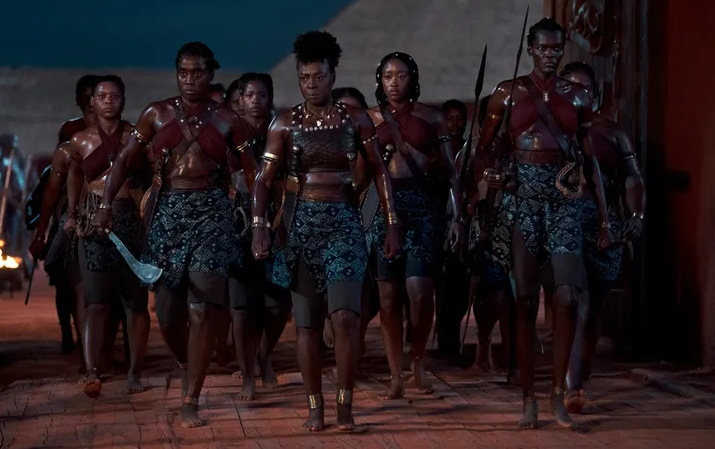 These highly-trained women could decapitate a man's head with a single blow of their razor-sharp curved swords, scale a wall of thorns and devoted their lives to a career of defending the king—never marrying, seldom birthing or raising children.
Superbly directed by Gina Prince-Bythewood, she brings this historical saga to the wide screen with an evident passion and confident storytelling. We also track the emotional backstories of the central characters; as such the movie is rich in detail and joyously triumphant.
Scripted by Dana Stevens, based on a story she wrote with actress Maria Bello (who also produces), the drama recalls other historical battle epics such as 1995's Braveheart and 2000's Gladiator—both of which received the Oscar for Best Picture as well as nomination for Best Director (Mel Gibson won, Ridley Scott did not). Unlike Randall Wallace's script for Braveheart, which played fast and loose with the facts, Stevens' insightful, intimate and action-packed screenplay avoids sacrificing historical accuracy for epic adventure. Instead, we get an intricate portrait of the ferocious women at the center of a nation at war with its neighbouring kingdom, as well as under threat from European colonialists operating the lucrative slave trade. There are also echoes of Wonder Woman, especially in the contests, as well as Black Panther which draws from some of the same historical source material.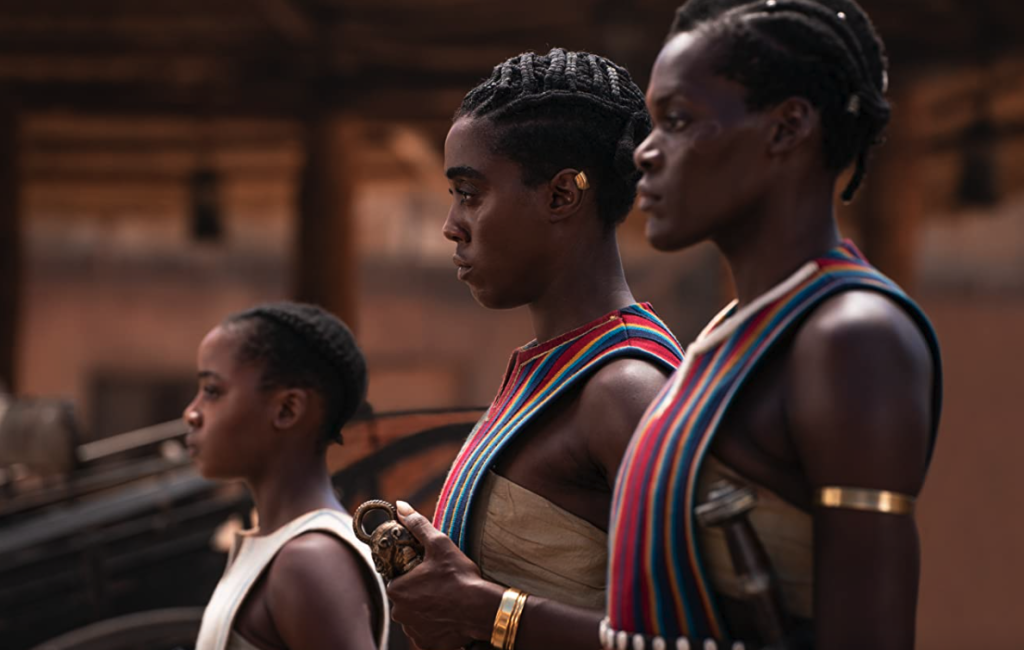 Prince-Bythewood (Love & Basketball, The Secret Life of Bees, etc.) handles the material with aplomb. She launches the movie with a splashy battle scene that introduces us to these stealthy but lethal warriors and gets your adrenaline pumping. Careful not to overdo the gore factor, the sequence nevertheless contains some graphic violence—including a particularly grisly kill that makes you gasp. We are then drawn into the world of this kingdom, and its politics and hierarchy are deftly described including the complex palace intrigue. A feisty young woman is abandoned by her father after she refuses an arranged marriage. South African actress Thuso Mbedu plays Nawi beautifully, transforming a stubborn resolve with quickly acquired grace and agility as she is accepted into the military ranks of trainees. Her backstory reveals a connection with The General in a subplot that feels more emotionally necessary than contrived. Even a brief romantic liaison between Nawi and one of the Portuguese slave traders (his backstory is woven into the tapestry of the film) doesn't detract from the action; Stevens makes it more about war strategy and gaining intelligence than a distracting love story. Additionally, Prince-Bythewood strenuously avoids fetishizing – or even masculinizing – the muscular women. There are no hints of lesbian romance (the story could easily have ventured into that territory), nor does the feminine gaze of the camera ever sexualize the women, which is refreshing. Sure, there's some eye candy thanks to some scenes involving topless hunky men, but that's as far as it goes. Polly Morgan as the film's cinematographer gives us breathtaking vistas of the African continent with a muted palette, as well as expert and sensitive color-balanced photography; it is notoriously challenging to film dark-skinned people flatteringly in low-light settings. The movie might be handsome to view, but it's the gripping storyline that sustains your engagement. Terence Blanchard composes a gorgeous musical score that aids the story's layered emotionality, but it's the rousing call-and-response chants and celebratory dance routines that really fill your heart to overflowing.

Throughout the film we meet the main characters, each of whom is well-drawn and wonderfully acted by co-stars Thuso Mbedu, Sheila Atim, and John Boyega. A highlight of the movie is the performance by Lashana Lynch as Izogie, one of the highly experienced warriors and trainers. Lynch's career already boasts roles as Maria Rambeau in the Marvel Cinematic Universe (MCU) films Captain Marvel (2019) and Doctor Strange in the Multiverse of Madness (2022) and MI6 agent Nomi in the James Bond film No Time to Die (2021). Lynch easily convinces as a battle-hardened and expert killer, yet elegantly navigates an intimate scene where she knots Nawi's hair as she advises the young woman: "You are more powerful than you know."
At two hours and 20 minutes, The Woman King is an absolutely phenomenal movie experience with empowering messages, drama and pure entertainment that satisfies on all fronts.
This review first appeared on Filmink.