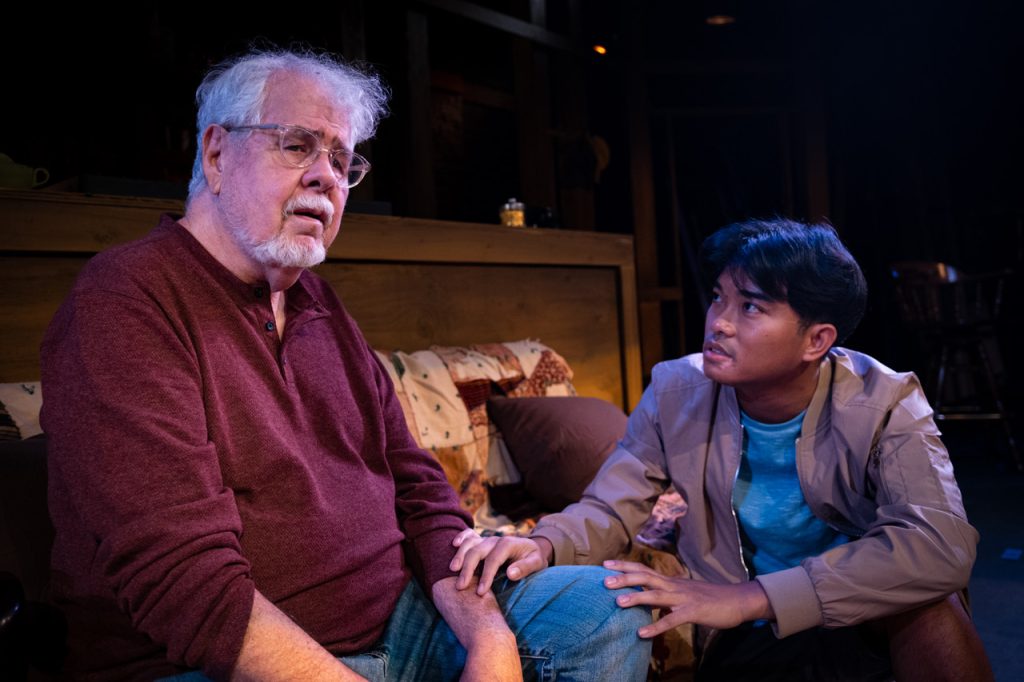 In my experience, ninety percent of the time that there's an issue with a theatrical production, the problem is the play itself. It's surprisingly rare for the main trouble to be with the acting or direction or design. And so it is with Samuel D. Hunter's A Great Wilderness. I've enjoyed other works by Hunter, such as Pocatello or The Whale, but Wilderness has major structural issues that derail whatever impact it might have had. Rogue Machine's Los Angeles premiere benefits from a strong lead performance by producing artistic director John Perrin Flynn and a handsome set but ultimately can't transcend the unfocused writing.
Young Daniel (Jeffrey Delfin) has just arrived at a cabin in the Idaho wilderness, and he's nervous. His mother Eunice (Jacquelin Lorraine Schofield) has sent him to a gay conversion therapy program, and he's worried that there may be electroshock therapy involved. Walt (Flynn), who lives in the cabin, attempts to reassure Daniel that there's only talk and prayer to be had in this program. Friends and fellow counselors Abby (Rachel Sorsa) and Tim (Tony Pasqualini) arrive to help Walt prepare to move into an assisted living facility, but that conflict is put on hold when Daniel disappears in the woods.
Flynn is sympathetic and convincing as the decent if misguided Walt, centering the production with an understated and effective performance. Sorsa brings fiery energy as the confident Abby, and Pasqualini is good if underused as her husband Tim. Schofield is fine but can't quite make the emotional twists of her character as written credible. Delfin does what he can as Daniel, but essentially is given a role in which the character doesn't begin to open up until the final minutes of the show. Finally, Tania Verafield brings a bracing sense of cold reality as the park ranger, Janet.
Director Elina de Santos gets strong work from her cast, and Bruce Goodrich's rustic cabin set is woody and detailed, creating a evocative sense of place. Hunter is a talented playwright, and his facility with dialogue still serves him well. The main problem here is that in a play set in a gay conversion program, there isn't much focus on that controversial topic, but instead a great deal of uninteresting time spent on looking for a lost kid in the woods. Why bother taking on such an issue if you're not really going to address it? Also, Hunter's given opinion as to the morality of such a program is somewhat vague, with most of the characters portrayed as essentially good, even if their racism and homophobia surface occasionally.
I'm not sure what the purpose of this play was. Is it meant to be a character study that just happens to be set in a gay conversion therapy program, or a message play about the inadequacies/actual harm done by such programs? Unfortunately, it's not successful as either.
A Great Wilderness is presented by Rogue Machine at The Matrix Theatre and plays through October 31, 2022. Tickets are available here.
The Matrix Theatre
7657 Melrose Ave,
Los Angeles, CA 900461