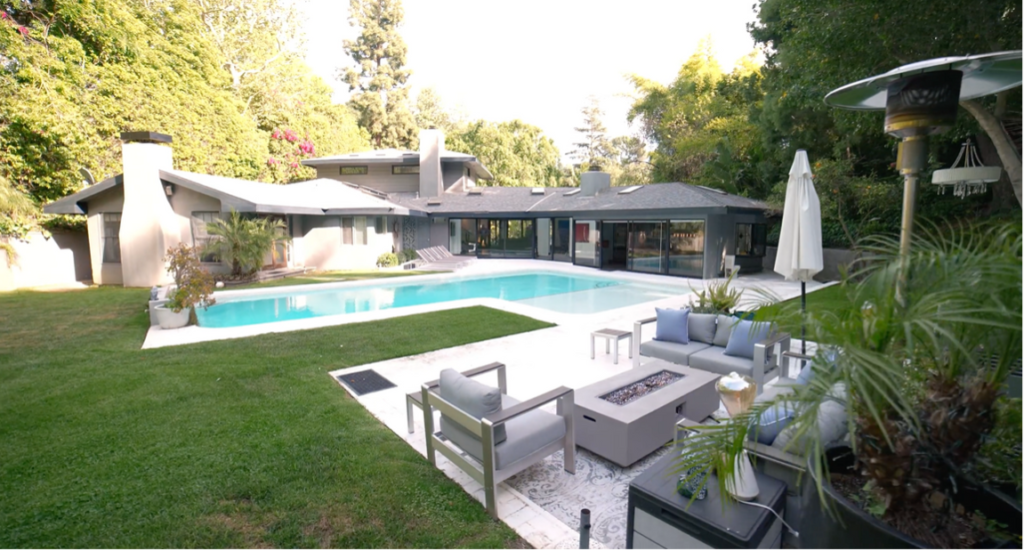 An intimate theater experience held in a Beverly Hills mansion? It doesn't get any more L.A. than that.
In fact, Ashley Cole has been staging these unique events elsewhere before bringing the concept to Los Angeles.
Ashley Cole has produced several plays in New York's East and West Village within the same parameters, using restaurants, lounges, and private residences as the dramatic settings. For this staging concept to work, typically the space/venue is limited and the invite list is specific.
For the one-off show of The Smell of the Kill, a 1998 stage play by Michele Lowe, Ashley Cole and her executive producer Xav Langton, along with co-producer Kelby Keenan, set the drama in a luxurious private home in Beverly Hills. Here the actual open-plan kitchen served as the kitchen "set" for the intimate, one-act play. 90 minutes later, the performance was followed by cocktails plus a delicious buffet of superb meats, salads and seafood, provided by local entrepreneurs. Sponsors for the event included Kind of Wild Wines and Liquid Death Mountain Water who graciously donated ample supplies of their excellent products. Wilde Gin, an additional sponsor, was expertly crafted into killer Negroni cocktails. Adds Kelby Keenan, "Wilde Gin are a big supporter of the arts and we will likely do another collaboration with them in the near future, centered around one of Oscar Wilde's works."
The evening was promoted as "An immersive event and a collaboration between artists and entrepreneurs, building community and raising awareness through live theatre in an intimate, carefully curated setting."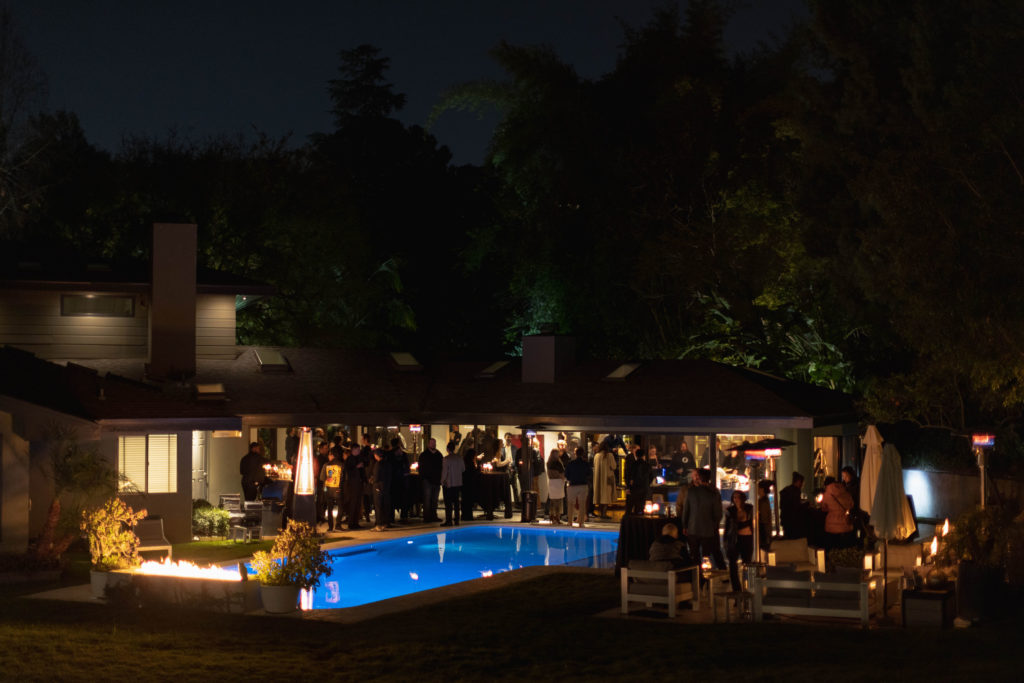 Lowe's play was selected for its casting of three women. Their husbands are heard off-stage, but never seen, which effectively locks our focus on the women and their conversations.
When the play begins, the trio are gathered in the kitchen, preparing dessert and cleaning up after a big dinner party. The men are all former college roommates, which explains how the women have been drawn into this collective friendship. We can hear their husbands in an adjoining room enthusiastically practicing their golf putting and occasionally barking out demands of their wives. The women clean up, chit-chat and commiserate. One goes upstairs to tend to her baby, permitting a moment when the other two women's bitchy conversation is overheard on the baby monitor innocently lurking on the kitchen counter. "I didn't know those things were two-way," mutters the guilty party. The dialogue is snarky and funny at times. As the play progresses, we learn that Jay, the husband of tonight's hostess Nicky, has been caught embezzling from his company and is inevitably facing some serious jail time. Jay has insisted that Nicky quit her job as a book editor so they can use her profit-sharing to pay his lawyers. Inconceivably, he has squandered $8,000 on a meat locker, where he stores his hunting kills. Unsurprisingly, Nicky is seething with fury.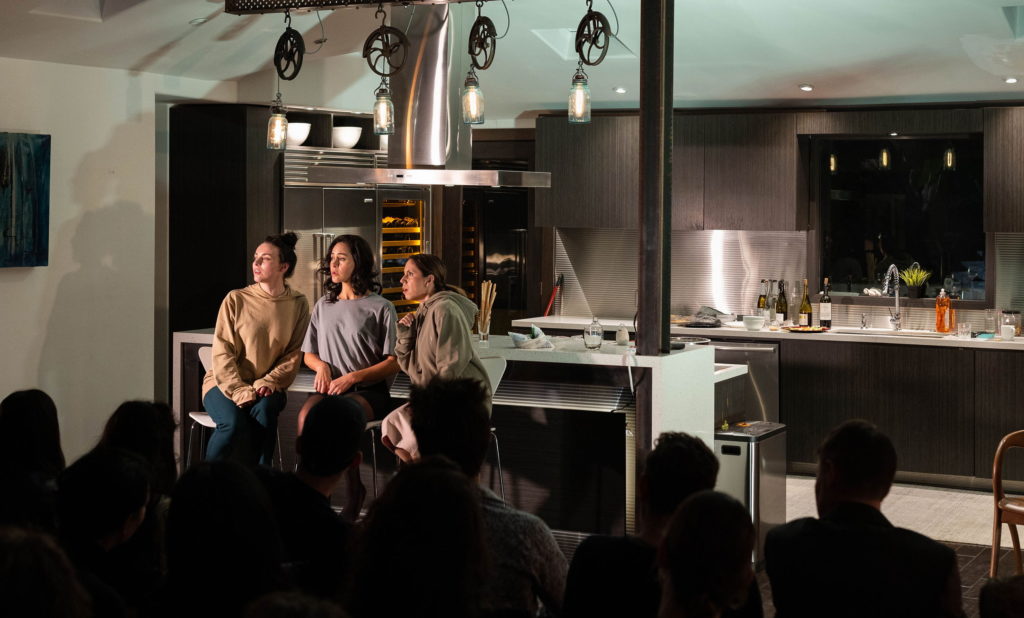 Meanwhile, Molly desperately wants a baby but her husband doesn't seem to be all that interested in having sex with her despite his over-the-top, lovey-dovey demonstrations. Debra's devotion to her husband Marty, a real estate agent, has soured into resentment. Eventually, our three protagonists gain an unexpected opportunity to eliminate their lousy spouses and begin to entertain the possibility.
[Possible spoilers ahead]
The conceit at the center of this slight plot is reminiscent of "The Way Up to Heaven," a brilliantly written, macabre short story by Roald Dahl. It was originally published in The New Yorker, in February 1954, as were some of Dahl's other short stories that would later be reprinted in the 1960 collection Kiss Kiss.
It's possible that Dahl's story may have inspired the plot of the classic noir film Elevator to the Gallows – aka Lift to the Scaffold (1958). This French crime thriller, directed by Louis Malle, stars Jeanne Moreau and Maurice Ronet as illicit lovers whose murder plot starts to unravel after one of them becomes trapped in an elevator. The scenario was adapted from the 1956 novel of the same name by Noël Calef.
[End spoilers.]
It's fascinating to note the thematic connections in all three of these superb fictional works.
Tackling themes of freedom, friendship, and sacrifice, Lowe's The Smell of the Kill is a fast-paced, comedic play that delves into the lives of three women on the brink of disaster and facing the biggest challenge of their lives.
About the performers:
KELBY KEENAN
Kelby, an actress and writer from London. Kelby trained in musical theatre and began her career performing on stage in London. Before too long, she found herself in the world of Indie filmmaking, marking the beginning of her love for film. In 2018 Kelby relocated to Los Angeles where she continues to create her own work. Currently she is co-writing a comedy web series, fearlessly spearheading her own projects and navigating the industry with her British grit and unique charm.
~~~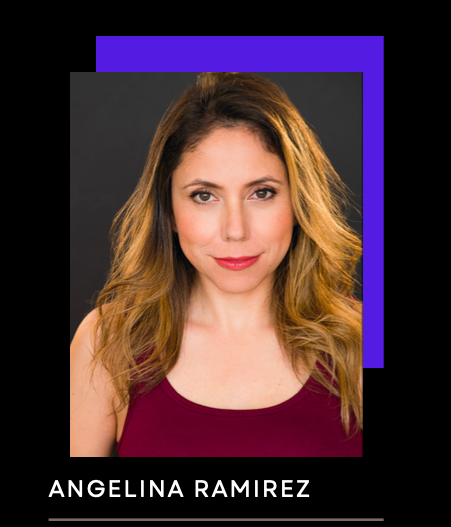 ANGELINA RAMIREZ
Angelina is back on Los Angeles stages where she was last seen at Pacific Palisades Theatre in A Comedy of Tenors. She has co-written and starred in the Hollywood Fringe Shows You, You Again, I Do! Don't You? and Toast the Ghost. Angelina's other credits include Evangeline: Queen of Make Believe, Dreamgirls, A Chorus Line and West Side Story. She found her voice by writing and has written and produced two short films: A Blind Date and Taking Over. Angelina is from Arizona and dedicates all her performances to her very supportive family and friends.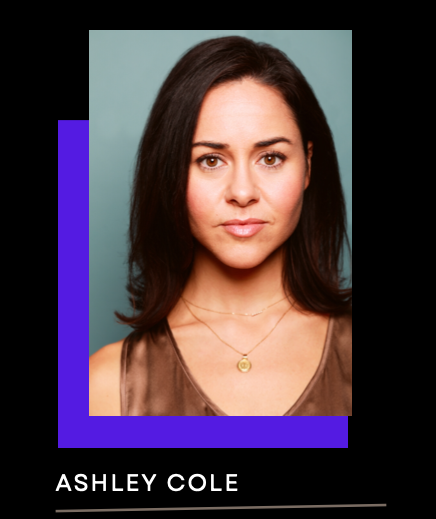 ASHLEY COLE
Ashley Cole is an actress, writer, and producer hailing from New York with a drive to create. Her passion for comedy and truth in storytelling led her to write and develop a multitude of projects based on her own life experiences. Ashley's projects currently in motion include her comedy web series Lily & Anne, short film TIME, and she recently finished her first manuscript. An adept collaborator, Ashley builds community by hosting intimate dinner parties and producing/acting in plays set in unique spaces in NY and LA.