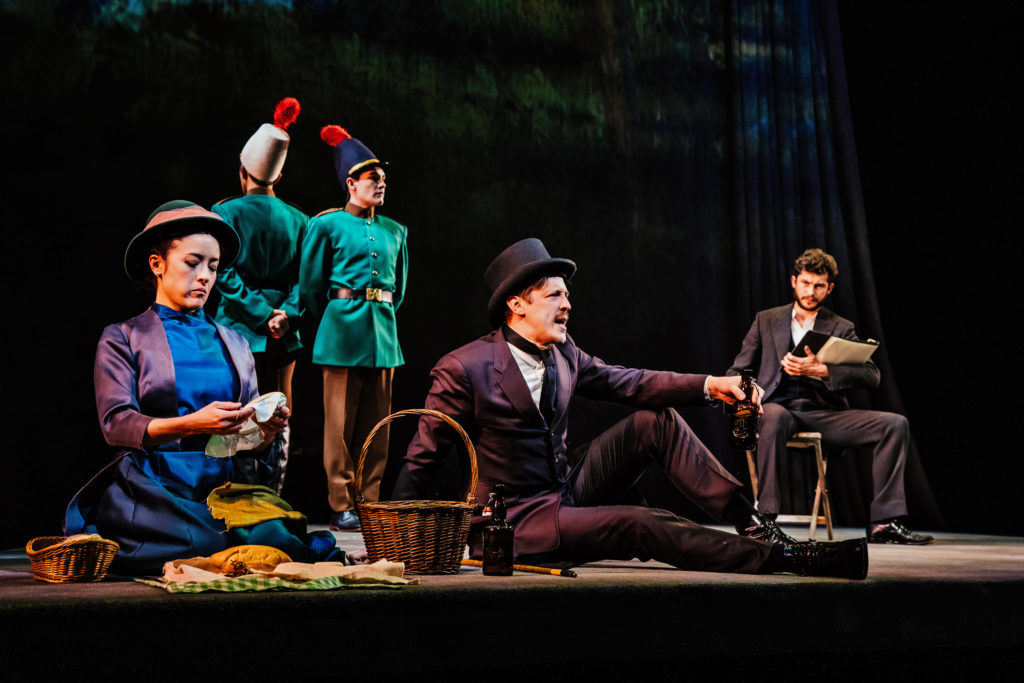 Stephen Sondheim revolutionized musical theater. He took his initial mastery of the classic tuner (from shows such as A Funny Thing Happened on the Way to the Forum, West Side Story and Gypsy) and evolved it in ways that changed the perception of what that artistic format could do. His works could be conceptually audacious, playful, witty and heartbreaking, sometimes all in the same play. His 1984 collaboration with James Lapine (who wrote the book), Sunday in the Park with George, fits this description perfectly, which may be why it won the Pulitzer Prize for Drama the following year. As part of its "Sondheim Celebration" this year, the Pasadena Playhouse has a new production of Sunday, but although it is professionally done and largely enjoyable, a couple of issues in direction and performance keep this show from being everything it could be.
In 1884 Paris on the island of La Grande Jatte in the river Seine, artist George (Graham Phillips) is trying to get his girlfriend, Dot (Krystina Alabado), to stand still as a model for a painting. She feels hot in the sunlight and is easily distracted, but he is a model of focus. This obsessive focus is a problem for the couple, because Dot needs a lover who is present for her and not a person who exists solely to create his art. A century later, George's great grandson (also named George) feels like he's in an artistic rut, but information from his past via Dot's now elderly daughter Marie (Alabado) may hold the key to his future happiness.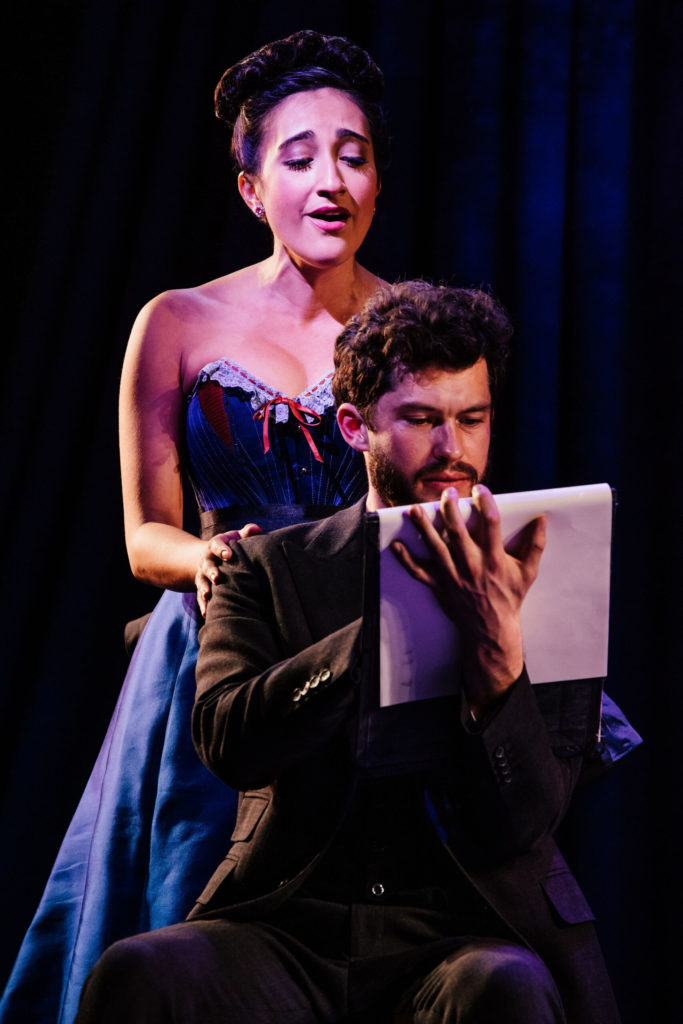 Alabado is terrific as Dot, an appealing combination of petulance and passion, and charming as the contented Marie. She sets the standard for singing high with the titular first number, and impresses throughout, especially in her duet with Phillips, "We Do Not Belong Together." Phillips, unfortunately, while a good vocalist, seems mainly to be trying to copy Mandy Patinkin's original performance in the role, and as a result doesn't bring as much to the character as he might. Standouts in the great ensemble include Emily Tyra as Yvonne, the artist's wife secretly jealous of Dot, and Liz Larsen as the Old Lady, whose tart delivery of her peevish character's lines are delightful.
Director Sarna Lapine's decision to place the musicians upstage behind a gauzy scrim affects at least of two aspects of the show negatively. The first is that the scrim, not pulled taut and see-through, makes a poor screen, and designer Tal Yarden's projections can only be dimly seen upon it. The second and more crucial problem is that the musicians take up stage space that is needed for the classic Act One ending in which the ensemble recreates the painting in a living tableau, and what should be a coup de théâtre ends up looking like a squashed version of the art. It's still a solid rendition of a brilliant play, but these decisions end up damaging the overall quality of the production.
Sunday in the Park with George is presented by and at the Pasadena Playhouse and plays through March 19, 2023. Tickets and information is available here.