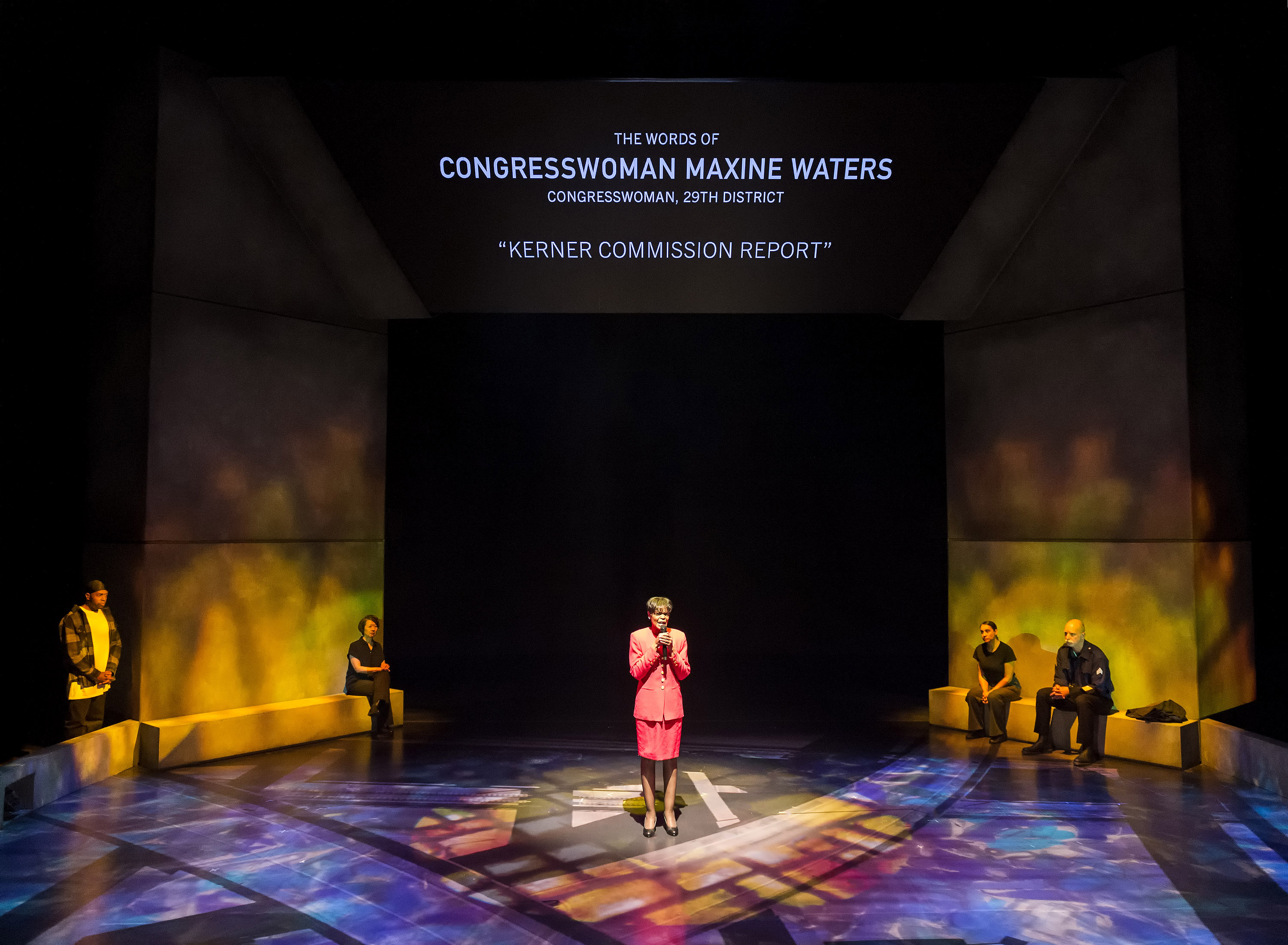 The 1992 Los Angeles Uprising, known more colloquially as the "L.A. riots," happened almost 31 years ago. Anna Deavere Smith's play about it, Twilight: Los Angeles, 1992, premiered in 1994 at the Mark Taper Forum. Taken from many interviews conducted by Smith with people who were involved in or affected by the events, the work was initially a one-woman show that went on to be Tony-nominated. Three decades later, Smith has revised the show to now include five actors, each playing multiple roles. The current production, fittingly presented again at the Taper, is expertly performed by a fantastic cast and has lost none of its power under the superb direction of Gregg T. Daniel.
The play shows a more or less as a sequential history of the events, with the interview subjects guiding the way. Some of the subjects are more famous from the news coverage, such as truck driver Reginald Denny or police chief Daryl Gates (both Hugo Armstrong), whereas others are academics or politicians such as Maxine Waters (Lisa Reneé Pitts). Active participant testimony is compelling, such as that from Henry Watson (Lovensky Jean-Baptiste), one of the men that beat Denny, but it's the stories of witnesses such as Josie Morales (Sabina Zúñiga Varela) and victims such as Young Soon Han (Jeanne Sakata) that resonate the most strongly.
Pitts is excellent throughout but shines especially as pregnant gunshot victim Elvira Evers with an amazing sense of calm and ex-Black Panther leader Elaine Brown expertly demolishing the rioters' embrace of violence. Varela excels particularly as old Rudy Salas Sr., discussing how he learned early that white people were "his enemy," and as Morales, horrified but determined to bear witness to Rodney King's brutal beating by the police. Jean-Baptiste is equally skilled and convincing as Watson, who saw his actions as part of a revolution, and lawyer Charles Lloyd, who represented the Korean-American shop owner who shot and killed 15-year-old Latasha Harlins.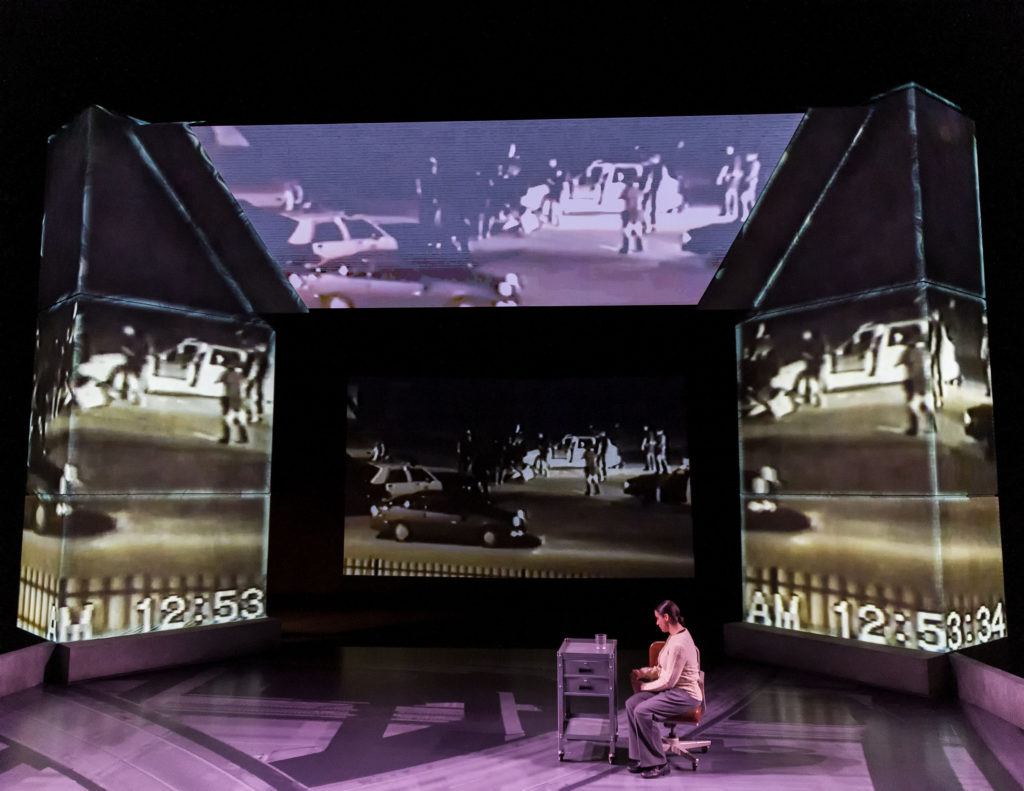 Sakata is very good in several roles, but it's her performance as the Korean-American shopkeeper admitting her loss of faith in America, an interview that was done in 2021, that underscores the continuing tragic repercussions of the riots. Finally, Hugo Armstrong is the MVP of this production, every one of his characters fully distinct and three-dimensional, from the optimistic Denny to an arrogant and above-it-all Gates to a juror in the King beating trial aghast at being approached by the KKK for membership. The entire ensemble is great, but Armstrong stands out as memorably fine.
Director Daniel does a masterful job, getting terrific work from his cast and staging the logistically complicated show with seemingly effortless grace. A bit where a looter blithely rides his bike across the stage as another actor speaks is choice, as is an impressive transition to the beginning of riot violence by blazing lights at the audience like a symbolic explosion. Yee Eun Nam's projection design is effective and clear, working well with Efren Delgadillo Jr.'s handsome stone arch set. Smith's revision of her original one-woman show to an ensemble piece is completely successful, and some sequences (such as a hilarious jury deliberation sequence or a series of actors playing the same oblivious Beverly Hills real estate character) probably work even better in this format.
Twilight: Los Angeles, 1992 was an important play back in 1994 when it premiered, and this magnificent new production proves that it is still just as important, entertaining and meaningful today. A must-see.
Twilight: Los Angeles, 1992 is presented by Center Theatre Group at the Mark Taper Forum and plays through April 9, 2023. Tickets are available here.