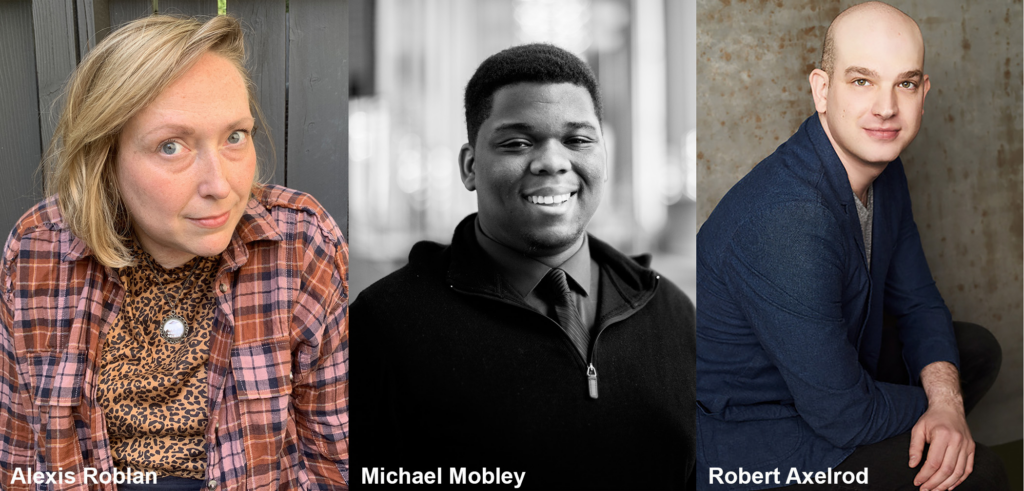 Continuing their support for — and promotion of — new theater voices, The Echo Theater Company has completed the judging for their annual competition.
From the press release:
The Echo Theater Company is pleased to announce the winners of the company's 2023 New Play Competition. In total, the company received 497 submissions. Prize committee judges were Boni Alvarez, Sam Catlin, Val Day, Alana Dietze, Tim Sanford and Jessica Sharzer.

In first place, winning a $1000 cash prize plus travel and housing to attend rehearsals and a public reading at Atwater Village Theatre, is Alexis Roblan with Javelina. Ali arrives on set in rural Texas weeks into the filming of her first indie feature film, only to find that a deer has been killed because she had written it into her script. And the killing has just begun in Roblan's play about moral culpability, death, movies, the souls of all living things — and how easy it is to decide that nothing means anything. Roblan's other plays include Red Emma & the Mad Monk (New York Times Critic's Pick; 6 New York Innovative Theatre Award nominations); Daughters of Lot (Edinburgh Fringe); You Feel So Far Away Right Now (finalist, O'Neill National Playwrights Conference); The Andrew Play (Thomas Barbour Playwrights Award), and Samuel (grant recipient, NYC Women's Fund for Media, Music and Theatre; finalist, Clubbed Thumb Biennial Commission; "superb" – Helen Shaw, for Vulture). She earned her MFA in Dramatic Writing from USC.

The second place prize of $500 and a rehearsed online reading goes to Michael Mobley for his play Monsters, in which three Black haunted house performers become the monsters they portray, prompting the question: are monsters made, or are they born? Mobley, a 2021-22 member of Echo Theater Company's National Young Playwrights in Residence Program, is currently a second-year M.F.A. playwriting candidate at the University of Texas at Austin.

Playwright Robert Axelrod is the recipient of the third place, $250 honorarium and a note session with members of the Echo's artistic staff for his play Lifeline, about Patti, a well-meaning mother who decides to become a volunteer for a suicide hotline. Axelrod, who has worked as a volunteer crisis service counselor with the Trevor Project, the nation's leading suicide prevention and crisis intervention service for LGBTQ youth, is a past recipient of the Humanitas New Voices fellowship, CineStory TV fellowship, and was part of the recent inaugural class of the Jewish Writer Initiative's digital storyteller lab. After being named the "Grand Prize" winner of the ScreenCraft Stage Play Competition, his winning play was presented as part of IAMA Theater Company's 2021 New Works Festival. 

Founded in 1997, the Echo Theater Company has gained a reputation for producing and developing exciting new work. Under the artistic leadership of Chris Fields, the company has championed playwrights for a quarter century, producing and commissioning numerous world premieres and introducing Los Angeles to playwrights David Lindsay-Abaire, Adam Rapp and Sarah Ruhl among others. The Echo has won countless Los Angeles Drama Critics Circle, Ovation, LA Weekly and Stage Raw awards, and is frequently cited on end-of-the-year "Best of Lists" including by the Los Angeles Times, LA Observed and NPR affiliate KCRW 89.9 FM, among others. The company was anointed "Best Bet for Ballsy Original Plays" by the LA Weekly and was a recipient of a "Kilroy Cake Drop" to honor its efforts to produce women and trans writers. KCRW declared that "Echo Theater Company is on a fierce journey," and Los Angeles Times theater critic Charles McNulty wrote, "Artistic directors of theaters of all sizes would be wise to follow the [lead] of the Echo's Chris Fields, who [is] building audience communities eager for the challenge of path-breaking plays." 

For more information, go to echotheatercompany.com/new-play-competition.