Written and directed by Alexander McGregor Birrell with additional writing from the film's star, Joshua Tonks, The Latent Image is a cat-and-mouse thriller whose intention is to keep audiences guessing. What's really happening and what's an illusion?
The Latent Image began life as a 21-minute short made by the same creative team, including stars Tonks and Jay Clift, who reprise their roles for this feature version.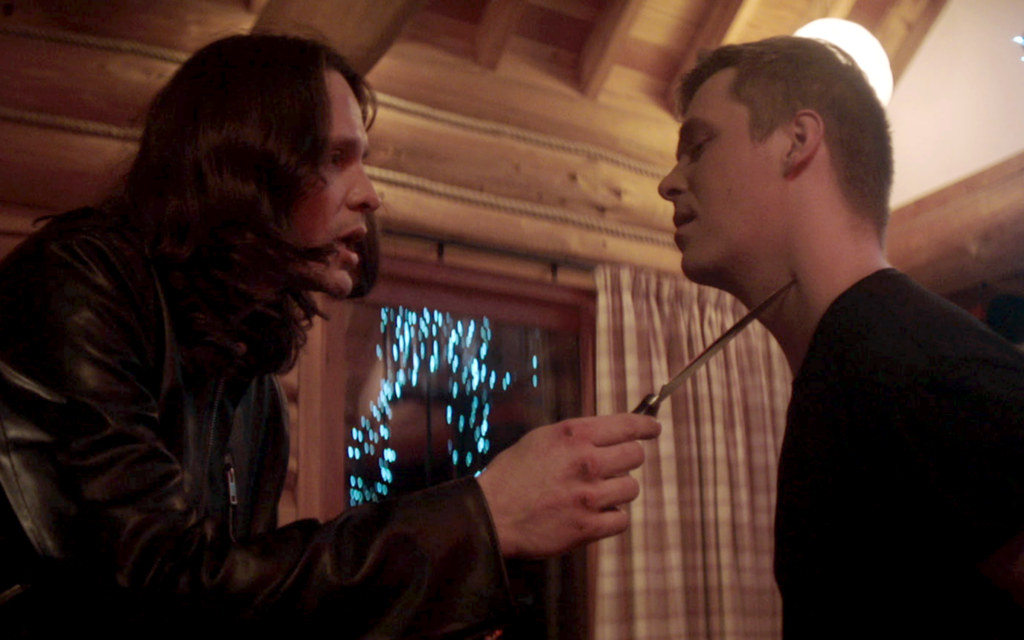 Tonks plays Ben, an author of mystery thrillers, who goes to — yes, a remote cabin in the woods — to work on his latest book. One evening, he awakens to find a mysterious stranger in the cabin with him. The man claims to be a hunter whose car had broken down nearby. Ben is intrigued by him — and even strangely attracted. Against his better judgment, he allows the man to stay and even decides to use him as the antagonist in his book.
The lines between reality and fantasy start to blur as the stranger helps Ben play out increasingly perilous scenarios until the writer realizes that he is the mystery man's intended victim. Following him into the woods with his trusty super 8mm camera —latent image, anyone? Ben surreptitiously photographs him and searches the trunk of his car where he finds driver's licenses belonging to a number of men from different states. What happened to them?
Now convinced that he's harboring a serial killer, Ben begins to fear for not only his own life but that of his boyfriend, Jamie (William Tippery), who was due to arrive any time. The man slyly hints that he had already encountered Jamie on the road. Terrified, Ben goes back into the woods to find his boyfriend. The psycho is in hot pursuit, clearly enjoying the game.
The film's technical specifications are fine, with an effective score by Alex Gregson and Jack Hughes, and fine nighttime cinematography by Michael Elias Thomas. The actors also inhabit the characters well. Birrell goes for the slow burn for the first half, and then lets the noose get tighter and tighter until the anticipated outbursts of violence.
"Horror films and thrillers have always been my passion," the director said. "The cast and crew really gave their all and it was a wonderful experience to see and feel the scenes coming to life on set, even if that sometimes meant feeling real fear in those dark woods!"
The Latent Image plays at 7:30 p.m. on Thursday, Sept. 7, at Lumiere Cinema at the Musical Hall in Los Angeles. It is also scheduled to play the Fargo Moorhead LGTB Film Festival Sept. 16. It also is set for release on DVD and VOD Sept. 12.
Feature photo (c) Cinephobia Releasing & Bounty Films.