Set in Los Angeles in the late 1990s, As We Know It is a relationship story with a zombie twist.
James Bishop (Mike Castle) is a writer dealing with a serious creative block, due in no small measure to his recent breakup with his longtime girlfriend, Emily (Taylor Blackwell). Ensconced in his Hollywood Hills home, he lays in bed morosely listening to love songs.
His pity party is interrupted by the sudden arrival of his best friend, Bruce (Oliver Cooper), who delivers the unexpected news that the city has suddenly become overrun with ravenous zombies thanks to contaminated soy milk, and they should flee to safety. But looters have already drained the gas out of James' car, so they are forced to wait it out inside.
They grab some chips and pot brownies and sit down to watch a laser disc of Waterworld. One bag of chips will never last, though, so they call a local restaurant (surprisingly still open and delivering), and the stoners order 100 hot wings.
There's a knock on the door, but instead of the food delivery, it's Emily. She tells James that she's going to Seattle with a couple of friends but she wanted to stop in and check on his emotional state before she left. He confesses that he was planning on calling her, too.
The guys ask if they can join Emily and her friends on their trip. She reluctantly agrees, but the other women — who have been waiting in the car — are attacked by ghouls and forced to speed away in terror. Now Emily has no choice but to stay in the house with James and Bruce.
The delivery guy shows up with the hot wings, and Bruce is delighted to recognize him as his old pal and former co-worker, the super-relaxed Rory (Danny Mondello).
They decide to catch up for a while and eat some wings, but Rory starts to feel ill and goes to the restroom. But he's been bitten, and he swiftly returns as a slobbering monster. Several other cast members become zombified during the course of the film — until an antidote is discovered by a seemingly unlikely source.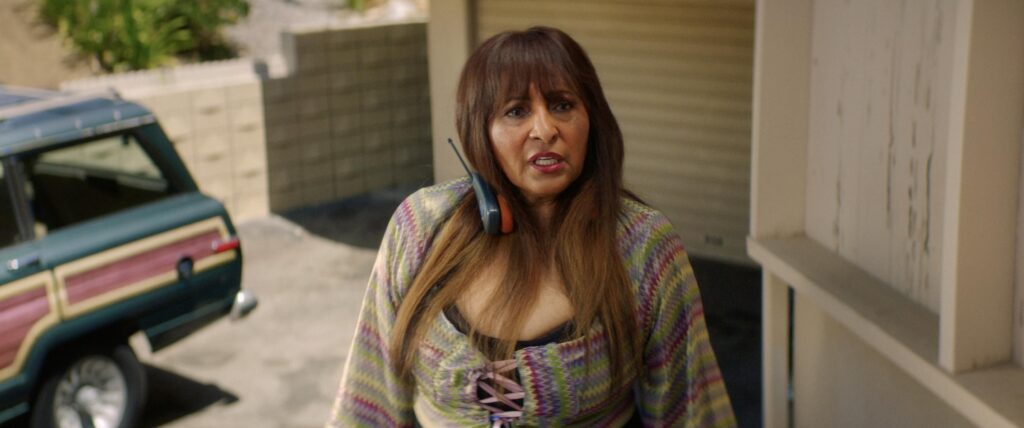 The script, by director Josh Monkarsh, Brandon DePaolo and Christopher Francis, is funny but still allows for nice glimpses of humanity to slip in. Stephen St. Peter's cinematography captures the L.A. look perfectly, and Michi Britsch's score fits the film's tone, with some choice vintage songs thrown in. The make-up effects, by Keaghlan Ashley and Robert Smithson, are also effective.

As We Know It is a mostly breezy film that focuses on relationships as much as it does on zombies. The leads all have convincing chemistry, and the off-the-cuff dialogue is amusing. The legendary Pam Grier is a nice surprise as James' next-door neighbor, and Chris Parnell (Saturday Night Live, 30 Rock) amuses as the no-nonsense newscaster dispassionately reporting on the carnage unfolding around him
As We Know It opens Wednesday, Nov. 15 at Laemmle's Monica Film Center. A digital release is scheduled in late November or December.
Feature photo: Danny Mondello in As We Know It (Traffic City Productions).