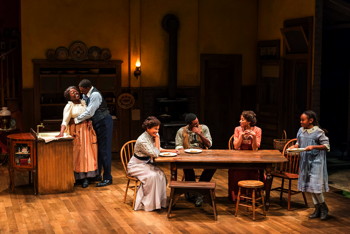 The earthy reality of poverty and magic realism collide in Joe Turner's Come and Gone by American playwright, August Wilson, now playing at Center Theatre Group's Mark Taper Forum through June 9, 2013. Unfortunately, director Phylicia Rashad (renowned for a recent and brilliant staging at ERT and CTG of another American classic, Raisin in the Sun) fails to permit Wilson's magic to take flight. This production suffers from ill-focused staging and poor vocal projection that robs the audience the opportunity to hear every spoken word, a problem compounded by thick regional dialects. Additionally, it is not as strong a play as Wilson's more contemporary classic Jitney, also recently staged.
Nevertheless, there are rewards to be had. The performances are universally fine and the story simple and pure. Essentially a slice-of-life mini-saga set during the early 20th Century, the action centers on Seth (Keith David) and Bertha (Lillias White) Holly's Pittsburgh boarding house, where we become privy to the stories and events of the community of tenants. In chronicling the lives of a few recently freed former slaves, the play touches on issues of racial discrimination and the struggle to find work in the North.
Backstory:

Although this is the second installment of his decade-by-decade chronicle of the African-American experience, known as The Pittsburgh Cycle, in fact it is the 5th play he wrote. The play was first staged 1984 at the Eugene O'Neill Theater Center in Waterford, Connecticut and opened on Broadway on 27 March 1988 at the Ethel Barrymore Theatre.
The drama has a 'home-spun' feel about it, harking back to a gentler, less complicated era. Wilson focuses on simple themes such as lost love (men looking for women, women searching for their men) superstitions and the struggle to survive in a world that is hostile to your race.
Composer Kathryn Bostic provides gorgeous some fragments of down-home blues to link the scenes. Costumes by Karen Perry add an authenticity to the production while John Iacovelli's scenic design serves the production well.
Skye Barrett is a stand out as Loomis, thanks to the powerful speech he delivers at the dramatic conclusion of Act One.
Photos by Craig Schwartz.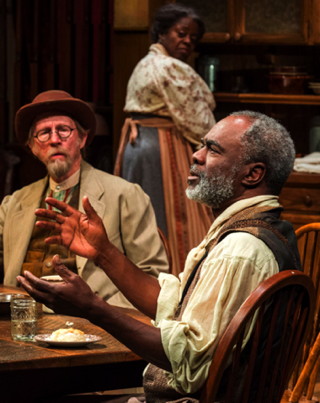 Joe Turner's Come and Gone
Mark Taper Forum
601 W. Temple Street #111,
L.A., CA 90012
Performances:
Runs through June 9, 2013.
Fridays at 8pm;
Saturdays at 2:30 and 8pm;
Sundays at 1 and 6:30pm.
Running time:
Approximately Two hours & thirty minutes, one intermission.
TICKETS:
$45.00—$75.00
Box Office:
Tickets and information are available here and at the Center Theatre Group box office, located at the Ahmanson Theatre, or by calling 213-628-2772.