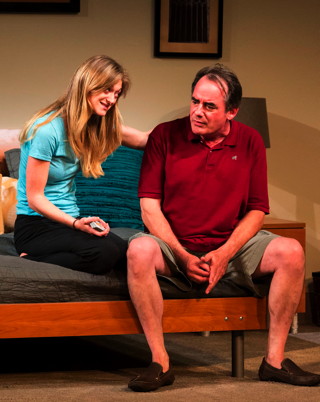 An existential "comedy" in the bleakest sense, Bruce Norris' new play A Parallelogram posits the question "What would you do if you knew your future but couldn't do anything to change it?" and then explores the various facets of this conceit.
During the aftermath of a strange encounter with an old lady (played by Marylouise Burke), past, present and future collide for Bee, a young woman (played by Marin Ireland) who comes to believe she has the uncanny ability to see the future—and possibly even alter it. With the click of a television remote, we loop through time as we observe a woman determined to reshape her own destiny.
Masterful storyteller Norris follows up his monster hit Clybourne Park with a mind-scrambling and clever time-twisting comedy that gleefully distorts our perspective while posing profound questions about the choices we make. The CTG production unites Pulitzer Prize and Tony Award-winning playwright Bruce Norris with director Anna D. Shapiro, the Tony Award-winning director of August: Osage County.
Shapiro's direction is excellent, extracting pitch-perfect performances from her cast of four. I didn't love Marylouise Burke's performance—I found her tremulous vocal style a little irritating—but it's important to note that Burke originated the role at Steppenwolf, as did her co-star Tom Irwin, who plays Jay (Bee's boyfriend) the least likeable character in the play extremely well with a fine performance. A lot of Norris' humor lies in presenting this character's garrulous lack of self-awareness. As the central character of Bee, Marin Ireland is superb while Carlo Alban, in a smaller role, is also very good.
The play itself is open to a great deal of interpretation, if you choose to extrapolate and are willing to join the dots. While some critics have panned this play for not providing sufficient character motivation, I've found the vigorous discussions that have followed almost more entertaining than the play itself, and isn't it great when an artist gets you to think about some big questions?  Questions, such as—is Bee going mad and imagining the discussions or has she gained a link to her future? If the latter, then why?!?
Comment or email me via this site if you wish to hear more!
The production also features an astounding and ingenious set designed by Todd Rosenthal that crucially assists with some of the surprises in this play.
A Parallelogram is well worth seeing.
Production photos by Craig Schwartz.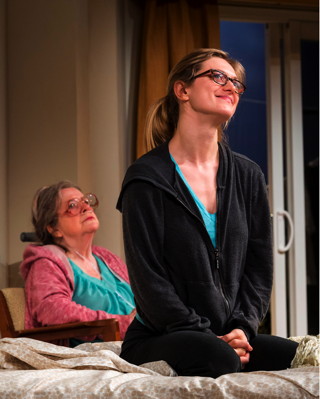 A Parallelogram
Mark Taper Forum, through Aug. 18, 2013