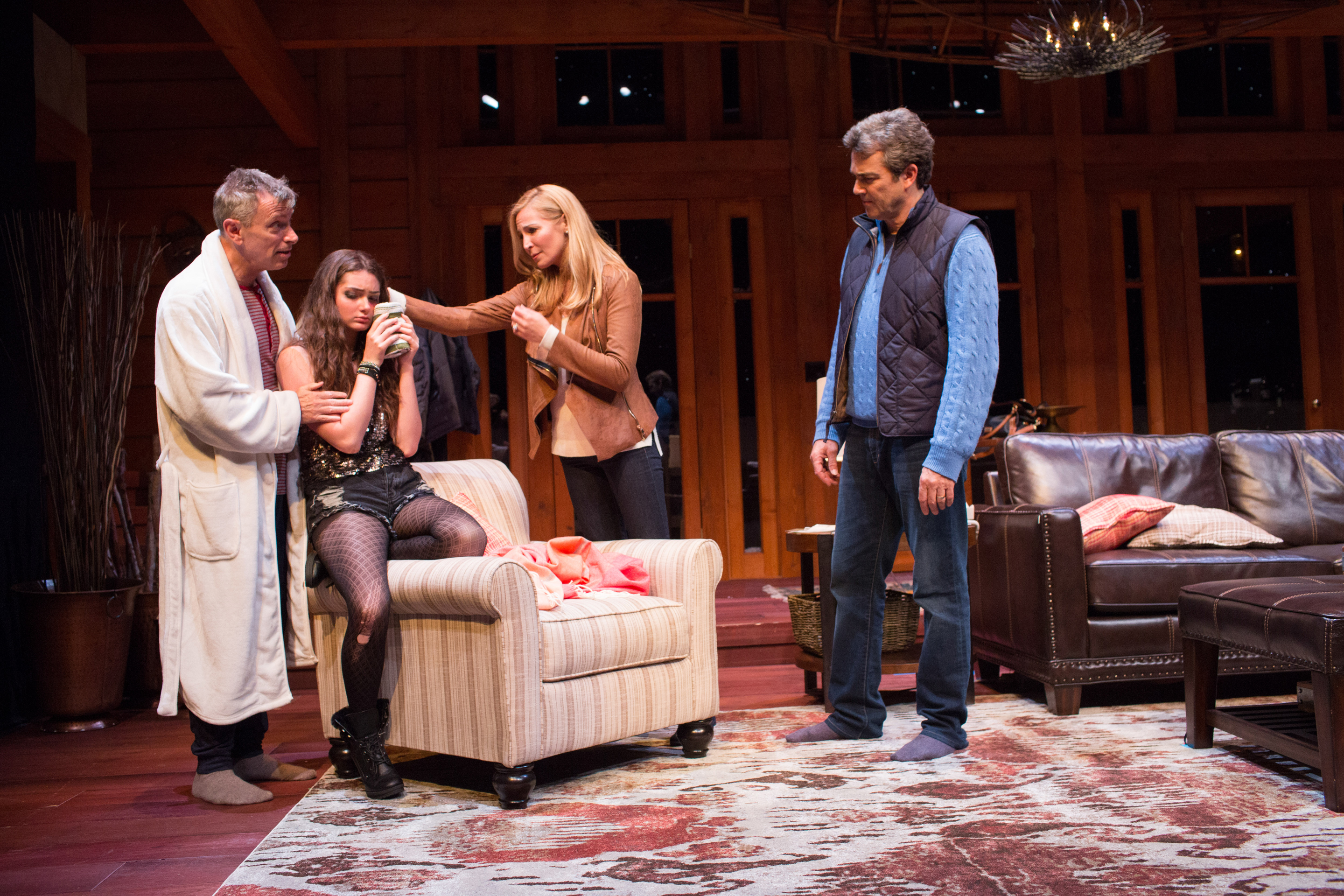 A family faces a confluence of crises during an Aspen blizzard. Making its world premiere at the Geffen Playhouse is playwright Alexandra Gersten-Vassilaros dramedy Big Sky, directed by John Rando. Its a lively work, full of relatable, if affluent (at least at first glance) white characters, who are definitely privileged. Lights come up on a spacious and handsome Aspen lodge, after all. Crisp scenic design is by Derek McLane, who evokes the vibe of a sumptuous getaway with expected touches of trophies mounted on the wall and a lush chocolate brown leather sectional sofa.
We learn that Jack, Jen and their daughter Tessa are visiting the Aspen resort because Jack is in final rounds for a lucrative job, excited to join their cadre of top dogs. The couple have brought their good friend Jonathan along. (Cast features Jon Tenney, Jennifer Westfeldt, Emily Robinson, and Arnie Burton, respectively.)
Jack urges Tessa to spend the night out with his potential boss teen daughter, but after they cause an accident while driving in the snow, Jacks shining future is also wrecked, along with that of his family.
With Rando directing, the comedic timing is on point. The rhythms of the repartee skim the story like a downhill skier in fresh powder. Most of these new plays, however, seem to have the same broad humor to them. Also, the shrill, reedy voices of the two female cast members does grate after a while.
Big Sky offers some insight into the malaise of a home-maker. Jen left her (unspecified) job to volunteer for a charity organization clearly shes yearning to bring some purpose to her life beyond raising her daughter and supporting her husband. But now that Tessa is headed for college and her husband is about to grab the brass ring, we can see she feels her family is set and she can escape from this marriage. But can she? A highlight is Jacks distraught speech where he likens the burden of supporting his family to bricks on his back.
Gersten-Vassilaros play is an entertaining evening of theater.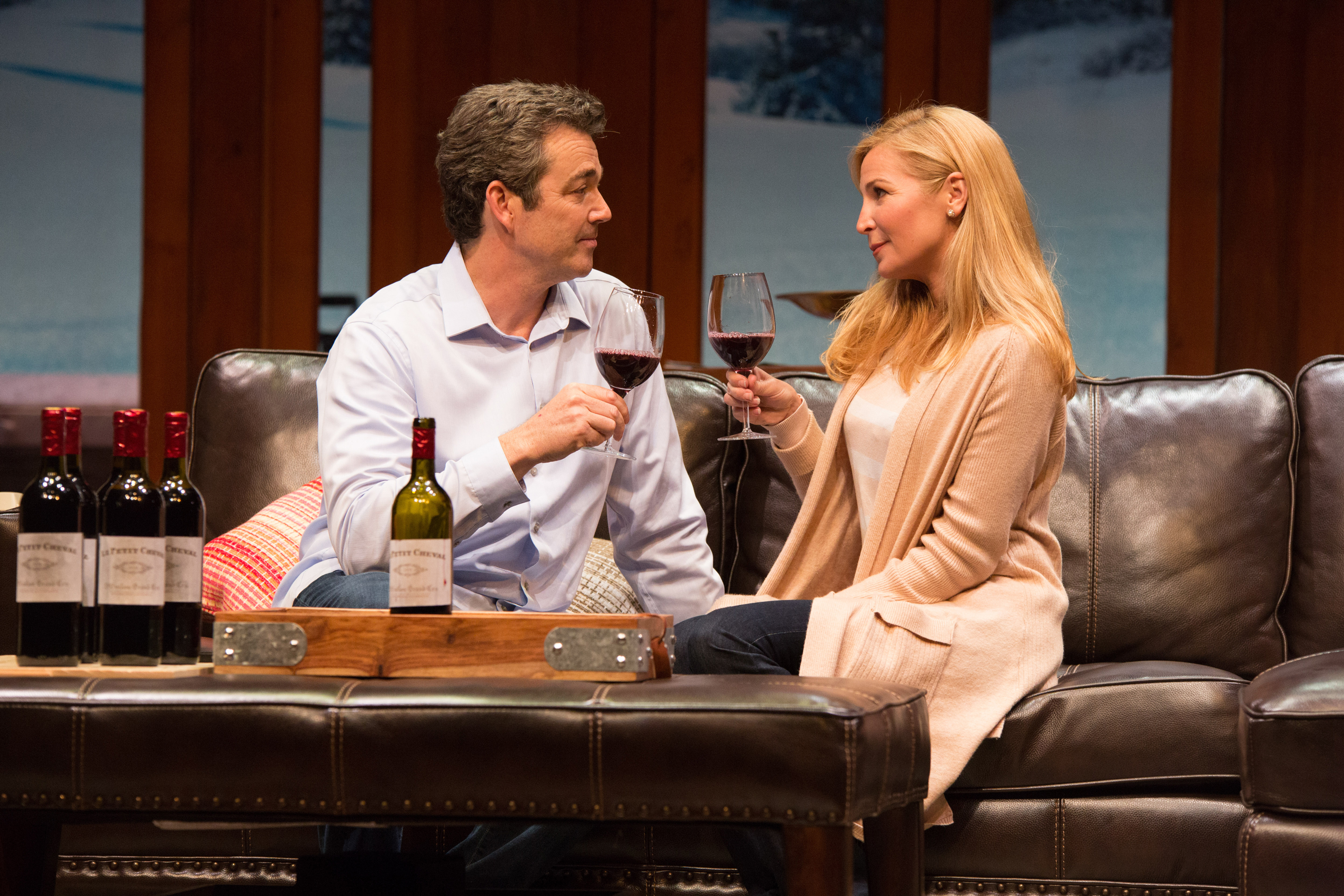 Big Sky byAlexandra Gersten-Vassilaros
Gil Cates Theater at the Geffen Playhouse
10886 Le Conte Avenue,
Los Angeles, CA 90024
Runs throughSunday, July 17, 2016
PERFORMANCE SCHEDULE:
Monday No performance
Tuesday Friday 8:00 pm
Saturday 3:00 pm and 8:00 pm
Sunday 2:00 pm and 7:00 pm
Running time is 2 hours, with one intermission.
TICKETS:
Tickets currently priced from $32 to $82 are available in-person at the Geffen Playhouse box office, via phone at 310.208.5454 or online here.Fees may apply.
ABOUT GEFFEN PLAYHOUSE:

Geffen Playhouse has been a hub of the Los Angeles theater scene since opening its doors in 1995. Noted for its intimacy and celebrated for its world-renowned mix of classic and contemporary plays, provocative new works and second productions, the not-for-profit organization continues to present a body of work that has garnered national recognition. Named in honor of entertainment mogul and philanthropist David Geffen, who made the initial donation to the theater, the company was founded by Gilbert Cates, and is currently helmed by Artistic Director Randall Arney, Executive Director Gil Cates, Jr., and Co-Chairs of the Board Martha Henderson and Pamela Robinson. Proudly associated with UCLA, the Geffen welcomes an audience of more than 130,000 each year, and maintains extensive education and community engagement programs, designed to involve underserved young people and the community at large in the arts. Following a strong 2014/2015 season during which five productions extended, the companys 20th anniversary season features eight productions (two world and three West Coast premieres) featuring some of the nations leading playwrights and directors.