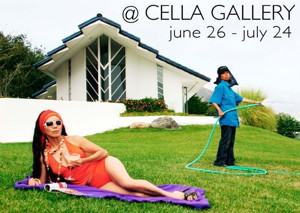 ***
Currently on display at Cella Gallery, in NoHo (until the weekend of July 24th), is an enthralling exhibition of three interconnected bodies of work by multi-talented artist, Sinan Revell, in her most complete show to date.
disambiguations – a unique series of self portraits is a collection of stunning and complex conceptual photographs, full of wit, black humor and social comment. Also on view are photographic works from Revell's Color/Blind Test series, as well as a display of her distinctive Homeland Security Blankets.
BIOGRAPHY:
Chinese-born (in Chungshan, Guangdong Province) and Australian-raised, Sinan Revell is a brilliant and multi-disciplined artist whose works encompass fine, conceptual and performance art.
Revell graduated with a degree in Psychology from Sydney University, Australia, and later studied art at the Julian Ashton Art School in Sydney. Her love of the performing arts led her to study drama with renowned Aboriginal teacher, Bryan Syron, and to several television and film roles.
Additonally, Revell spent several years as a performing and recording artist and band member with the avant-garde industrial rock group, SPK, touring Europe, the UK and the USA.
After moving to Los Angeles in 1991, Revell returned to art making and also furthered her studies with Renee Amitai in California.  She began working in various media such as oil and acrylic paintings, photography and performance art.
Revell's work has been exhibited in London, Australia, France as well as many galleries in Los Angeles. She currently lives and works in Los Angeles.
During her over twenty-year career as a painter, she has explored the diverse media of oils, ink and watercolors, even creating jewelry and ceramic works, such as her strange ceramic shoes that draw from her Chinese heritage. Revell explains, "The clay shoes are symbolic of the bound foot silk shoes that were unwearable except for the maiming of the wearer. The first Cinderella was Chinese."
Other works include the spectacular mixed media Butterfly paintings that were created with seeds, spices and text, as well as real butterflies and moths sourced from China.
CURRENT EXHIBITION:
PART ONE – the disambiguations photographic series
Revell has now turned her focus to the medium of photography for her confronting, amusing and thought-provoking conceptual series of "self portraits."
For the disambiguations photographic series, also known as DoppelgANGER, Revell worked with photographers in Sydney, New York and – for the most part – Los Angeles to create these staged images in which she is every person present in each photo.
Examining both the social and political media landscape, this photographic series cleverly blurs the boundaries of the genre of self-portraiture. Revell clarifies her intent with the statement, "I put myself into all these pictures to show how we are connected."

LA-based photographer Brad Cooper was her main collaborator in staging, shooting, re-shooting and photoshopping the intricately composed stills. Several of the subjects are Revell's reproductions of infamous scenes, many of which are burned into our memories. Images such as the videotaped Rodney King beating in 1991, with Revell posing as Sgt. Stacey Koon and his colleagues as well as the victim; the haunting image of the 1968 execution of a suspected Viet Cong man just as he is about to get his brains blown out during the Vietnam War; and the torture and prisoner abuse committed at Abu Ghraib prison.
Other photographs present invented scenes, such as a glossy magazine-style portrait (topmost image) of the trappings of luxury in which a privileged woman lazes on the grassy expanse of her Malibu-manse while her hard-working gardener looks on in envy.
LA Shooting (seen above) refers to the shooting of African-American teenager Latasha Harlins by a female Korean grocery store owner, a contributing factor to the rioting in Los Angeles in 1992.
We see Revell's mischievous, dark humor come to the fore, especially with set-ups that depict a gory school shoot-out, a well-groomed woman in the throes of an excruciating bikini wax and a sexy schoolgirl tantalizing a businessman. Employing this photo-composite technique permits this insightful artist to lay bare the connection we have to parts of ourselves and our world, especially those connections that we often prefer to deny or ignore.
According to the artist, "These photographs are a response to the bombardment of media images on our lives. I admire the work of many artists including Mona Hatoum, Shirin Neshat, Louise Bourgeois and the many nameless artisans and folk artists from around the world."
Revell's experience and background in performance, both as a performance artist and as the lead singer of the cult Industrial band SPK, contributes to her candid comment on the diverse social and political issues that affect us all. More importantly, her capability to take on these roles goes beyond mere make up, wigs and costuming, as evidenced by her emotive facial expressions and posing when caught in these frozen frames.
PART TWO – the Color/Blind Test series
Upstairs in Cella Gallery are several works from the Color/Blind Test series. These photographs depict the "invisible" people in societies, yet they are partially obscured by a vinyl dot screen that mimics the classic colorblind test given by medical practitioners.
These abstractly rendered photographs represent people who have been marginalized, disenfranchised or dehumanized. Objectified and rendered invisible within our fast-paced society, these are people we choose not to see, those on the edge of society, such as a starving woman in Darfur, an elderly, wheelchair-bound woman, a prison inmate, and a woman clad in an oppressive burkha.  In this way, Revell compels us to snap out of  our usual complacent oblivion and observe this hidden, forgotten population.
Explains Revell, "These people, ignored by society, no longer "count". They are not rich, famous, powerful or celebrities. We have control over who we wish to acknowledge or not, but almost involuntarily, as a symptom of our self-gratifying desires, we become COLOR/BLIND."
PART THREE – the Homeland Security Blankets
Alongside several of the photographs downstairs is the third component of this exhibition, a handful of Revell's Homeland Security Blankets. Several of the most startling images, including the Abu Ghraib torture scene and an illegal immigrant being held at gunpoint by a 'minute man' border patrol agent, have been woven into large cozy blankets and hung so that they can be handled by gallery visitors.
Again demonstrating her wit and playfulness with language, Revell creates immediate tension between her subject and the way it is presented. Normally, the function of a blanket is to bring warmth and protection from the elements, and blankets are imbued with connotations of snuggling and comfort.
Artist's statement:

"By contrast, the Homeland Security Blankets are designed to bring discomfort, to prevent one from falling into a relaxed, smug somnabulistic state. These blankets bring to mind the woolen blankets handed out by the first American settlers to the native Americans. Supposedly to protect, they ended up being carriers of deadly disease and thus were instrumental in the genocide of a people.

"We cannot afford to wrap ourselves in the luxury of political subterfuge. We need to look at the ugly truths that are so often glossed over. These blankets do not give the cuddly, "feel good" images of puppy dogs or one's "favorite things."

"Like the tapestries of old, which recorded historical events, the Homeland Security Blankets record images of things we'd rather forget or ignore."
This challenging and witty three-part exhibition by Sinan Revell runs until Saturday July 24th, 2010.
5229 Lankershim Blvd.,
North Hollywood, CA 91601
(213) 291-7908
HOURS:
Tuesday – Thursday: 12-5pm
Friday – Saturday:Â  12-8pm
Closed Sunday & Monday
Report by Pauline Adamek