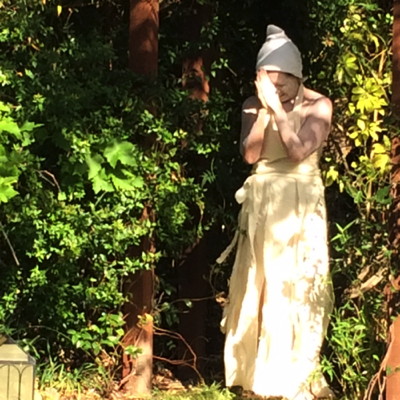 Artist Sinan Revell channels and transforms the typically dark and post-modern Butoh dance style with her impassioned and expressionistic performance that celebrates the cycles of life.
"Chrysalis"
A Butoh performance by Sinan Revell.
Filming by Pauline Adamek.
Music by Australia Aboriginal, from Aboriginal Earth Chants,
"Wamali and the Waratah"
Performed May 18, 2014 in a private home in Zuma Beach Malibu, California.
Credits:
ArtsBeatLA, an Arts Magazine; http://www.ArtsBeatLA.com
Video produced and filmed by Pauline Adamek.
Animated logo edited and styled by Ash Revell.
About the Artist:
Chinese-born (in Chungshan, Guangdong Province) and Australian-raised, Sinan Revell is a brilliant and multi-disciplined artist whose works encompass fine, conceptual and performance art.
Revell graduated with a degree in Psychology from Sydney University, Australia, and later studied art at the Julian Ashton Art School in Sydney. Her love of the performing arts led her to study drama with renowned Aboriginal teacher, Bryan Syron, and to several television and film roles.
Additonally, Revell spent several years as a performing and recording artist and band member with the avant-garde industrial rock group, SPK, touring Europe, the UK and the USA.
After moving to Los Angeles in 1991, Revell returned to art making and also furthered her studies with Renee Amitai in California.  She began working in various media such as oil and acrylic paintings, photography and performance art.
Revell's work has been exhibited in London, Australia, France as well as many galleries in Los Angeles. She currently lives and works in Los Angeles.
During her over twenty-year career as a painter, she has explored the diverse media of oils, ink and watercolors, even creating jewelry and ceramic works, such as her strange ceramic shoes that draw from her Chinese heritage. Revell explains, "The clay shoes are symbolic of the bound foot silk shoes that were unwearable except for the maiming of the wearer. The first Cinderella was Chinese."
Other works include the spectacular mixed media Butterfly paintings that were created with seeds, spices and text, as well as real butterflies and moths sourced from China.
For more information about the artist, visit her personal website.
Read a review of one of Sinan Revell's exhibitions here.
View an on-camera interview with the artist here.