***
Pratfalls, balancing tricks, breathtaking trapeze artistry, general tomfoolery and funny business – the Troubadour Theater Company"™s Funky Punks clowns are currently yucking it up in Circus Spectacular! over at the Falcon Theatre in Toluca Lake.
Review & candid photos by Pauline Adamek
Directed by Matthew Morgan, Funky Punks Circus Spectacular is a high-energy, interactive, circus art and clown extravaganza expressly created for kids! Small children, from babies and toddlers up to 8 or 9 year-olds, will best appreciate the gentle humor, slapstick and fart jokes that feature in this clown show. At times the clowns clamber across the seats and infiltrate the audience, all to good comic effect.
You and your kids will be amazed by stilt-walkers, jugglers, dancers, trampoline tricksters and super slippery table sliders and so on.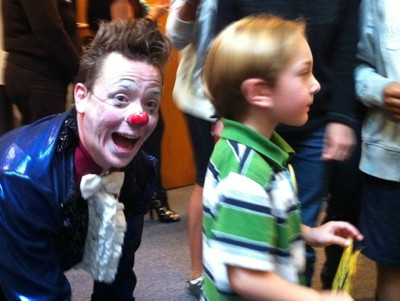 The entertainment begins with the vibrantly dressed cast of seven clowns climbing out of seemingly bottomless and gaily-painted toy box, in a variation of the old "car full of clowns" gag. They"™re all wearing red noses (natch) and clad in fun, cute costumes of stripes, polka-dots, spangles, patches, tutus and oversized shoes. Actually, some of the bowler-hatted, waist coated male clowns reminded this critic of colorful versions of Beckett"™s tramps from Waiting for Godot. Indeed, there is a thread of existentialism – and certainly absurdity – that runs through any clown or vaudeville act (and vice versa).
Funky Punks Circus Spectacular is a very silly, one hour long show, featuring plenty of buffoonery, sweet dance sequences and ballerina moves, and even a random character with a lion"™s head that had the little ones perplexed. There"™s no storyline – just a sequence of comedic sketches and feats of clown skills, such as stilt-walking, juggling and hat-tossing.
The uncontrollable giggling from some of the kids in the audience is almost as funny as the on-stage antics.
A highlight is a trapeze act by Caroline Gross who plays Ariel. She performs her deft and graceful balancing magic within a ring and later executes some amazing feats while wrapped up in a long "˜tissue"™ cloth. It"™s astonishing work and a little dangerous, seeing as she is poised several feet above the stage without a safety wire.
In fact, there was an element of danger that ran throughout the entire show. One fantastic feat involved the talented clown Guilford Adams (aka "Gilly") who accomplished a stunning trick involving a ladder that almost had him landing in the laps of the kids in the front row. It was impressive work from this accomplished and longtime comedic performer. He makes it look so easy"¦
After the show, the kids can meet the clowns and get their programs signed. Funky Punks Circus Spectacular is a wonderful and fun-filled show for tiny tots.  I urge you to find a pint-sized companion and get over to the Falcon Theatre!
Funky Punks Circus Spectacular
4252 W. Riverside Drive
Burbank, CA 91505
Performances:
Runs until Sunday, June 5
Saturdays & Sundays at 11am
Running time:
One hour, no intermission
TICKETS:
Adults (ages 13 & Up) $15.00
Children (ages 12 & Under) $10.00 (cheap!)
Box Office:
Purchase tickets here or call (818) 955-8101
Call the box office for wheelchair accessible seating.
Troubadour Theater Company is celebrating its fifteenth year of laughs. Los Angeles"™ renowned ensemble of actors, comedians and musicians has performed throughout southern California since 1995. Their fast-paced, laugh-filled "˜adaptations"™ of classic plays, as well as their original works and hilarious sketch material, make Troubadour a unique and exciting experience for theater-goers of any age.

The company is a Not-for-Profit organization and has performed charitably for many causes including animal conservation, adult rehabilitation, AIDS awareness, California Literacy Night for LAUSD, Children with Autism and other youth programs.

Past productions at the Falcon Theatre include: Oedipus the King, Mama!; Frosty the Snow Manilow; As U2 Like It; A Charlie James Brown Christmas; JACKson FROST; Much Adoobie Brothers About Nothing; Little Drummer Bowie; Hamlet, the Artist Formerly Known as Prince of Denmark; Santa Claus is Comin' to Motown; It's a Stevie Wonderful Life; OthE.L.O. and Alice in One-Hit-Wonderland 1 & 2.

In addition to the Falcon, Troubadour has performed at the Getty Villa, Hollywood"™s Ford Amphitheatre and Matrix Theatre, Santa Monica"™s Miles Playhouse, La Mirada Theater for the Performing Arts, Garden Grove Theater Center, the Long Beach Carpenter Center, the Ojai Shakespeare Festival, the San Francisco Fringe Festival, the Adelaide Fringe Festival (Australia) and in Hailey, Idaho, in conjunction with Company of Fools at the Liberty Theatre.

The Troubies were honored with 12 Ovation Award nominations for the 2008-2009 season for their productions of Alice in One-Hit-Wonderland 2: Through the Looking Glass, As U2 Like It and It"™s a Stevie Wonderful Life, walking away with three awards for Best Director of a Musical, Best Costume Design and Best Season. They recently received Ovation Awards for Best Production of a Musical and Best Director of a Musical for Oedipus the King, Mama! in their 2009-2010 season.