There's a cool Art Block Party planned for tomorrow (Saturday) night, over at the Lofts at NoHo Common. Music, Dance, film and of course Art will be happening on Weddington Street, at the Cella Satellites HQ.
Created to amp up the fun the arty block party is tied in with the opening of a new art exhibition, entitled Missed Conceptions. The expanded evening of festivities has been devised the gals over at Cella Gallery, Mackenzie Alexander and Shannon Currie Holmes.
The Show:
Missed Conceptions is an exhibition that illustrates the creative process from sketchbook to screen, bringing to light some incredible sketches, drawings, paintings and renderings of Concept Art from some of today's most wildly popular video games artists.
From the portfolios of two of the industry's shiniest new stars, Cameron Davis and Aaron Limonick, Missed Conceptions will take viewers through the lengthy process concept artists face in developing the intricate worlds that most gamers take for granted.  From doodles on sticky notes to completed oil paintings, Missed Conceptions navigates the artistic and political hurdles of merging Big Business and Fine Art.
After graduating from the Rhode Island School of Design (RISD) in 2005, Cameron Davis moved to Los Angeles where he began his career designing characters for video games. Davis worked on a number of Tony Hawk Pro Skater titles and soon became the character designer for the disgustingly popular Guitar Hero franchise, designing the characters for Guitar Hero 3, 4, 5, GH Aerosmith, and Metallica. Davis' work soon caught the eyes of Dreamworks Animation where he is currently employed as a Visual Development Artist, lending his whacky visions and ideas for top-secret films he totally can't talk about…
Aaron Limonick was born and raised in Los Angeles and attended Art Center College of Design. After graduating he soon discovered that the ultimate venue for design and collaboration could be found in the entertainment industry where the competitive nature of countless successful artists was both inspiring and highly intimidating.  Since his first job in video games back in 2004, Aaron has worked as a concept designer and illustrator on a number of projects.  These include the Tony Hawk and Guitar Hero franchises, GUN, Deadwood, Drawn: The Painted Tower, The Bourne Conspiracy, and Transformers: War for Cybertron, among other commercials and ad campaigns.  Currently, he is working for Sony at Naughty Dog, Inc., in Santa Monica.
These artists will be in attendance at Saturday's opening event.
Other events:
A short film screening by Stephen Reedy – ZeroFriends.
A Cella group show, featuring art from Paul D'Elia, Wiley Wallace, Brooke Grucella and more!
Plus W.B Fontenot – A Dangerous Excess of Human Knowledge.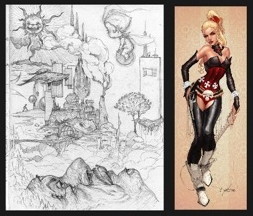 Missed Conceptions
The Abandoned Children of Big Business & Fine Art
Concept Art by:
Cameron Davis & Aaron Limonick
Opening Reception:
Saturday, August 20, 2011
8-11pm
Cella Satellites

11135 Weddington St. #112
North Hollywood CA 91601
Runs:
Exhibition is on view until Sept. 24th , 2011