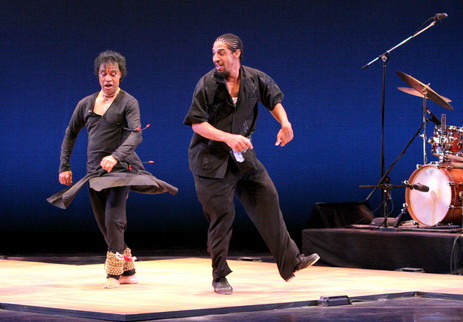 A unique and electrifying collaboration between traditional Indian dance (Kathak) and Tap dance set to Jazz music, India Jazz Suites tears up the floor tonight and tomorrow evening, only.
Chitresh Das Dance Company's Founder and Artistic Director, Chitresh Das, India's foremost Kathak dance master and a National Heritage Fellow, teams up with one of the world's fastest tap dancers, Emmy Award winner Jason Samuels Smith for India Jazz Suites, an explosive collaboration that crosses all boundaries of age, race and culture.  Das and Smith use rhythm and improvisation, to create high entertainment blast of incredible speed and power, grace and beauty, epic storytelling and the pure joy of dance. The performance, presented by the Carpenter Performing Arts Center tonight – Friday –and Saturday, October 22 at 8:00 p.m., at the Martha B. Knoebel Dance Theater in Long Beach, launches India Jazz Suites' seventh international tour across 11 cities in the United States and Canada.
India Jazz Suites has become an international sensation since it first premiered in San Francisco in 2005.  This production is an energetic collaboration. Rather than fusing the art forms of Kathak and Tap, each artist, as masters of their own forms, uses the common ground of footwork (at break-neck speeds or slowly with great finesse), rhythm, improvisation, and movement to explore and shed new light on the Kathak and Tap traditions, engaging in a kinetic dialogue.
Sections in the show will highlight the unique approach that Kathak and Tap have to footwork and rhythm, to spoken word within the dance forms (the recitation of the ancient North Indian classical rhythmic language and the contemporary form of rap), as well as the distinct percussive traditions associated with both dance forms (on Tabla and Jazz drums). Das also performs his innovation Kathak Yoga, in which he simultaneously sings, plays Tabla and performs complex footwork at incredible speeds. India Jazz Suites features some of the world's finest Indian classical and Jazz musicians: Debashish Sarkar (Vocals), Jayanta Banerjee (Sitar), Biplap Bhattacharya (Tabla), Theo Hill (Piano), Rashaan Carter (Bass), and Channing Cook Holmes (Drums).
The program opens with members of the critically-acclaimed Chitresh Das Dance Company – Rachna Nivas, Anjali Nath and Rina Mehta – performing Tarana, a piece that characterizes the pure dance energy of Kathak, Das' dynamic choreography and CDDC members' exceptional ability.
India Jazz Suites
The Martha B. Knoebel Dance Theatre at the Carpenter Performing Arts Center
6200 Atherton Street,
Long Beach, CA 90815.
Parking is available in lot 12 in front of the Carpenter Center.
The Theater is located on Atherton Street between Bellflower Blvd. and Palo Verde Avenue.    

Performances:                     
Friday and Saturday, October 21 & 22, 2011 at 8:00 p.m.
TICKETS:      $28.00
BOOKING INFO:     (562) 985-7000, or visit their official sites, here and here.