The Opera is alive once again in Los Angeles! The company is happy to announce a fall performance. The Burning Opera: How To Survive the Apocalypse is returning to Los Angeles for one night only! Sunday, November 20th at King King 
in Hollywood.
King King is one of Los Angeles's finest cabaret theaters that remains dedicated to providing a venue and launching ground for new and exciting productions. This intimate venue has launched the likes of many successful shows, including Rock of Ages, Cherry Boom Boom's sultry burlesque show and the astonishing Mental Head Circus.
The mood is sizzlin' as they manifest this next version of the show: tightened, re-imagined and determined to entertain and blow your minds once again, this time only more so.
Audiences are invited to join the performers on their journey of transformation through rockin' songs and shadow puppetry, and together be transported by their staging back to Burning Man!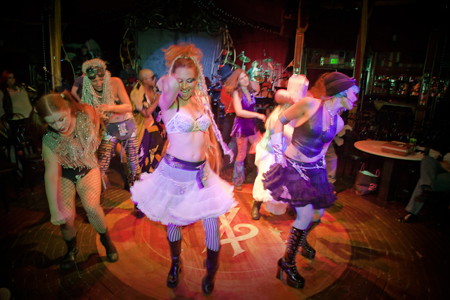 The Burning Opera: How To Survive the Apocalypse is a Burning Man-inspired theatrical freak-out that combines rock opera, vaudeville, and a Dionysian revival show that is just as inspired and terrified by current events as you are. Part mutant mystery play, part crash-course in proactive future culture, the Burning Opera is an ambitious and ferociously inventive rock musical scored by Mark Nichols, with libretto by counterculture writer Erik Davis.
After getting kicked off a beach for trying to burn an effigy, a small crew of freaks builds a visionary city in the desert. Three newbies arrive, each with their own baggage of fears and expectations, and make their way through the erotic, psychological, and apocalyptic minefield of the temporary festival.
Driven by the desire to bring the burn off the playa, but without the crusty snot, The Burning Opera: How To Survive the Apocalypse aims to communicate the vibe of Burning Man and the culture it has helped spawn to wider audiences. On a larger level, the show aims to explore the conflicts and paradoxes of the event itself, from its tangled origins to its ongoing mutation into a mixed bag. On an even larger level, however, the evening is completely aimless, or at least shoots from the hip in your general direction with a furry thong over its eyes.
Go here to read a more detailed report of a previous staging.
All production photos by Michael Rauner.
The Burning Opera: How To Survive the Apocalypse
King King
6555 Hollywood Blvd.
Los Angeles, CA 90028

Sunday, November 20, 2011
Doors Open 8:00pm
Minimum Age for Event: 21 and over
General Admission
$20 – pre-sale
Reserved Seating
$30 – pre-sale
VIP Booths
$40 – pre-sale
Tickets are available at: beTicketing.com
Check out the King King Venue
Join the Burning Opera Fan page on Facebook